The '50s and '60s in Seoul
Twist on Seoul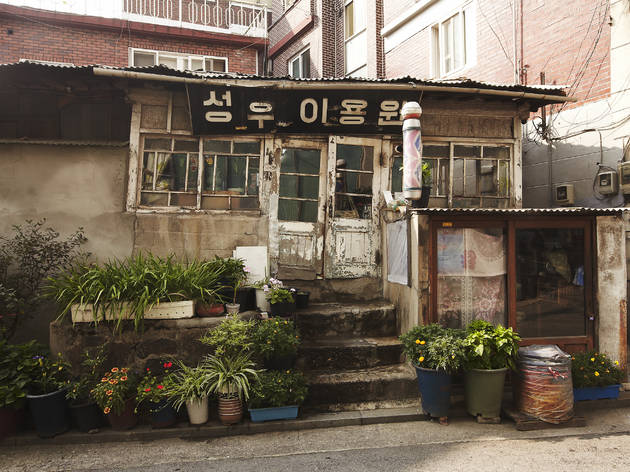 The 1950s and '60s weren't an easy time—after the war, people were hustling and working hard. "Can do" was the Saemaeul development project slogan, and people lived it. It was time to work hard and play hard, with the opening of dance halls, dabangs and drinking establishments.
Good clean fun
You haven't been clean until you've been scrubbed within an inch of your life at a Korean bathhouse, or mogyoktang. Korea's public bathing culture stretches back centuries (some records suggest that men and women bathed together nude in public baths during the Goryeo Dynasty). But Seoul's first public mogyoktang as we know it opened in 1925, launching a golden era of tiled tub group bathing that flourished through the '70s, when the rise of apartments with private bathrooms slowed the trend. Ask any Korean in their fifties or sixties and they'll have memories of family trips to the mogyoktang, of scrubbing backs and being scrubbed, of buckets of steaming water and old folks gossiping in the changing room. Going to mokgyoktang wasn't just about the simple act of getting clean, it was a social outing and even a community center of sorts. For a sample of old Seoul mogyoktang, visit Wonsamtang, open (and virtually unchanged) since 1966. Not keen on public nudity? Get that mogyoktang-feel with your clothes on at On Ne Sais Jamais, a brightly lit café with seating arranged around an empty tiled bathing pool.
Wonsamtang: 123-12, Wonhyo-ro, Yongsan-gu. 02-717-7674. Entrance 5,500 won
On Ne Sais Jamais: 47, Itaewon-ro 54-gil, Yongsan-gu. 02-794-3446
That retro cut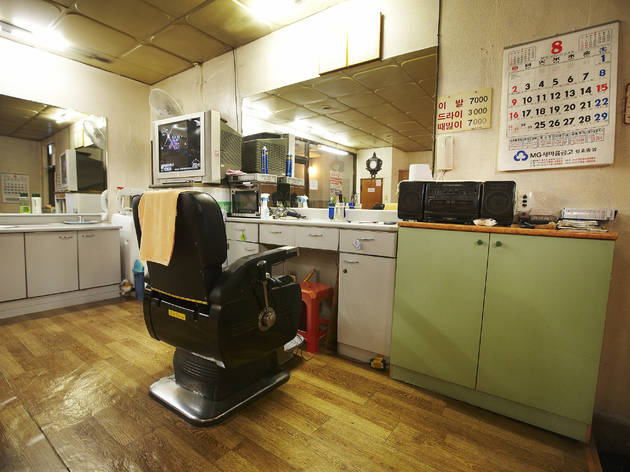 There's nothing like running your hands through freshly cut hair. Barbershops have been around for a while, but really took off in Seoul during the '50s and '60s, when more disposable income meant that people spent more on personal grooming. There aren't too many old-school barbershops around today, but gents can still get their hair trimmed at the 80-year-old Seongwoo Iyongwon, whose aging owner will give you a cut and a shave with his classic German razors. Back when he started working at his father's shop some 50-odd years ago, a haircut was 50 won (these days, it's a little over 10,000 won). Getting a cut here is a blast to the past—some of his hair driers are so old he has to use converters to plug them in. There aren't many old barbershops left, as they started to decline in the '70s and '80s: for one, longer hair came into style, thanks to bands like the Beatles. For another, certain barbershops became covers for unsavory underground businesses selling sex, and the government cracked down on all barbershops.
These days, if you're a gent looking for a modern cut in a old barbershop chair, you're in luck. Lately, retro-themed barbershops run by youngsters in their 20s and 30s have been popping up around Seoul—try Bommme in Hongdae or Herr in Hannam-dong.
Seongwoo Iyongwon: 4-1, Hyochangwon-ro 97-gil, Mapo-gu. 02-714-2968

Bombmme: 93, Yanghwaro 6-gil, Mapo-gu, 2F. 02-322-8577

Herr: 57, Hannamdae-ro 20-gil, Yongsan-gu. 02-511-9464
Drink it up old school
Before there were cafés, there were dabangs, where you could get your coffee (usually instant) and listen to music (usually LPs). Although dabangs were initially brought over at the turn of the century by young Koreans who had studied abroad in Japan, they really started to boom after the war, when more and more young people flocked to cities, got jobs, and had more money to spend. Back in that day, they were places to meet friends and maybe even dates. Before telephones were very widespread, young people would leave notes for each other at the dabang, or sit and wait for that special someone (the Pearl Sisters' classic song "Coffee Hanjan" recalls the agony of waiting for a date who never shows up). There are still a few dabang still around from the good old days, like the ever-popular Hakrim Dabang, open since 1956. Hakrim also became an important place for student activists in the '80s. These days, you'll find new cafés opening up with distinctly-dabang vibes, like Coffee Hanjan, a ten-year-old operation chock full of bric-a-brac from the past several decades. In addition to old toys, photos and handmade furniture, the owner built his coffee bean roaster himself, toasting his beans over live coals for a rich and heady flavor. There's also an LP player in one corner, and he'll play some records if you ask.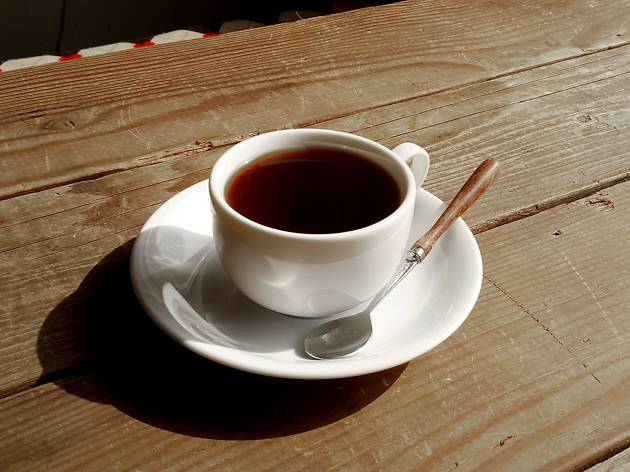 Everything at Coffee Hanjan is handmade with great care. Its owner even invented a device that roasts coffee beans using live coals to preserve the natural flavor of the coffee. With this machine, beans for specialty coffees can be roasted at different temperatures depending on the condition of the beans.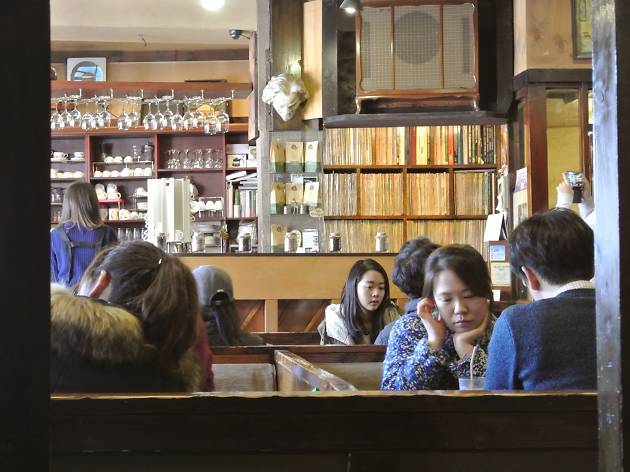 Opened in 1956, Hakrim Dabang is one of Seoul's oldest dabangs, or traditional coffee houses. In its younger years, Korean students fighting for democracy came here to discuss philosophy, literature and art. Today, only its function has changed.
A taste of old Seoul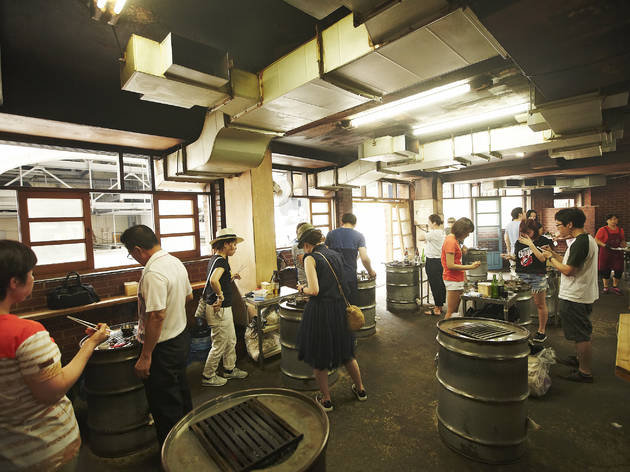 When more people began moving to cities around a hundred or so years ago, families used round charcoal briquettes, or yeontan, to heat their homes and cook in winter. Yeontan fell by the wayside when apartments grew popular in the '70s, but that hot, almost-acrid yeontan flavor is now a nostalgic memory for many older Seoulites. Seo Seo Galbi (literally, Standing Galbi) is a barebones space with exposed brick walls, about a dozen or so yeontan grills, no seats to speak of, and just one thing on the menu—galbi. It's been open since 1953 and was one of the first restaurants to serve galbi for ordinary people (previously, galbi was only available in high-end restaurants). Based on appearances, little has changed in the last 60 years. The yeontan are set up, hot and glowing, in metal barrels with a simple grate on top. Grill up some tender galbi, order a cold beer, and eat up—that yeontan gets hot so you'll want to keep an eye on your meat.
Looking for another classic restaurant that has stood the test of time? Get the blood sausage stew at Samgeori Meonjimak Sundae-guk, open since 1959 and still heated by a wood stove in the center of the room. In 1962, a bowl of stew was just 30 won. Today it's 5,000 won, which is still a steal for a filling meal.
Seo Seo Galbi: 32, Baekbeom-ro, Mapo-gu. 02-716-2520. Galbi 15,000 won/person.
Samgeori Meonjimak Sundae-guk: 11, Siheungdae-ro 185-gil, Yeongdeungpo-gu. 02-848-2469. Blood sausage stew 5,000 won.
The classic Korean bakery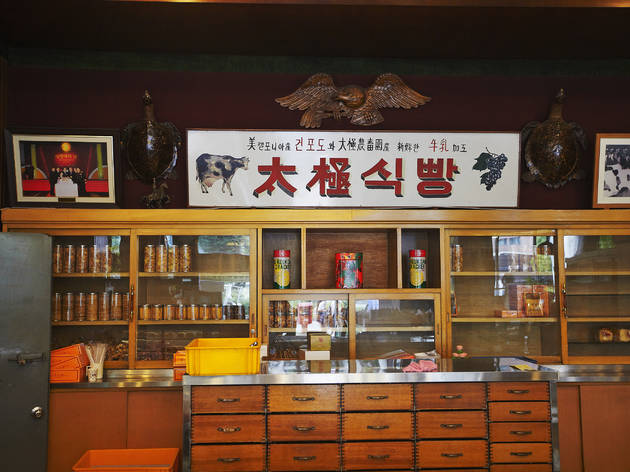 The classic Korean bakery
Macarons and tiramisu may be run of the mill in today's bakeries, but there's just something special about those squishy red bean buns, crusty soboro bread and fluffy square loaves of plain white bread. Korean bakeries got their start during the occupation but took on a character of their own after liberation. There's no better place to get a taste of classic Korean baking than Seoul's oldest bakery, Taegeukdang, open since 1946 and named in honor of the South Korean flag. Try not to leave without getting a Monaka ice cream bar (or several)—the same grandfather has made them by hand for the last 50 years, and they sell out fast. Their other top seller, the "sarada" (salad) bread has a choucroute-like filling and is big enough for two. Taegeukdang wasn't just a place to buy bread and leave—older residents of Seoul have fond memories of getting a "pat-bbang" (red bean bun) and milk, sitting down and chatting with friends here. Though we might not think twice about spending 1,500 won on a pat-bbang today, back then, getting sweets here was a treat. The store's interior and product packaging have remained virtually unchanged for the past several decades, so bringing home a bag of treats feels like bringing home a piece of the past.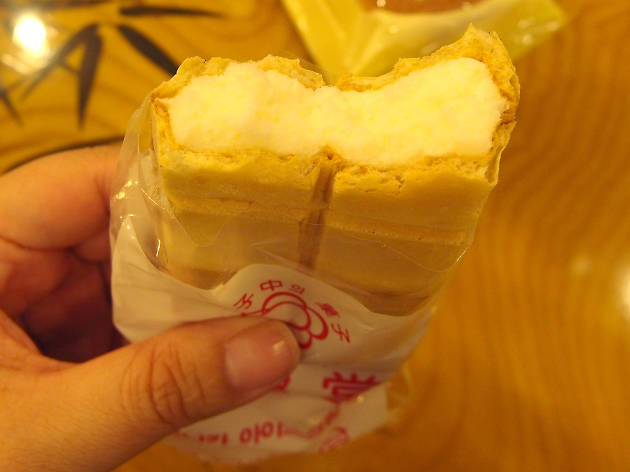 Back in the day, I used to try interesting snacks and ice-cream from the mom and pop stores, but the Monaka ice cream that I used to eat with my parents at the fancy bakeries was also a big part of my childhood. The Monaka isn't your average saccharine fruit-flavored ice-cream - the milky, crackly ice cream sandwiched between two crispy biscuits...mhmm! Maybe that's the reason why I still find myself going back to reminisce while biting into a Monaka ice-cream from Taegeukdang. Known to be one of the oldest bakeries in Seoul, once you step into the Taegeukdang at the Jangchoongdong location, you'll notice the interior design and typography reminiscent of 1946 when it all began. The magic of leaving a bakery filled with kitschy yet nostalgic breads and ice-cream to return to 2015!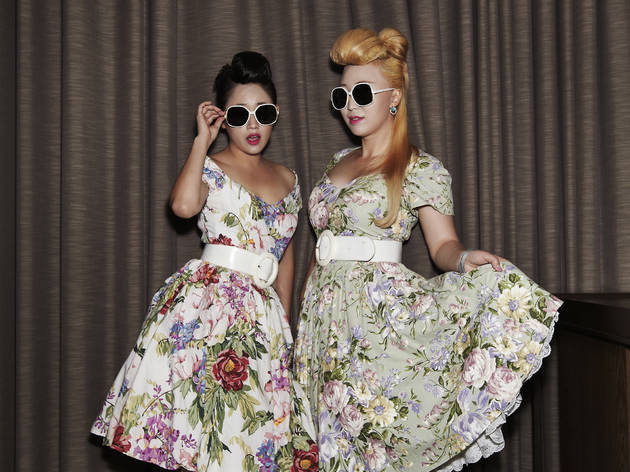 Interview: The Mimi Sisters
Many will recognize the Mimi Sisters as the mysterious backup singers and dancers for Korean indie band Chang Kiha and the Faces. But they've had their own successful breakout career as an indie duo since 2011, and Korean retro music continues to be an influence on their sound and their style—in fact, Big Mimi was Little Mimi's swing dance teacher back in their Hongdae swing dancing days. Their signature retro look and somewhat unearthly vibes give you the feeling that they've just come from someplace very much like the past (they never take off their sunglasses in interviews, once famously insulting Korean music icon Insooni by refusing to do so). And not only do their outfits match, their answers overlap as they finish each other's sentences and sometimes even speak, unprompted, in unison. Time Out sat down with the Mimi Sisters to talk about the powerful pull of the past.
How did you first come up with the concept for the Mimi Sisters?
When we first started out, we were only planning on doing one song with Chang Kiha ("Na-reul Bada-jueo," Take Me). The concept we talked about was "scarred sisters," something a little dark but still feminine. And of course Chang Kiha's music has a lot of retro influences. Hence our sunglasses and retro look. We learned a lot about older Korean music from our producer, Yohei Hasegawa, who is Japanese but knows more about Korean music than a lot of Korean musicians. He has so many LPs.
What are some of your musical influences from the past?
There were so awesome Korean female singers from back in the 50s and 60s who were named the something or other "sisters." It's kind of a pity that they're not more well-known. But we got a lot of inspiration while listening to their music, seeing their photos or finding old video recordings of them. It's influenced our music, and of course, our style. If these groups didn't exist, it's possible that our group wouldn't exist either.
Favorite classic Korean musical acts?
The Kim Sisters, of course. And the Pearl Sisters, the Bunny Girls, the Lee Sisters, the Sook Sisters (숙자매), Kim Chu-ja, Kim Jeong-mi… there are so many!
You broke off and made your own album in 2011, but is there any chance you'll get back together with the old Chang Kiha group and perform together again?
Nah—we're having too much fun on our own! Maybe 30 years from now when he's a grandfather and we're all old. If our fans still want it.
We'll see you there in 30 years.