Southern Attire
Sri Lankan attire of the south is quite distinctive from the Kandyan era.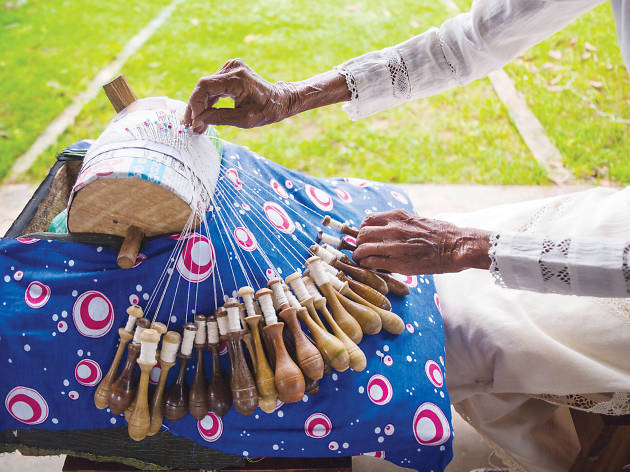 A delicate weaving of white flows into various desgins. Edged on a blouse, a woven doily, morphed into the pallu of an osariya or seamlessly incorporated into a modern dress. Many are believed to have been influenced by the colonisers. Simple and charming designs with an enduring and eternal beauty.
The Portuguese were the first Europeans to land in Sri Lanka and then colonise the coastal areas. Their costumes it seems were infectious wooing even the royalty and aristocracy of the Island. The southern province, especially Galle, demonstrates this influence even today. These designs have morphed into an art and style that has stood the test of time, revealing distinction and becoming localised over the years.
Kabakuruttuwa
The Kabakuruttuwa is a short jacket with long-sleeves up to the cuff. The jacket, worn by women in the southern coastal areas. One-time a traditional dress of the fisher-women of the south, it was a white jacket rounded at the back and distinguished with a V-neckline in front. It was edged with dainty lace. Apparently, the garment was cut in one piece and fastened in front with pins. It was worn with a long cloth known as the Kambaya. Black usually for regular work and a printed fabric for special occasions. This traditional feminine attire has made a come back as a fashion ensemble on today's catwalk.
Beeralu
Beeralu lace is a southern feature, especially in Galle. It was introduced by wives of the Portuguese officers in Sri Lanka to the women of the South as a hobby. Beeralu is also known as 'pillow lace' as it is made by twisting thread around pins fastened on to a hard round 'pillow' set into a wooden structure. Popular Beeralu lace designs include flower bands, five fingers, the mango, elephant foot, fan, pod of paddy and leaf designs. Each are woven separately or are merged to form a length of lace. The lace is a statement peice even in contemporary outfits today, both in Sri Lanka and overseas.