Hotels
Recommended places to stay in Sri Lanka – booking, discounts and offers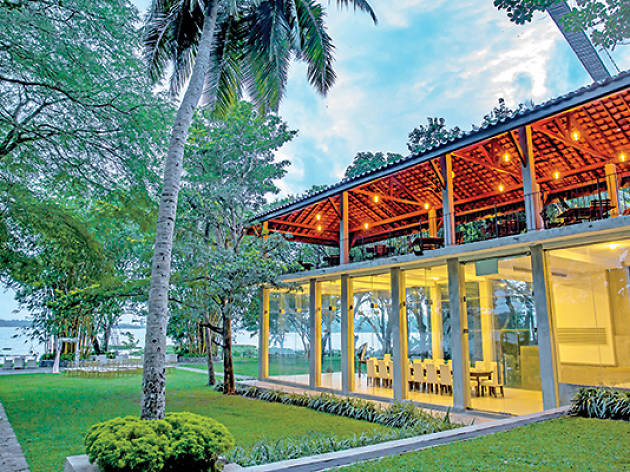 Thotupola Lakeside
Overlooking the scenic Bolgoda Lake, Thotupola Lakeside Resort offers the perfect getaway for those seeking serenity or adventure amidst nature, just an hour's drive away from the city of Colombo. Set within a two-acre lush tropical garden, the resort has been designed to ensure the interior, from the restaurants to the rooms, open out to the garden and lake. The resort's two Deluxe Tower Lodge rooms on the upper floor as well as the eight Standard Tower Lodge rooms are spacious and comfortable. The interiors echo a contemporary and minimalist elegance that reflect on the rustic outdoors. The rooms are well- equipped, can accommodate single, double and triple occupancy, making the resort an ideal holiday getaway for couples, families and large groups. The restaurant offers uninterrupted views of the natural landscape, while dining also takes place at the roof- top. A romantic dinner for two can be arranged on the pier. Or enjoy a refresh- ing cuppa on the Tree Tops. Cuisine at the resort is a delightful fusion of Sri Lankan and international. The freshest authentic ingredients of the island have been prepared with delicious flavour and are beautifully plated with western flare. Guests can relax at the open-air lobby or take a dip in the pool. They can also engage in watersports and a range of activities such as fishing, kayaking or exploring the bio-diversity of the Bolgoda Lake by boat. The picturesque setting has made Thotupola Lakeside Resort, the perfect destina
Check prices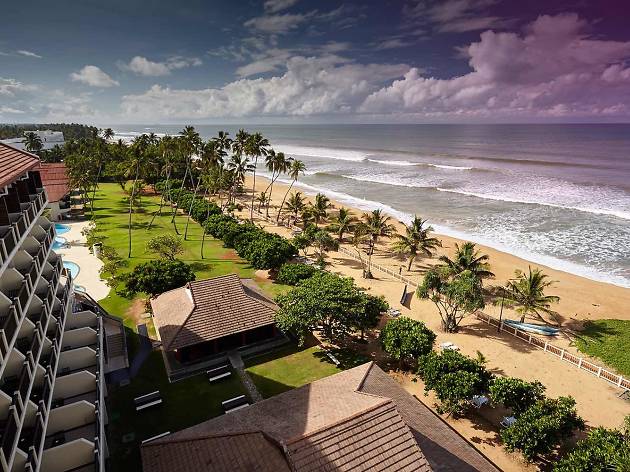 Turyaa Kalutara
Spanning across six acres, the five star hotel is conveniently located in Kalutara. Featuring a total of 199 luxury hotel rooms, the hotel boasts of seven restaurants, each catering to a different dining experience. From Fine Dining to Poolside drinks, guests can have their own choice. They serve carefully curated international as well as Sri Lankan cuisine. Feast in a hearty meal with family while enjoying a relaxing stay here. Tastefully furnished rooms and suites with modern amenities are equipped with their own balconies, patios or verandahs.  The hotel is also equipped with a gym, spa and a swimming pool.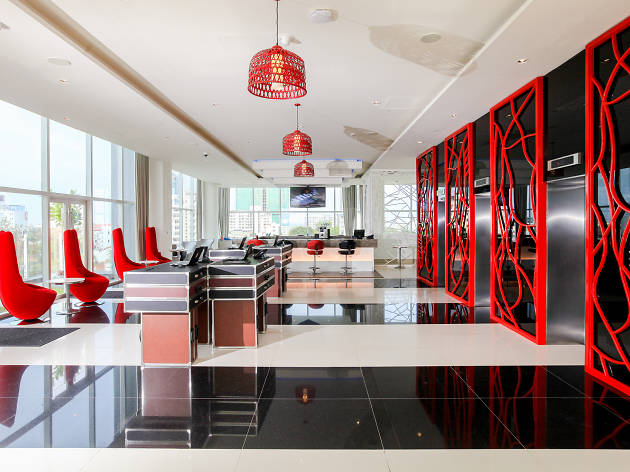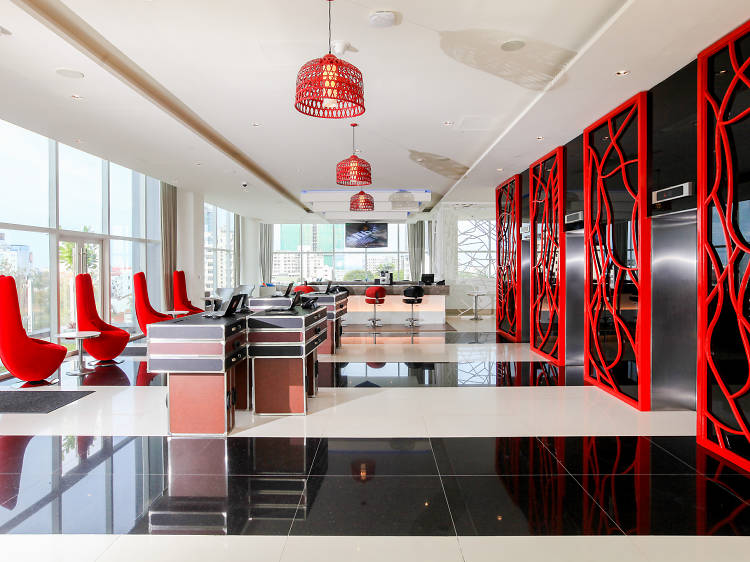 Cinnamon Red
The newest upmarket hotel in Colombo, Cinnamon Red has been built on a small land area and reflects what is called 'lean luxury'. With 243 rooms with either a city, park or lake view, Cinnamon Red is dedicated to do-it-yourself comfort. Ice, drinks and snacks are available from slot machines, and even check in can be done automatically. There is a roof top gym and an infinity pool overlooking the city, a main and a snack restaurant. While the hotel concentrates on efficiency, its décor is a blatant red in keeping with its image as chic and edgy.
Check prices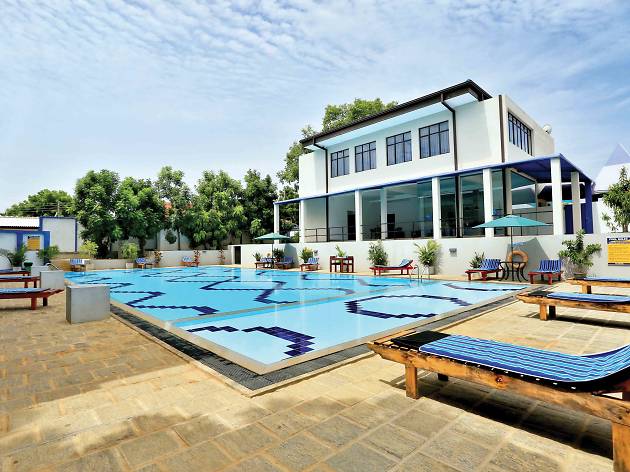 The Blue Wave Hotel
Located in the centre of Arugambay, The Blue Wave Hotel is a few minutes away from the beautiful eastern shoreline. It is the first star class hotel in the area. The hotel is spacious and elegantly furnished in shades of blue, while a giant sculpture of an elephant adds an Island touch. They offer Suites, Deluxe Double Rooms, Deluxe Triple Rooms and Deluxe Twin Rooms. Their accommodation is air conditioned, comfortably equipped with tea and coffee making facilities, a mini bar and access to a private terrace. The spacious Suites offer a living area, while all rooms have a verandah or balcony. The hotel's restaurant provides guests with a selection of local and international cuisine prepared by their world-class chef. One can also enjoy their signature and fusion dishes while enjoying views of the pool and environs. To make your stay all the more enjoyable, the hotel also organises personalised BBQs on request. The Hotel is equipped with a well stocked bar and a billiards table by the pool. The fitness centre offers guests the chance to burn off their holiday guilt while the Ayurvedic spa will relax your mind, body and soul. As the hotel is located close to the night-life action of Arugambay, there is great entertainment after dark. The Blue Wave Hotel is ready to organise transport if you ever need to travel to the popular surfing points in Arugambay. The hotel also arranges excursions to the Kudumbigala Monastery, Okanda Devalaya, and the historic sites of Lahugala, Ma
Check prices
Recommended hotels in the South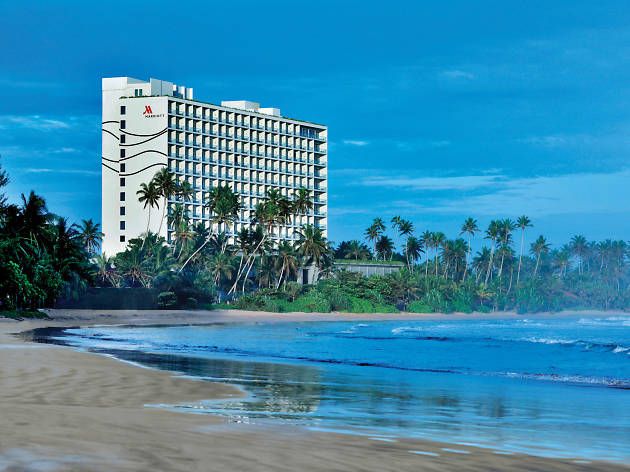 Marriott Resort & Spa
The Weligama Bay Marriott Resort & Spa is infused with contemporary Sri Lankan-style decor featuring a blend of soothing earthy tones inspired from the island. Located approximately two-hours drive away from Colombo, the resort offers 198 sea-facing rooms, each featuring a bath tub, 55-inch LCD screen TV, mini bar, in-room safe, spacious day bed and a private balcony. The Suites are spacious with added luxury including a private dining area. Soak in the sun or splash away on the soft sands adjoining the hotel or at the three out- door swimming pools including the children's pool. It is also close to the popular Unawatuna and Mirissa beaches. The Kids Club, from 8am to 10pm, is a great place for young guests to be entertained for hours. Dining at Weligama Bay Marriott Resort & Spa is an elaborate and multi-sensory affair. The all-day dining restaurant, Weligama Kitchen, serves a distinct cuisine with an interactive live kitchen and chic interior with rustic accents that add to the experience. From 6.30am to 11pm (12-midnight on weekends), chefs bring the very best of the world, with a wide selection from Sri Lankan, Indian, Tuscan and Hong Kong-Chinese specialties. Discover a world of gourmet flavour at The Big Fish, the hotel's specialty seafood restaurant. Serving the freshest catch of the day, the restaurant thrives on theatrics with chef hosted tables and a live grill from 7pm to 11pm everyday (12-midnight on weekends). Located in the Lobby (Great Room), Tides is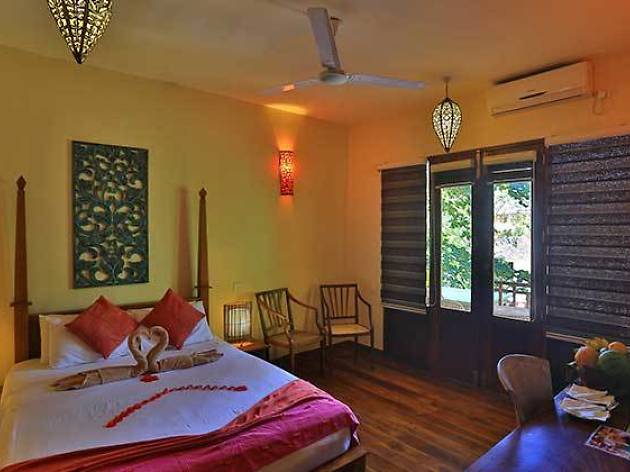 Thaproban Beach House
Set on the beach edge, Thaproban Beach House is the perfect spot to chill next to one of the finest beaches of the Island. The hotel is an excellent choice to explore the warmth of the sun and golden sand with a friendly and attentive staff ready to assist you in your need. Accommodation units comprise of spacious and comfortable rooms ranging from Deluxe, Superior and Penthouse with charming furnishing and balconies with beach views. For seafood lovers, the restaurant is a haven of classic and authentic Sri Lankan dishes spiced in Sri Lankan style. The blue waters of Unawatuna are ideal for surfing, snorkeling and diving among the tropical corals of the Unawatuna reef.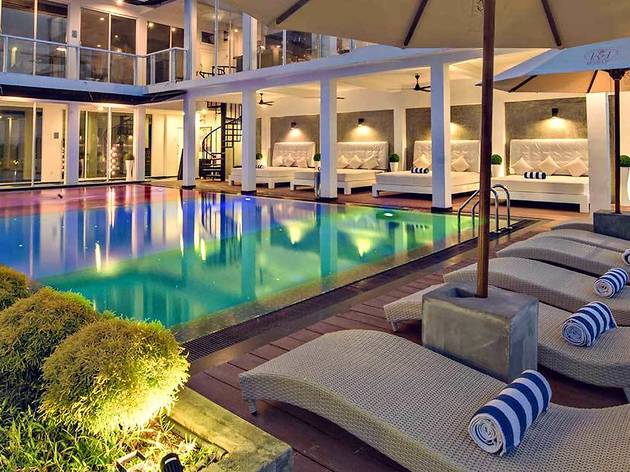 Cantaloupe Levels
Cantaloupe Levels is located in Unawatuna, just steps away from the beach. It welcomes guests with an outdoor swimming pool, tastefully furnished rooms and free internet access. Lazy afternoons can be spent relaxing at the private beach area. All the rooms at Cantaloupe Levels feature classic Sri Lankan-style décor. It comes with air conditioning, a fridge and an attached bathroom with a bathtub. Some rooms offer a private balcony overlooking sweeping views of the Indian Ocean. Staff at the 24-hour front desk can arrange for various water-sport activities including diving and snorkeling. Other facilities include currency exchange services, luggage storage and car/bicycle rentals. Guests can sample a delicious Sri Lankan-style meal at the in-house restaurant. For alternative dining options, room service is available and packed lunches can be arranged upon request. Cantaloupe Levels is 1.5-hour drive from Colombo city. Bandaranaike International Airport is 2.5 hours away by car.
Check prices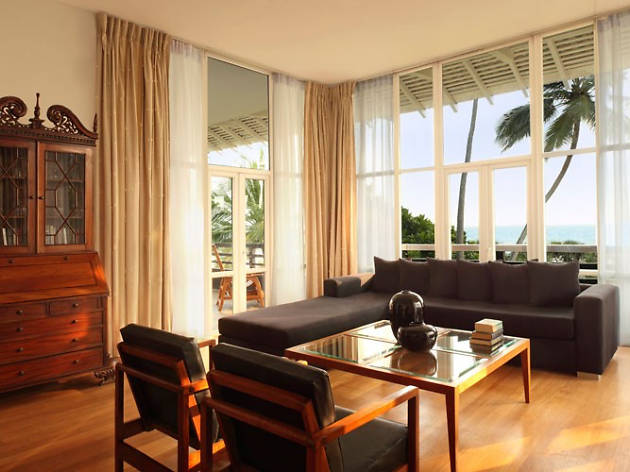 Heritance Ahungalla
A scenic destination located on the south western shoreline is home to the stunning Heritance Ahungalla. The hotel provides guests the opportunity to experience the coastal town at its enchanting, exotic best. Modern yet minimal decors throughout the hotel adds a sense of tranquillity to the entire atmosphere. Overlooking the deep blue seascapes, guests to Heritance are promised lazy and relaxing days in the sun. The Premium Deluxe and Deluxe rooms are well-equipped with modern amenities. The Luxuryrooms, Suite and Luxury Suite offer spacious accommodation and calls for a lavish vacation. The suites are perfect for a group of friends or family. All the rooms have their share of picturesque views of the rippling Indian Ocean.  There are many restaurants at Heritance Ahungalla to satisfy your hunger pangs. The Jute Restaurant serves buffets featuring Sri Lankan and International dishes. The Mustard Coffee Shop, the only coffee shop open 24 hours in the area, offers tongue-tingling pastas, thirst quenching beverages, indulgent desserts and other sugary goodies. The Upper Room Restaurant is the hotel's fine dining restaurant which serves fusion cuisine. It also has its own sommelier and a romantic ambience. Comfortable within one of the five bars, named Bacchus, Pool, Apollo, Wall and Orpheus, guests can sip on a signature beverage at sundown. Heritance Ahungalla is also ready to cater to your personal needs by arranging themed nights for large groups or a dreamy dinner for two
Check prices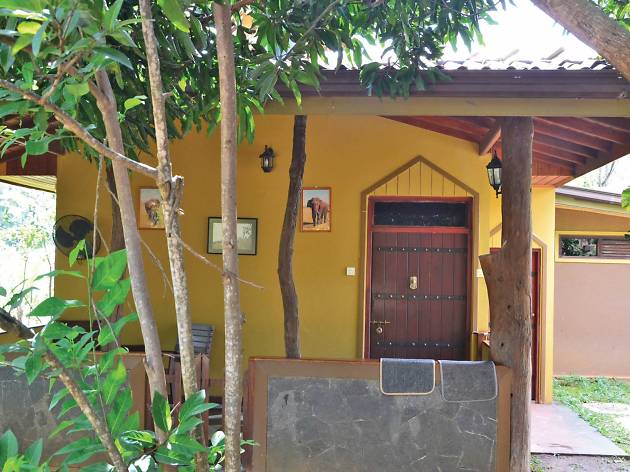 Elephant Safari Hotel
The Elephant Safari hotel is located in the jungle landscape at Udawalawe. The features accommodation in double and single chalets each with private balconies/sitting lounges and open air bathrooms. The cottages are constructed to complement the jungle with thatched straw roofs and cave like arches. The interiors, however, are in accordance with the modern fashion and promise super comfort. The hotel is close to Udawalawe national park, the Katharagama Temple and other sites of historical importance.
Check prices