Aluvihare Rock Temple
The Aluvihare Rock Temple is an exciting place to explore.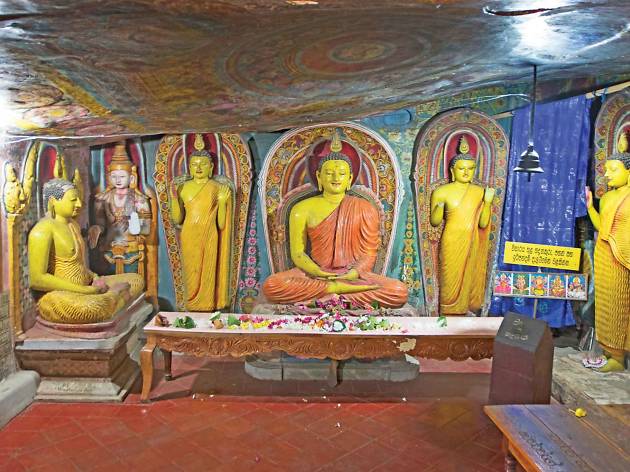 1/2
©BT Images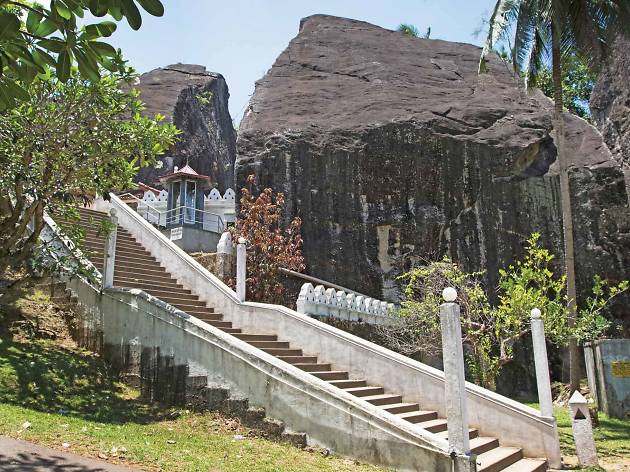 2/2
It is crowded with relics from many periods of history: from Third Century BC to the present day. It ranks among the very first temples in Sri Lanka, founded by Devanampiyatissa, the first Buddhist king.
It is to the Aluvihare temple that you must go to absorb traditions of Sri Lankan Buddhism not changed since feudal times. At first glance itself the temple is intriguing, it spreads across several levels through rock and lush greenery. Coconut palms with feathery fronds; image houses with colonnaded verandahs and rock boulder roofs; whole villages assigned to provide feudal services: everything is here.
Within its premises are also thirteen caves. For more than 2,300 years, monks have inhabited these caves, engaged in their quest for Nirvana. The most ancient mark left behind by them on the rocks boulders are a sacred footprint to represent the Buddha.
The dark main rock cave is occupied by a giant reclining Buddha, attended eagerly by images of divine and human personages. Another cave with a Buddha statue running its length is painted with graphic images of Buddhist hell: a wake up call to pilgrims.
Yet, Aluvihare is best known because within its caves took place a landmark event of Buddhist history. In the 1st century BC, a huge number of monks in the country fell victim to a 12 year-long famine. At this time, all the Buddha's teachings were still transmitted orally from generation to generation by monks, therefore, the doctrine was threatened with extinction. After the famine, one of the first priorities was to commit the doctrine into writing. It is in the caves of Aluvihare that this landmark event took place.
The original ola leaf manuscripts, on which were inscribed the words and philosophy of the Buddha, had, somewhat incredibly, survived till mid-nineteenth century. But during the Matale rebellion of 1848 many parts of the temple were destroyed, and the library with the precious collection was completely lost.
If ever you travel down the Matale- Dambulla road, don't just pass the majestic entrance made up of mythical monsters entwined for eternity. Enter, and witness a dramatic and valuable part of Buddhism in Sri Lanka.