Anglican All Saints' Church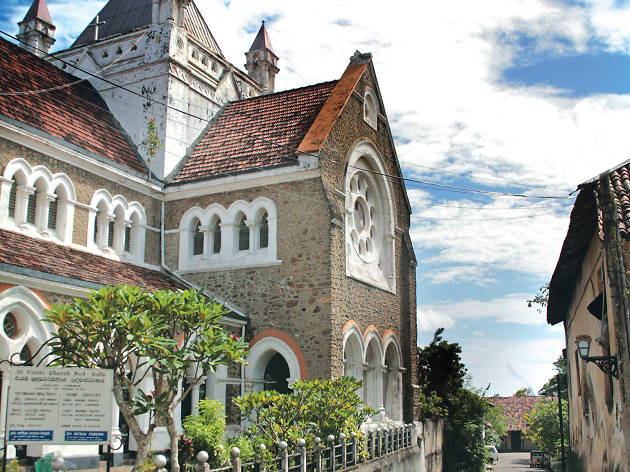 Time Out says
A grand gothic church
With its conspicuous and imposing Gothic style, the Anglican All Saints' Church in Galle is not to be missed. Anyone desiring to witness history inside the streets of the Galle Fort must visit this church, a stone structure that has a striking exterior with multiple arches and a turret. An engraving outside indicates that the site was once a court house. The gallows is said to have stood on the site of the present church altar. The style of architecture is 13th century Gothic, modified to suit the local climate. The church stands out as one of the most beautiful Anglican Churches in Sri Lanka.
The construction of All Saints Church, Galle began in 1868. The church was consecrated in 1871, and holds services to this day. It is built on a basilican plan, in Victorian Gothic Revival style to suit tropical weather. This edifice has withstood many monsoons and continues to stand firm as a landmark of the historical Dutch Fortress in Galle.
The plan of the church is cruciform, shaped like a cross, firmly supported on stone columns and arches carved beautifully in timber. The inside with its nave, main aisle, two side aisles and wings also boast of pillars with masonry arches built in local kumbuk and lime mortar, strong enough to last many more years. At the altar is a vaulted semi-circular apses, with a traditional church adornment of stained glass windows that allows light to seep into a solidly decked interior. Each stained glass window is of intricate designs with prominent imagery of the Saviour. The backdrop in the main altar is made of heavy yet beautiful timber carvings. The heavy pews adorned with David's star and sanctuary are all made of Burma Teak.
From the cross-shaped floor plan, the firm foundations, transcendent towers and stained glass windows depicting central biblical stories in full colour; everything about the church is designed to help believers discern and delight in the biblical doctrines. Even the way the sunlight streams through stained glass adds a holy hue.
The church is a fine example of the use of art and architecture to help the local populace under colonial rule to see and hear the message of the cross. It is a structure which continues to enthral thousands of tourists with its magnificence.
Details
Users say