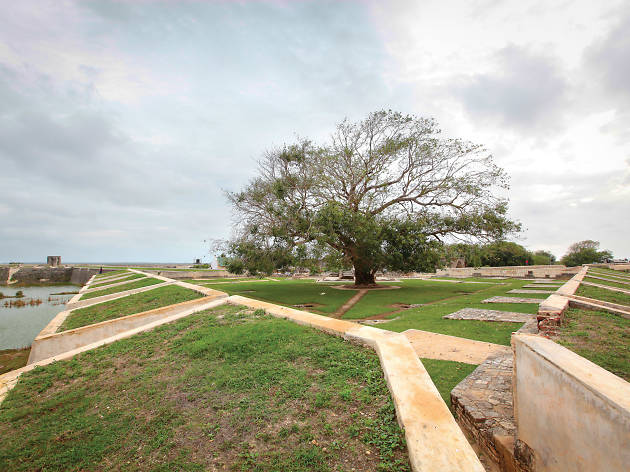 1/2
©BT Images
2/2
©BT Images
Time Out says
Elephant Pass is the name given
to the causeway spanning the shallow lagoon that separates the Jaffna peninsula from the rest of the island. It was the Dutch who gave it this curious name. During Dutch occupation of the island, elephants were exported from Karaitivu, one of the islands lying off the Jaffna peninsula and an annual sale of elephants was also held in Jaffna. Elephants caught in other parts of the country were driven into the Jaffna peninsula, across this lagoon, which was later bridged and given the name Elephant Pass. Elephants no longer traverse this stretch but the fanciful name still remains.
Elephant Pass lagoon is fed by
 a number of rivers from the south, including the Kanakarayan River and the Netheli River. It is home to a wide variety of water birds and was declared a bird sanctuary in 1938. The Dutch also built a fort here in the 18th century, which was later partially used as a rest house, but this no longer exists, though the name board still remains.
Owing to its location, Elephant Pass controls access to Jaffna. It connects the peninsula to the Sri Lankan mainland and thus forms a vital part of the road to Jaffna.
This is a journey not just of distance, but also of landscape. As the lagoon 
is crossed, the land becomes increasingly flat and the vegetation changes. Large trees disappear. 
There are no trees here that offer shade as in other parts of the country. The only prominent item to be seen on the flat landscape are the palmyrah trees, their silhouettes standing tall and clear. They are beautiful but offer no shade for the traveller.
Elephant Pass has always interested writers perhaps because of its unique location. For travellers in the past, crossing Elephant Pass was not an easy journey. Travelling in 1905, the journey from Colombo to Jaffna took the writer Leonard Woolf three days to travel by the so called Mail Coach, which delivered mail bags. The journey Wolf had described was akin to a travel in a bullock cart with mail strewn on the floor and passengers sleeping on the bags. Then the journey was arduous. Fortunately, the present day traveller has much faster and more comfortable modes of travel to Elephant Pass, where anything but elephants is witnessed.
Details