Lankathilaka Raja Maha Viharaya – The white marvel on a rock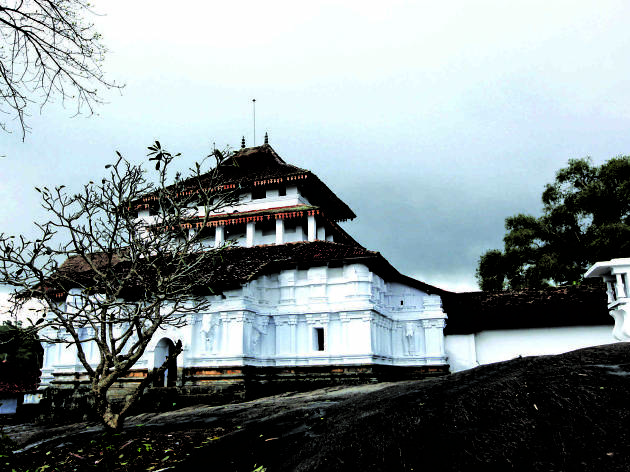 A magnificent construction on an uneven surface.
The many kings of Sri Lanka with their extravagant and complex desires have often defied nature's barriers to dictate many splendid creations that belie the imagination ofncommonplace folks. The majestic Lankathilaka Raja Maha Viharaya is one such edifice. It is considered an outstanding architectural construction of the Gampola kingdom. Built at the crest of a large rock, it overlooks the Hantane mountain range in the Hiripitiya hamlet in Udunuwara. The beautiful structure is an amalgamation of Sinhala architecture of the Polonnaruwa period and of Dravidian and Indo Chinese styles, which was an obvious outcome after enlisting the services of South Indian architect Sthapathi Rayer.
The history of the temple dates back to the 14th century. King Buwanekabahu IV who reigned from 1341 to 1351 CE chose Gampola as his kingdom and commissioned the construction of Lankathilaka. It demonstrates the king's refined discernment for art and culture and significant contributions to art.
Following the Gedige style of architecture of the Polonnaruwa era, this temple is believed to have consisted of four stories. It has been designed with projecting entrance arches on four sides with elaborate doorways, the main entrance being the most elaborate due to an intricate decoration of figures of celestial and mythical beings. Though the temple seems to have had more levels, what remains today is the ground level structure and an upper storey. Lankathilaka, like many of its counterparts in the Gampola Period is an example of the worship of the Buddha and deities under one roof, a practice of the time.
The main doorway leads to the Image House, from the East with a flight of steps that begins with a simple moonstone. Two Gajasinha balustrades flanked by the sides of the steps leads to an arched doorway. The dragon arch is prominently decorated. The guardian figures on the arch are believed to be similar in character to those at the Tivanka Image House in Polonnaruwa. Elegant architectural design and wall paintings rich in colour, adorn the inner walls and the ceiling of the main Image House. Within the Image House is a magnificent twelve-foot tall Buddha image under a beautiful dragon arch. What is unique about the design of Lankathilaka is that the Image House is surrounded by five devale, with separate entrances, devoted to deities.
The rock inscriptions found in the precincts of the temple is cut into the solid rock. Sections with Sinhala and Tamil inscriptions have been deciphered by archaeologists, which describes the facilities provided to the temple and land gifted by the kings.
The structure in its pristine white is elaborately decorated with multitude of pilasters and elephant figures with windows and hollow spaces adding
to the beauty of the edifice.
Venue name:
Lankathilaka Raja Maha Viharaya – The white marvel on a rock
Contact:
Address:
Alahana Piriwena
Polonnaruwa
Polonnaruwa
51000

Opening hours:
Daily 9am-7.30pm
Price:
Locals free; non Sri Lankans Rs300