Myths etched Dorawaka caves
A visit to a dark, bats' lair of a cave in Kegalle that yielded proof that the Neolithic man lived in Sri Lanka.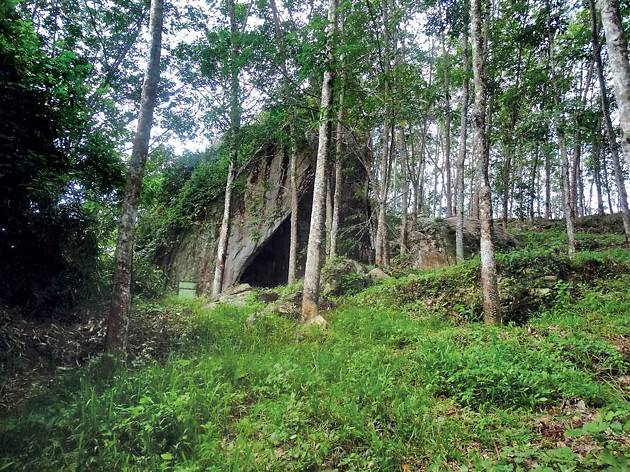 Dorawaka cave or Dorawaka Lena is for those with an adventurous streak and a love for mythical stories mixed with archaeological fact. Dorawaka Lena is an ancient cave with archaeological findings dating back to 6,300 BCE, initially discovered in the 1940s. Situated near Warakapola in the Kegalle District, finding the caves is not an easy task. Amidst plantations and ancient ruins the trek to this ancient site is quite absorbing. At first sight, the Dorawaka cave will be hard to make out, as it almost magically appears out of thin air, with the trees parting to bring to the fore two gigantic rectangular rocks leaning on each other. The eerie sound of shrieking bats welcomes the visitor who approaches the cave. This creepy atmosphere adds much gusto to the archaeology buff. Standing at the foot of the rock, it is with sheer awe that one usually gazes at the size of the two marvellous structures, coming together to form the entrance of the cave.
A signboard by the Department of Archaeology establishes the cave as one of the protected archaeological sites of interest in Sri Lanka. The original carvings have been numbered, and with a flashlight, it will be easy to make out several markings, ranging from ancient scribbles called 'Kurutu Gee', to carvings of animal-like shapes, said to be an elephant and its calf.
The discovery of the Dorawaka cave and subsequent excavations was a major breakthrough in the country's history, as it was the first time that evidence was found on the existence of civilisation in Sri Lanka during the Neolithic period – the transitional period between the Stone Age and the copper, bronze and iron ages that arose with farming. Clearly the carvings on the stone-wall of the cave had to have been made with metallic tools, and some domesticated grain (Kurrakkan) seeds, fireplaces and pottery of the period were also unearthed. This area is thought to have been home to two to three families. The combination of these findings was the definitive proof needed to confirm a Neolithic period in Sri Lanka.