Somawathiya Chaitya
Travelling to Somawathiya has an adventure and a spiritual journey of self discovery. It is a stupa with a fascinating history and legends.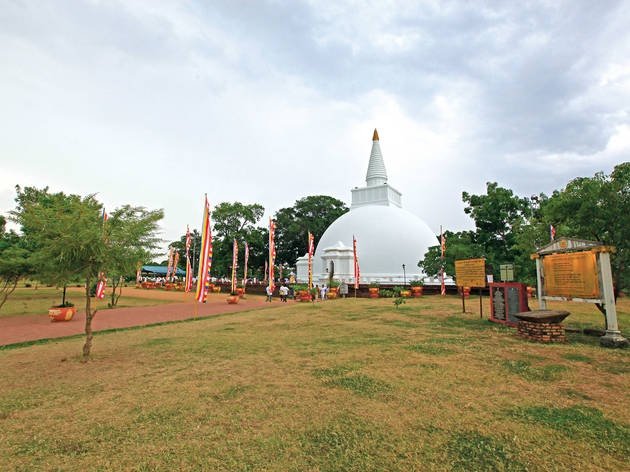 To make the trip to the Somawathiya Chaitya is also to immerse in many legends and mystical stories. Passing through the ancient kingdom of Polonnaruwa, you enter the remote village of Sungavila. The road to the grand stupa runs through the sanctuary offering views of wild elephants wallowing in the wetlands feeding on greens.
The oldest story about Somawathiya is that it was built in the second century BC. While some say it was built by King Kavantissa for his sister princess Somawathie other accounts state it was built by his brother-in-law, the princess's husband, King Abhaya. The stupa is belived to enclose the right tooth relic of the Shakyamuni Buddha. Restored to its ancient glory, there is an uncovered strip in the stupa where one can see the original brickwork laid in the second century BC as well as those of later renovations.
Many miracles are attributed to this stupa. In the 1940s, a group that was newly settling in the area had witnessed rays, similar to those emanating from the Buddha, glow from the a large mound. They had alerted the authorities. After examining, archaeologists recognised it as the Somawathiya Chaitya in 1947, it had been deemed lost for nearly 800 years. Over the years, many devotees have claimed to have seen the rays. Another very intriguing story relates how a group of men tried to obtain the tooth relic. The intention was to take the relic and house it at the Temple of the Tooth in Kandy. A swarm of bees had made the task impossible and the group abandoned the idea.
According to local tales, wild elephants that roam the neighbouring land have often been seen worshipping the stupa. Visiting the Somawathiya Chaitya will leave you humbled. The white bubble of a stupa in the middle of a great wilderness, host to many strange miracles, is a sight one must experience.