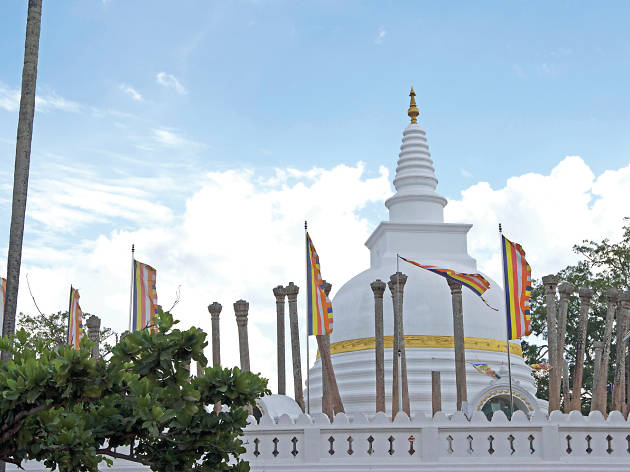 1/2
©BT Images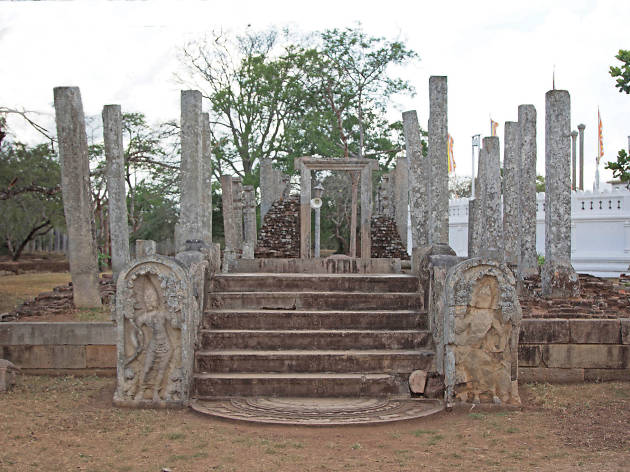 2/2
©BT Images
The stupa holds special meaning to most Sri Lankans when Il Poya is observed. It is chronicled that the foundation stone for Thuparamaya was laid on this religious day many centuries ago. Many followers will head to Thuparamaya dagaba on Il full moon day to reflect on the Buddha's teaching and undertake customary practices of worship.
The aesthetically built, bell-shaped Thuparamaya stupa is situated in the highly sacred Mahamewna Uyana in Anuradhapura and is a significant and certainly much-visited site. According to recorded history, it was construct- ed in the 3rd century BCE during the reign of King Devanampiya Tissa, at the request of Arahat Mahinda, an envoy of King Asoka. It is the earliest stupa to be built in the country after the advent of Buddhism. It is believed to be the repository for the sacred right collar bone relic of the Buddha and some even theorise that it origi- nally held the sacred tooth relic.
A very distinctive feature of the famed Thuparamaya is the vatadage, a dome-shaped construction which once held within it the stupa. Out of the estimated 176 pillars that used to stand in a circular pattern around the dagaba, over 30 can still be seen, some retaining the lotus-shaped crown and polished surfaces. A widely recognised element is the two guardstones on either side of the entrance.
In the course of long centuries, the Thuparamaya dagaba is known to have been destroyed by invading forces and through natural erosion. The last recorded renovation in history was carried out in the 19th century CE and sees the dagaba with a diametre of 59 feet at its base and at a height of a little over 11 feet.
The name Thuparamaya is said to be derived from the words 'stupa' and 'aramaya' which denotes a monastic complex for monks. Archaeological excavations have revealed the ruins of an ancient hospital that had been in existence over 2,000 years ago. Artefacts such as medical equipment and remains of a latrine system have been discovered. Not far from the stupa are the vestiges of an image house and several tanks. While on a tour of the sacred city of Anuradhapura, a visit to Thuparamaya is a must.
| | |
| --- | --- |
| Venue name: | Thuparamaya |
| Address: | Anuradhapura |