Trincos lost WWII oil tanks
The largest China Bay Oil Tank Farm in Trincomalee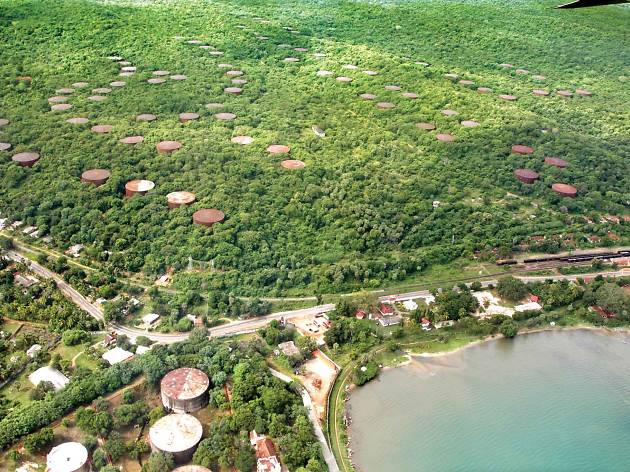 Unique to Trincomalee is the China Bay Oil Tank Farm, the largest of its kind located between West Asia and Singapore. An aerial view will show a collection of tanks spread across bulky vegetation that makes the area look very much like a farm! Its origins are connected to World War II. Stretching into the jungles of the East in a well- planned formation, the oil tank farm was a strategically located to aid the Allied Forces.
During the world war, Trincomalee was an important port that played host to the biggest oil tank farm in the British Empire. As the war raged, Japan, then a mighty marauding power of Asia tried to strike the oil farm, in a bid to cripple Allied Forces.
In April of 1942, a Japanese fighter plane fully armed for attack, crash-landed on the facility. However, the design of each of the 99 tanks was so unique that the destruction of a single tank in the incident did not cause the flames to spread to the remaining oil tanks in the farm. The lone tank, tank 91 to be precise was the sole casualty in the mission. The remaining 98 lay intact to this day.
Interestingly, the plane that crashed into tank 91 that April morning in 1942 is believed to have been hit by anti-aircraft fire. The pilot, Shigenori Watanabe, may have crashed his aircraft deliberately, with two others on board also losing their lives in the process. The remains of a skull were found at the site, a testament of sheer sacrifice for a cause that the fighters felt worthy of laying down their lives for. The fire that broke out as a result had lasted seven days and generated so much heat that steel melted leaving only the engine as evidence frozen in time.
The remains of another tank destroyed in the 1960s when a Royal Ceylon Air Force plane crashed into the oil tank farm by accident also stands as an archaeological remnant.
Being connected to the Trincomalee harbour, which is the fifth largest all-weather, non-tidal natural harbour in the world, with a 56-km shoreline, makes this tank farm most effective for fuel receipt, storage and supply. Operated over time by different oil corporations, today only 15 tanks are in use.