Whoopee! Let's head East
The surfing season has just started and head to East to catch the waves!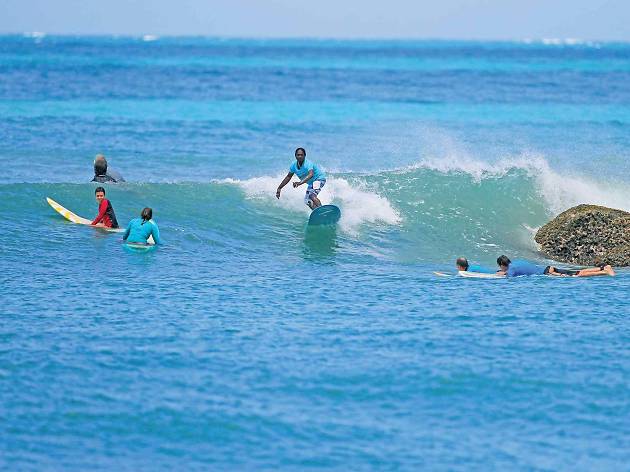 The East coast is never really out of season to indulge in many pleasures associated with the ocean. But June is the best time for some thrilling encounters in the seas. Undertake a boat ride into the deep waters to catch a glimpse of the giant whales in full view; it might prove to be a once in a lifetime experience. Especially as it is in the open seas, where the whales are in their element sprouting water from their blowholes.
Trincomalee is undoubtedly the most famous and visited place to spot the giant mammals in their natural habitat. Generally a local would tell that spotting a whale wouldn't take much long after boarding a vessel, as the gigantic creatures casually glide past, oblivious to the enthusiasts watching its every move.
The coastline surrounding the Trinco harbour is a well-known location for whale watching. Seas off Trincomalee are breathtakingly astounding with immaculate beaches stroked by the calm blue waters. There could be no calmer and clearer waters for snorkelling and diving than in the east of Sri Lanka.
Nilaveli is blessed with immeasur- able beauty and its claim to fame is age-old. Pigeon Island off Nilaveli on the East Coast is one of Sri Lanka's best known snorkelling sites. It is a must-do feat while in the East. Of course during the season will find hordes of visitors, local and foreign, stalking the beaches and the sea for a welcome reverie. Coral island a few kilometres away will be less populated and provides the space for diving and snorkelling.
Batticaloa's picturesque lagoon and beach is also a great area for snorkelling and diving. It is a magnificent beach of serenity, which would undoubtedly make anyone's holiday simply fantastic.
Passekudah and Kalkudah have some of the widest and longest stretches of soft, golden sand running along a clear, calm shallow bay. This allows visitors to wade through the clear sea water for quite a distance, thus making it a perfect place for a family retreat.
Moreover, the atmosphere is essentially peaceful, which gives it a laid-back setting where the visitor is beckoned to sit back, relax and watch the sky changing colour and the day turn to dusk.
Those in want of a little water adventure, kitesurfing among other watersports is popular this time around. Head down to the surfing hotspots along the Batticoloa coasts, where a range of waves are ready to carry you. The national parks and sanctuaries hide some wild secrets, that will thrill you once discovered. So for the nature lover the Gal Oya National Park is a must-vist.
All in all, for the holidayers in search of relaxation or adventure, the East Coast of Sri Lanka has got you covered