Colombo's Favourite Bars
Join in on the fun at the most happening and exclusive bars and pubs!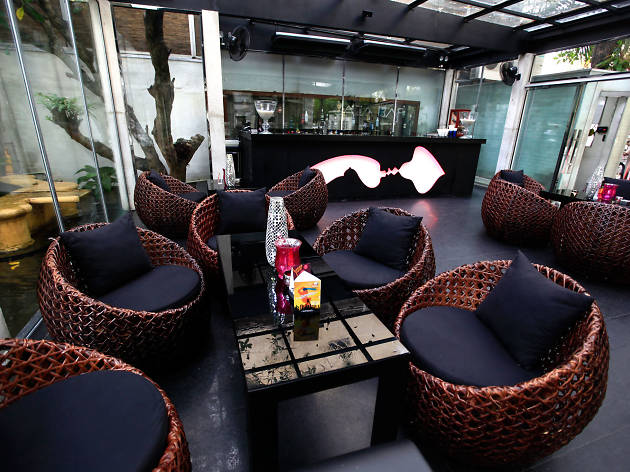 Colombo, being the commercial capital has a growing nightlife with a selection of bars and pubs offering a much welcome diversion and places to unwind. After a long and uneventful day, wear your best and head on out to grab your favourite drink and kick back to have some fun with your friends. Witness and be a part of live music and bands, quiz nights, open mic nights, live sports matches and games and more.
Here, we have a list of the best bars and pubs to go to whatever your preferences may be. Whether you enjoy large crowds and loud music or if you are more into enjoying a drink or two in a more laid back atmosphere, we've got you covered!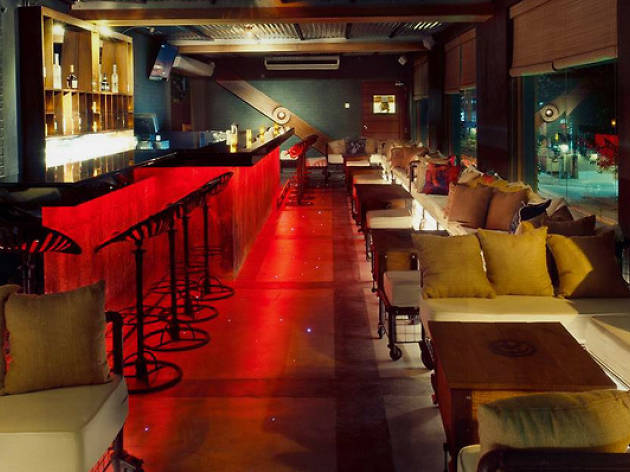 With quirky yet arty décor, The Loft is a great place to relax and unwind.
A charming space with a one-of-a-kind interior and dim lighting to create the right mood for a relaxing night, The Loft at the Colombo Courtyard is about being trendy but basic, albeit in a wonderful way.
Here, you will find recycled pieces of scrap such as tractor parts for bar stools, crinkled sheet ceilings and cushions made out of sacks make up most of the décor. While it is deemed unconventional, the drinks are traditional made by a bartender who can also whip up some impressive cocktails and drinks. The waiters are very helpful here, and are pleased to assist you with any orders and give recommendations as well. As you browse through the food and drinks menu, you will find yourself moving along to the groovy beats played throughout the bar.
Head on over to Loft Lounge Bar to unwind and enjoy some well mixed drinks and delicious bites, with a group of friends.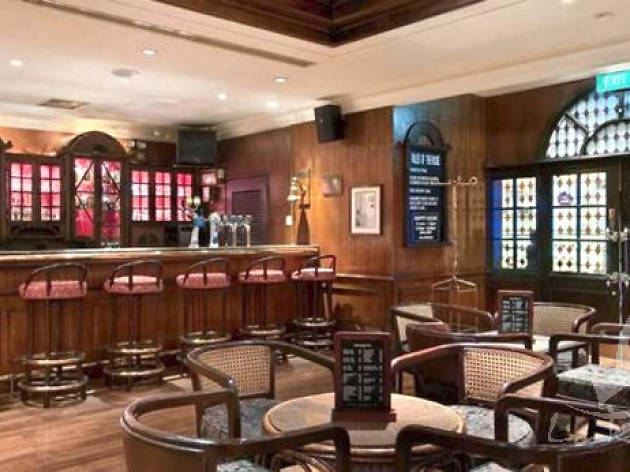 Traditional pub grub in an atmosphere of camaraderie.
A British-inspired bar with elaborate adornments and pictures depicting old Colombo, the Echelon Pub at the Hilton is where many go to grab a drink—chilled beer especially—with friends. A place to unwind after a long day's work, the pub serves international beers, premium spirits, cocktails and traditional pub grub.
The succinct but classic menu consists of bites such as fried chicken and hot butter prawns (great choices for pairing with your drinks) and main dishes and started that are mostly western. Their drinks include local and imported beer as well as wines, spirits, cocktails and a handful of soft drinks too.
It has won the hearts of many with its good pub food, cold beer and excellent service over the years and it is known to be a reliable and fun place for a night out. For some light sport action play a game of pool or lounge around to catch sporting action on the giant screen.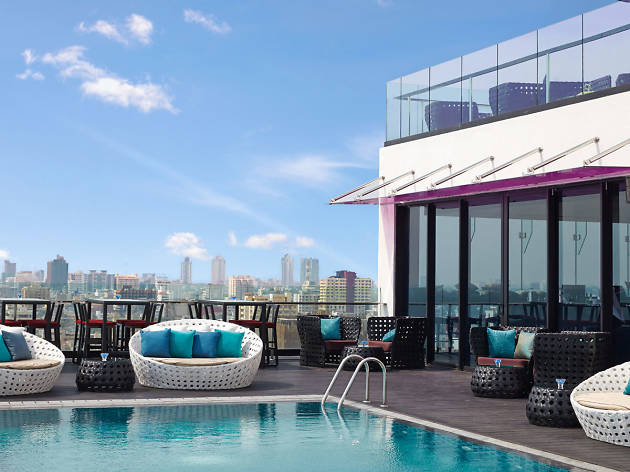 Stunning views of the Indian Ocean to contemplate while relaxing with a drink.
In the battle of providing the best view for guests, many swear that perhaps ON14 has by far the best views in the city. Adjacent to the outdoor pool, and encircled by think glass walls offering unbeatable views towards the city and the vast Indian Ocean, ON14 is a definite no brainer when it comes to choosing a fun bar.
With a good selection of cocktails and a daring menu, ON14 reflects sophistication. They offer creative drinks, delicious bites and intercontinental meals too. A rooftop pool adds to ON14's glamour and if bad weather sets in you can always take your party inside where taste in decor, drinks and food go hand in hand.
At night, as it gets dark, ON14 is lit up with fluorescent colours–you will get a small portable light on each table and you get to change the colour of it depending on your mood! One highlight is a chandelier that changes colour (it's not the effect of the cocktails). A little quirky, a visit to ON14 can intrigue.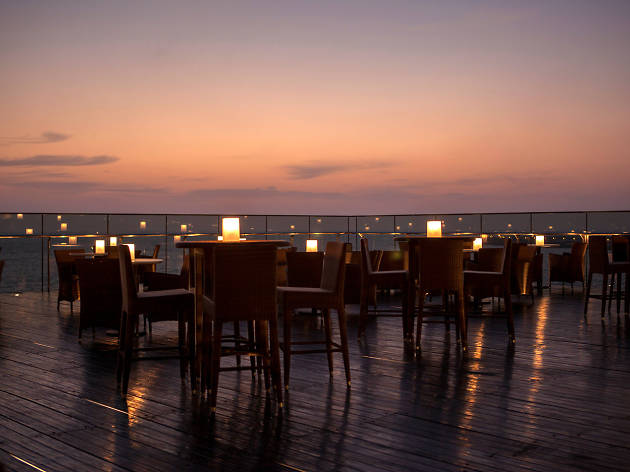 The sky is the limit as this bar becomes Colombo's top happening spot.
Called one of the hippest bars in Colombo, the post-modern design of the Sky Lounge complements nightly entertainment with a menu of exciting and creative selections. The view is sensational attracting patrons to gaze at the Colombo Port, the old parliament and the Galle Face Green. Be there before dusk to witness the stunning sunset when the sky's cloudless. It is a popular venue for stargazers and to view Colombo's burgeoning skyline.
Apart from an impressive view and social buzz, they also have pleasant food and drinks as well as good service. Their wine menu especially, is vast and diverse and will prove to be a treat for wine lovers! Salads, side dishes, sandwiches, local dishes, grills and specialty dishes are available along with several appealing dessert options. Sky Lounge also carries cigars, premium champagne and signature molecular cocktails.
In summary, Sky lounge is a very cool and happening bar with stunning views and an endless flow of drinks– so what are you waiting for?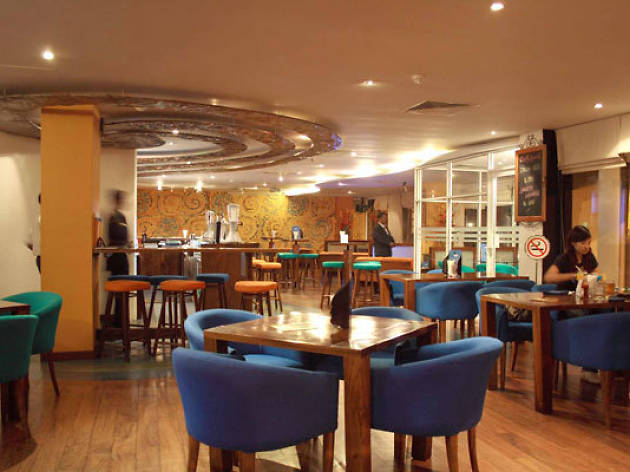 Prop up the bar or tap feet to great live bands every night.
The mood in Margarita Blue is anything but blue. It's a jolly ground floor cocktail lounge with great live music (by Mirage from Wednesday to Saturday), especially retro. A lively atmosphere, fun crowds and great service, this is a very frequented bar in Colombo.
While hot and cold appetisers, 'toasties', various main dishes and desserts are included in their food menu, aperitifs, cocktails, various liqueurs and spirits, beers and soft drinks as well as fresh juices are offered in their drinks menu.
There's traditional pub games too, such as darts, snooker and pool, and even a giant screen for sports fans to catch up on the latest game, keeping patrons engrossed. If the mood is right and the music cool, dance along to it; it's that kind of place.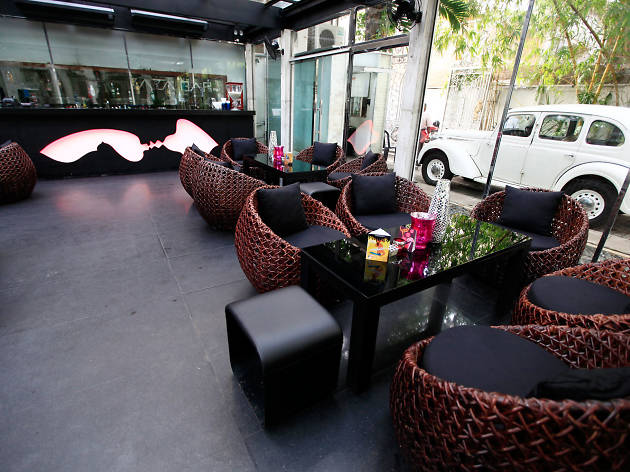 ©BT Images
In a parlour created with glass walls and ceiling, ZAZA bar is all about providing an outdoorsy feeling while enjoying the comforts of an indoor bar. By day ZAZA is an atmospheric venue which is a fusion of modern and abstract elements. Marvel at the electric ambience created by the neon lights at the bar as well as the shimmering vases and decor that pop up here and there.
It's the place to sip some premium blended Ceylon tea or a tea mocktail while listening to engrossing lounge music. Then as darkness falls the bar swings, with a ready range of international wines, spirits and innovative signature cocktails, ZAZA bar is a must.
With exceptionally good prices and a large menu to choose from, ZAZA bar is an excellent all rounder. Great service, flavoursome bites and well presented drinks and lets not forget, their happy hour one-for-one drinks and tapas from 5:30pm to 7:30pm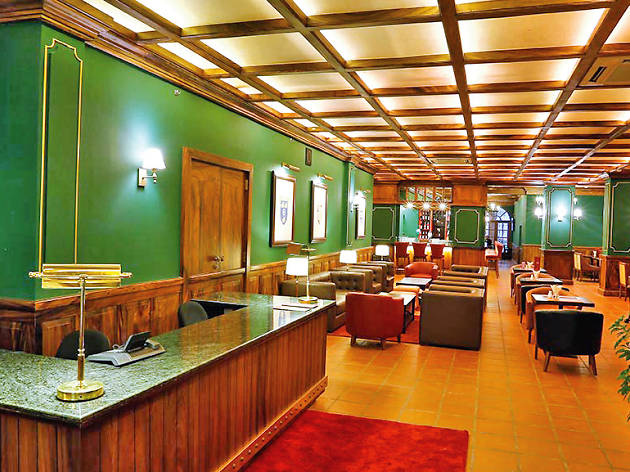 A Scottish pub with a fun atmosphere
& Co Pub and Kitchen is a pub often frequented by Colombo's youth, and is mostly famous for its Scottish themed interiors and menu. Decorated with large Victorian style chandeliers, dark green walls, pictures and emblems depicting the Scottish culture as well as wooden tables with plush chairs & Co Pub and Kitchen is spacious and inviting. Bar stools surround the brightly lit bar right in the middle of the restaurant and groups of friends are seen enjoying numerous drinks at and around the bar. Whether you are planning on a fun get together with your friends, or if you simply need a break after a long day at work, this is an interesting place to wine and dine.
Along with Scottish, international as well as Sri Lankan cuisine and desserts, the pub has an impressive drinks menu consisting of various imported wine, cocktails, shooters, beer pitchers, ciders and many other alcohol based drinks at very reasonable prices. Along with your drinks, you can also enjoy a selection of bar bites and snacks such as Beer battered prawns and mini burgers along with exotic-sounding snacks such as the Voodoo Wings. The service here is excellent, and you are sure to be greeted with warm smiles and a hearty welcome.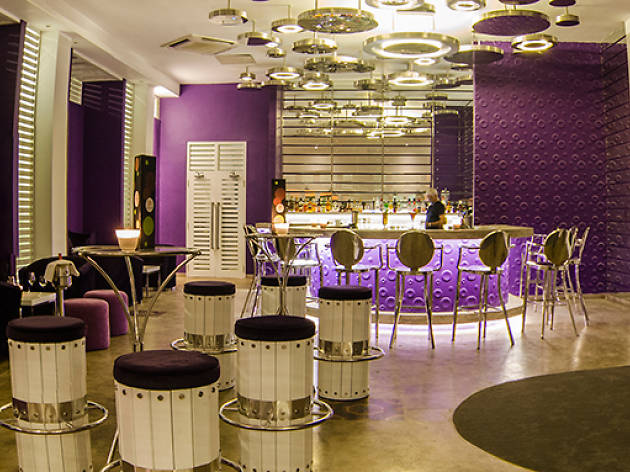 Your ideal place for kickstarting a great night
Curve Bar, a part of Park Street Mews at the quaint Park Street is a chic and quirky bar with a flair for modern decor and art and is a very happening place especially during the weekends. Here, metallic circles and dim white lights adorn the ceiling complementing the eccentric purple walls. With upbeat music, and featuring weekly live bands the bar draws in enthusiastic and fun loving crowds.
At Curve Bar you can avail yourself to various drinks, from margaritas, cocktails, martinis and an interesting combination of homemade sorbet and liquor. Apart from alcoholic drinks, they also serve flavoured teas, hot and cold coffees, soft drinks and fresh juices and a food menu consisting of a range of cold and hot tapas, desserts and lite bites.
Their staff are very welcoming and skilled in mixing and creating the perfect drinks, so you can be sure that whatever your choice of drink may be, it will be good!
Make sure you drop by to enjoy a drink or two in the presence of live bands which are scheduled to appear from Tuesday to Saturday every week! Curve Bar is the perfect place for you and your friends to can kick start your fun night.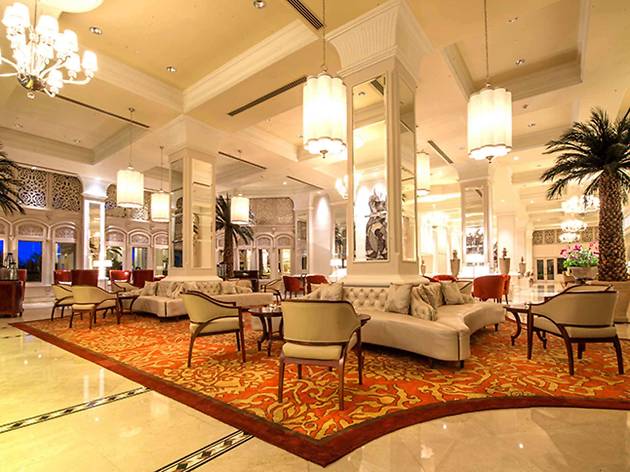 A bar with a refined atmosphere in a five star hotel
Lattice is located within the Taj Samudra Hotel in Colombo. The lobby lounge has an elegant and classy setting, complete with elegant chandeliers, date palms, lots of natural lighting and skilfully carved lattice screens–hence the name 'Lattice'. A refreshing place to spend some time at, Lattice is one of Colombo's finest hotel lounges.
Mostly renowned for its famous high tea spread displaying a range of delicacies in tiered trays, Lattice also serves up some flavoured teas, hot and cold coffees, milkshakes, fruit juices and of course cocktails and mocktails which can be paired with pastries, cakes, eclairs, scones, macaroons and other baked eats as well as light finger food.
Lattice which can accommodate up to 42 at a time, is frequented by both locals and foreigners alike, and it is an excellent choice for high tea, quick snacks and coffee or perhaps a drink or two.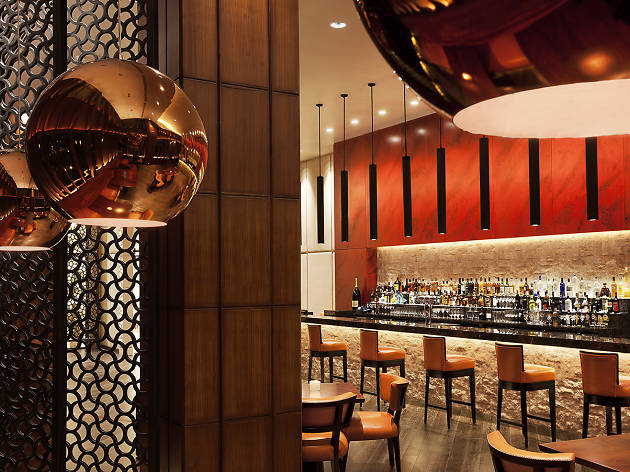 Enjoy Japanese cuisine paired with exciting drinks!
Yumi is a beautifully designed restaurant and bar boasting an unforgettable modern and chic interior decor. While anyone is able to appreciate the pleasing aesthetics, it also plush and cosy, making its customers feel right at home. Hardwood floors, plush orange chairs and a bright red wall behind the bar, Yumi has an overall sleek presentation.
Their food menu is vast with numerous gastronomical treats that come as sizeable portions creating using the finest ingredients and a polished finish. The food menu offered various Japanese delights including hot and cold appetisers, sashimi, sushi, nigiri, maki and teppanyaki dishes too. They also serve Japanese teas and creatively named cocktails as well as spirits and other alcohol mixed drinks. What's more, they have molecular and edible cocktails which are prepared on request and accompanied by flared cocktails and beverages.
The service and the smiles of the waiters paired with the soothing ambiance of the retsturant and bar is enough to get you hooked. Yumi is a wise choice for a great dinner accompanied by drinks, whether with friends or family. It is even ideal for casual business lunches or dinners.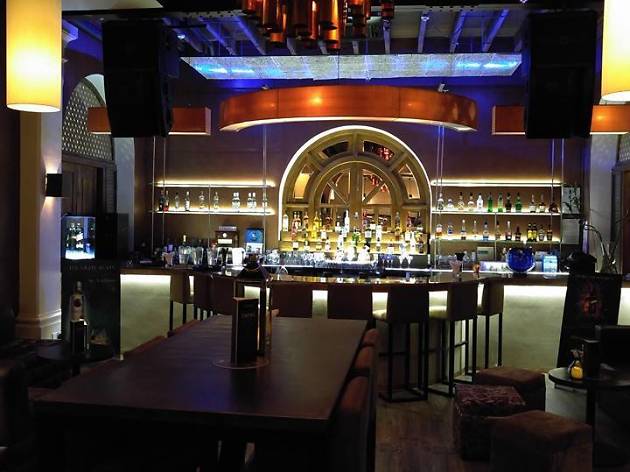 A chic and classy bar and restaurant
A fairly new bar with an interesting name and an already devoted fan base, Asylum is located at the Arcade Independence Square–another local favourite spot. Named after what the Independence Arcade used to be, with an artfully and uniquely decorated interior, the bar is spacious and bright and is sure to uplift anyone's spirits. Here, warm lights, creative decor, plush chairs and heavy wooden tables complete the charm along with its brown and beige theme. You can also take ea seat in the outside patio for a more laid back al fresco experience.
Separated into two areas, Asylum boasts a dining area and a lounge area with the bar. With great music, this is an ideal place to loosen up over dinner and drinks. While their service is excellent and they have friendly staff they also boast an extensive food and drinks menu. The food and tapas menu is diverse, with a contemporary selection of western and continental cuisine (ranging from authentic Australian and Asian dishes to the more traditional European dishes) while their drinks consists of various cocktails, champagne, wines, liqueurs and whisky as well as beers, ciders and fresh juices too. You can also avail yourself to hot and cold beverages and sodas.
With polite and friendly staff, and yummy contemporary food and drinks, you are sure to keep going back for more!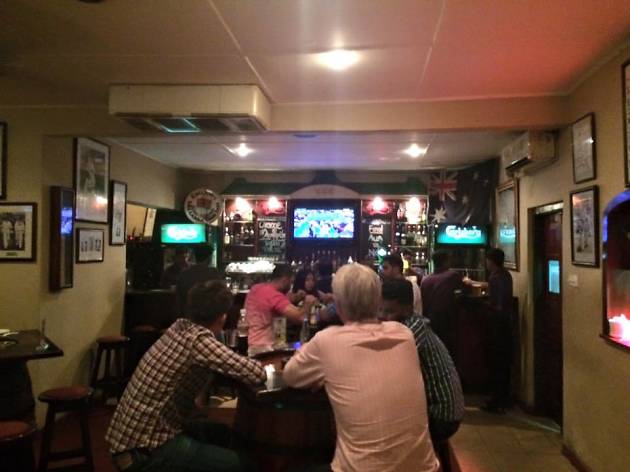 The Cricket Club Café: Bradman Bar
Renowned for good food and a fun environment
Aptly named, The Cricket Club Café is a cricket themed restaurant and bar located at a quiet corner in Queens Road. The surrounding greenery and residential area creating a homely and warm ambiance around the café, this is a welcoming and vibrant bar. With Cricket memorablilia, signed cricket bats, flags, photos and jerseys amongst other things add to the hype of watching cricket matches live on their screens – a haven for sports fans!
A tribute to Cricket, the bar features a menu consisting of dishes named after current and retired cricket players.Their exciting menu options vary from salads, pastas, seafood dishes, vegetarian meals, meat dishes and ice creams and desserts to order from all for very reasonable prices. Beverages include hot and cold coffee and tea drinks as well as juices and moreover, they have an intriguing list of cocktails, liquor infused coffee, mojitos , shooters, wines, spirits and a selection of local and imported beer as well. You will also spot several quirky names in the beverages menu–creatively named creations of their own.
If you and your friends are cricket fans, this is the ideal place for you to enjoy some good food and drinks.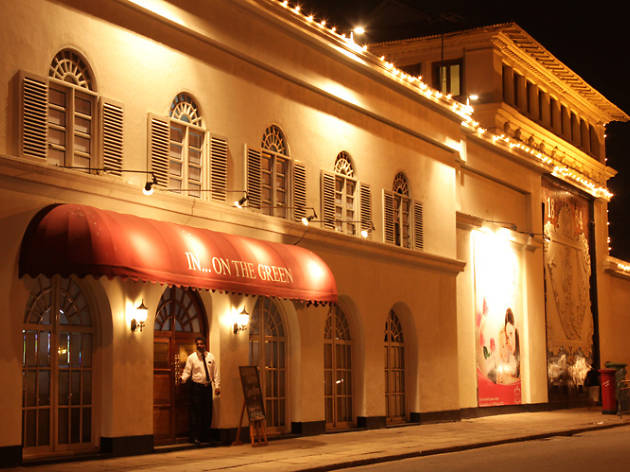 Galle Face Hotel's pub–a host of fun events and good times!
The renewed Galle Face Hotel's pub, In on the Green is warm and inviting with a British-pub like atmosphere. Past the large framed doors, you will find a long hallway decked with heavy wooden furniture and a long bright bar. Divided into two main areas; the smoking and the non smoking areas, the pub in quite spacious and boasts pleasing decor. Boards with special rates and promotions as well as barrel shaped tables complement the interiors and bar stools line along the bar while plush chairs are decked here and there.
Their menu is various, and while their food menu spans over a range of mains, salads, wraps, sandwiches, soups and desserts, their drinks menu included numerous alcohol based drinks such as cocktails as well as local and imported beer. Non alcoholic drinks includes mocktails, sodas and fruit juices too. You will find that the drinks are delicious and well made and that the dishes are well presented and their portions are quite reasonable and delicious!
They also have live band nights, pub quizzes and other fun activities, every week! For a fun night out in a safe and cheerful environment, gather your friends and head on over to In on the Green for some quality time!
A British themed bar frequented by sports fans
The Manchester Pub located along the busy independence Avenue is a popular destination for the happening and the dynamic crowds of Colombo. Once you step in, you'll see that the pub is usually bustling, vibrant and full of life!
This cheerful pub is a reproduction of a classic British Pub and attracts alot of tourists and expatriates who find comfort in the familiarity of the sociable and friendly company that frequent the bar. Often referred to as a Sports bar, here, you will see European football team's memorabilia scattered all throughout the hall as well as the screening of Premiership football games on a large screen. The pub also hosts open mic nights, live bands, quiz nights and a lot more fun filled events on a weekly basis!
With a considerable menu consisting of a variety of snacks, grills, speciality and continental dishes as well as an impressive collection of both alcoholic and non alcoholic beverages, this is the place to be at whatever the day of the week! The Manchester is the perfect spot for you to socialise, make new friends and catch up with old ones while enjoying good food, drinks, and live music or exciting sports matches live!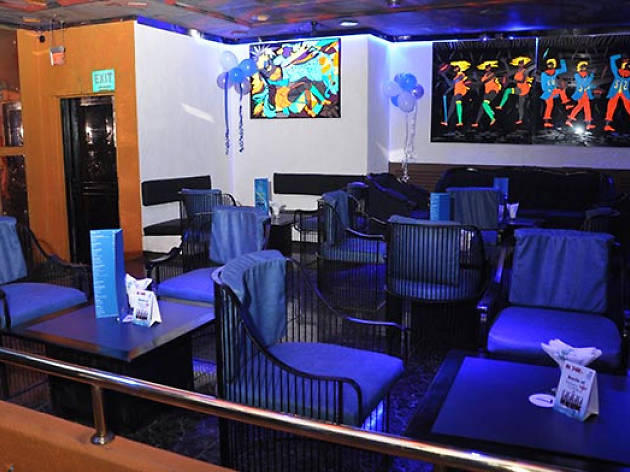 A warm and friendly environment and a popular spot for a drink or two!
Part of the B52 Night Club at the Grand Oriental Hotel, the Stallion Pub promises a fun filled and eventful time to all of their customers. The spacious hall is decked with comfy chairs, fluorescent lights and a large old fashioned disco ball above their hardwood dance floor.
This modern night club and pub features local DJs who play the right songs to get you moving. A great spot to meet up with your friends and grab a few drinks at reasonable prices while enjoying each other's company. B52 and Stallion Pub are hosts to different events throughout the months, all dedicated to showing their customers a good time.
Enjoy some yummy light bites, get your drinks and dance the night away. The staff are all smiles and are happy to serve you throughout the night (they are open till 2am!) so don't hesitate to drop by if you are up for having some fun.
Ceylon Sea Fish Restaurant
Serving up some classic cocktails, fine wines and delicious seafood!
Sea Fish Restaurant has been setting high standards in the Seafood cuisine in Colombo for decades and to this day, continues to impress. A spacious hallway with whitewashed walls, blue lighting and numerous seating arrangements, the restaurant and bar is a favourite destination for Colombo's seafood lovers and wine drinkers. You can choose to dine in at the main hall, or outside in their alfresco dining area or even in one of their private dining rooms to celebrate a special occasion!
Apart from a multitude of delicious seafood dishes both local and international, Sea Fish Restaurant also features a walk-in Wine Room for their customers. You can simply walk in and browse through the many wine and spirit brands and choose your favourite, or you can request the friendly staff to mix up a special cocktail! Well trained and creative, the drinks are sure to satisfy whatever your preferences may be! What's more, all of their drinks are very reasonably priced and go very well with their excellently presented dishes.
For a lovely dinner topped off by some well made cocktails and drinks, visit the Sea Fish Restaurant with your family or friends!
Relax by the poolside at this historic hotel overlooking the Indian Ocean
Galle Face Pool Bar is located on a wooden terrace next to the hotel's saltwater outdoor pool and offering unbeatable views of the sparkling sapphire ocean. Set in this relaxed outdoor environment, the Pool Bar is a lovely spot to relax and enjoy the ocean breeze, while also sipping on a few of your favourite drinks or munching on some light bites.
The Restaurant and bar serves aperitifs, beer, wines, cocktails and spirits, mocktails, hot and cold tea and coffee as well as fruit juices and sodas. What's more, you can also indulge in some mouthwatering light bites and snacks such as salads, sandwiches, curries and desserts too! This Pool bar gives you the chance to lounge around all day on a subbed watching the shimmer of the sea. A guaranteed fun and relaxing day would include going for a swim in their outdoor swimming pool and then cooling off with a tea or drink. If there's anything more you require, the staff are just a few feet away, awaiting your requests.
Be it with friends or family, the Pool bar is an ideal place for good food and smiles. Visit the Galle Face Pool Bar for a casual yet memorable wining and dining experience.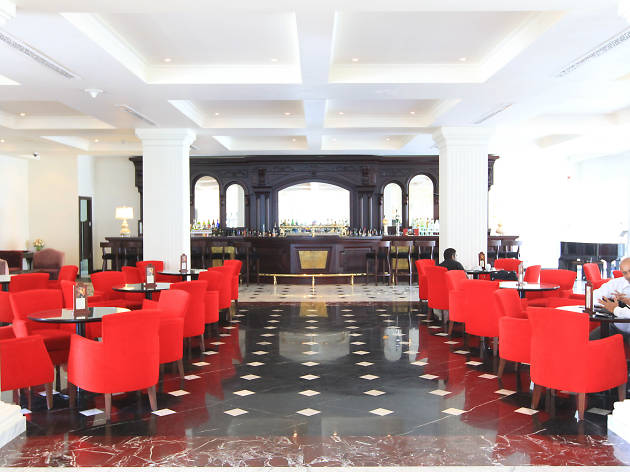 A formal Irish bar at The Kingbury Hotel's lobby level
Crafted by Irish craftsmen to resemble and reflect the Irish culture closely, The Kings is an elegant and stylish pub. The pub which accommodates up to 80, has a welcoming indoor atmosphere with plush red chairs and dark floors complementing the white washed walls and is fused elegantly with the chic ambiance of the grand lobby.
The Kings mainly serves light meals and refreshments along with an extensive range of beer, wine and signature cocktails. Their wine menu is impressive, consisting a large range of imported wine and well suited for the customer's preferences. They also have a choice of regular and frozen margaritas, martinis, mojitos, beer and cider amongst many other spirits and alcoholic drinks. What's more, they offer a range of salads, sandwiches, wraps, burgers, pizzas and some Sri Lankan dishes as well as a handful of delicious desserts.
Here, you will be met with the high quality and standards that you would expect to find within the Kingsbury Hotel. Since The Kings is a favourite amongst many, be sure to call ahead and make reservations for your group! Ideal for casual business meetings and after dinner drinks.
More to explore