Indulge Like Royals!
Spa Ceylon offers an array of herbal oils for luxurious living and wellbeing.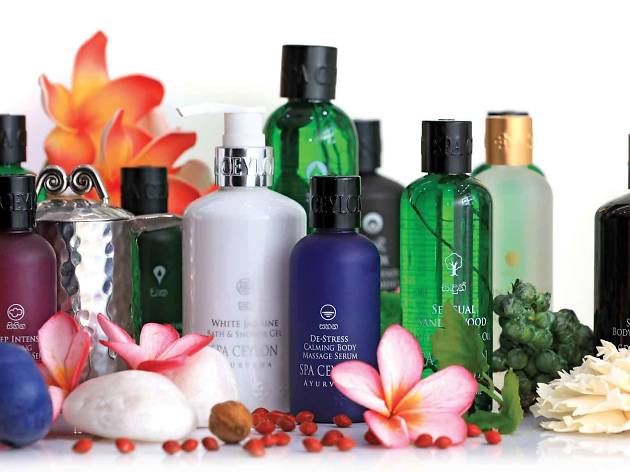 Herbal oils from the Ayurveda philosophy that the ancients valued, is today an indulgent and soothing therapy. They undoubtedly make for a healthier life with luxury aromas that fill your life with a sense of the exotic.
Ayurveda herbal oils are made from extracts of natural resources such as parts of plants,
fruits and nuts or seeds. Essential oils from the flower petals, bark of trees, leaves and roots are usually extracted through steam distillation. Cold pressed oils are made from the nut or fruits, such as from almond, coconut, sesame, rice bran and castor.
During the times of kings and queens, essential and cold pressed oils were a mark of luxury. The herbal oils scented their bath waters, perfumed their chambers and soothed their bodies. As such, it is no wonder that in the fast-paced world, everyone looks to this herbal therapy to de-stress, relax, rejuvenate and even detox the body as the royals did.
Going 'back to nature' for purity, cleanliness and calm, there is surely a greater understanding about bringing back these really pure ancient methods. Although the many indigenous healing powers of Ayurveda medicines are too often associated with pungent smells, today these oils have mystifying aromas. This is thanks to more refined production methods that better preserve the nutrients of herbs yet stay true to the ancient mastery of Ayurveda.
Enriched with various nutrients and soothing properties, these oils are known to have many purposes. Luxurious cinnamon warms your soul while lemongrass helps refresh the senses. The rejuvenating anti-oxidant, vitamin and the fatty acid rich oils such as almond and avocado are believed to slow down early signs of ageing. These cold pressed oils boost the skin's natural regenerative process and moisturises the skin. Essential oils such as cardamom or rose are very soothing and uplifting and Ceylon jasmine oil is sensual and calming. Considered the greatest oil of them all, virgin coconut oil does wonders for the skin and promotes good health.
To experience these riches of nature, you don't always need a massage. You can seek the wellness of these oils everyday, everywhere by breathing in its rich aromas as you use them in the form of perfumes, creams, lotions, balms and air fresheners.
Herbal oils are today a great treat for 'me time'. So indulge for luxurious living and well-being! These products are available at Spa Ceylon.