Become a foodie of the island
Your guide to experiencing the best gastronomic delights of Sri Lanka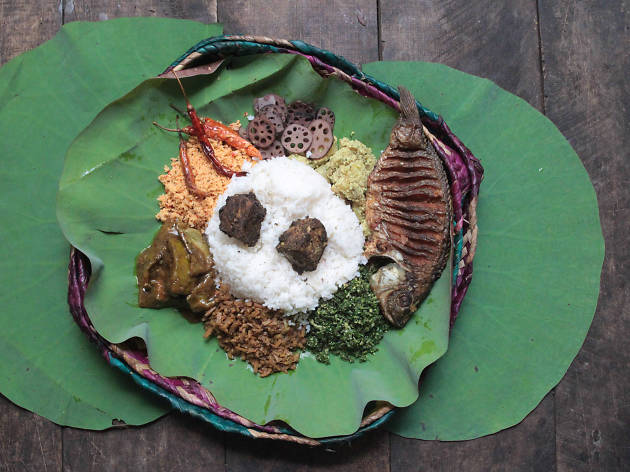 Navigating from very spicy to very sweet, it's hard to make gastronomic choices that sit well with you. One of the most interesting ways to get acquainted with Sri Lankan food is to sit down at a local street cafe. It can be baffling if you are not familiar with the food on offer. Sweet can be a 'little bit too sweet' and local favourites can be spicy enough to makes your hair stand on end! Here's what you must try, or approach with caution.
© Gihan Panditaratne
Pretty much all food in Sri Lanka is doused in spices – it's even added to fruit preparations. Green chillies are sliced and diced and thrown fresh into curries, pickles, chutneys and sambols, while red chillies are sun dried first before use. If you are ordering a regular rice and curry lunch packet, keep an eye out for the crispy accompaniment, Papadam along with a few fried red chillies as most places toss them in to the bag.
If you're looking for a kick from your food three of the easiest and spiciest sides to pick up are pol sambol, lunu miris or seeni sambol. These usually accompany local staple meals. Pol sambol is a distinctly Sri Lankan dish with a memorable zesty taste. It's a delectable mix of freshly scraped coconut, onions, chilli powder, salt and lime and accompanies rice, bread, and string hoppers. Both lunu miris and seeni sambol are spicy onion preparations, the first a raw minced preparation and the other is sautéed in oil and sweetened with sugar. Often they are mixed with chewy bits of dried fish for added flavour. Lunu miris is a favourite with milk rice and both can be had with a host of other local mains.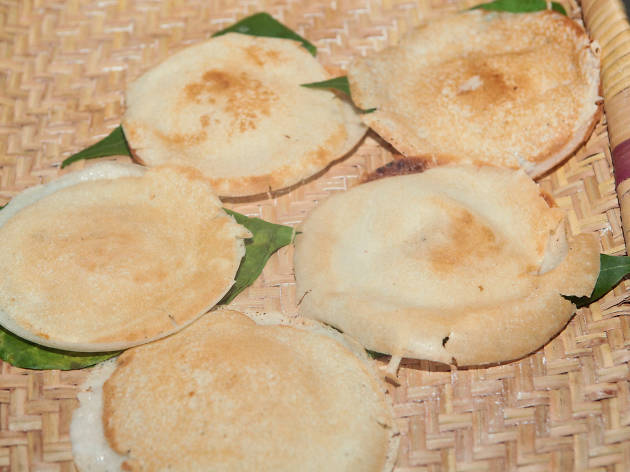 © BT Images
You'll definitely find it a challenge to put a check on the chilli in Sri Lanka, but there are certain foods that are easy on the palate. If you want to stay away from any of the red stuff, hoppers are a good choice. A crispy pancake like preparation in a bowl shape of the small wok it's prepared in, hoppers or aappa are usually served with spicy sides like lunu miris, but are themselves chilli-free and quite tasty. They come in a variety of forms – egg hoppers with a soft egg sitting in the middle and pani aappa – a sweet honey version. The best hoppers are crispy and light.
String hoppers is another popular main dish usually had for breakfast or dinner. They are made with special moulds through which the dough is squeezed and strings come out the other end. These are steamed and served as round stringy batches of pancakes, and eaten with curry.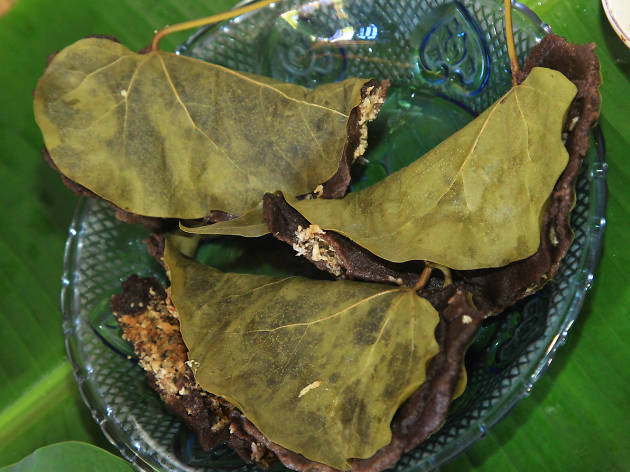 © BT Images
Sri Lanka's second love after spice is sugar, and there are one too many ways to get a sugar fix. First off, drink milk tea. The name milk tea is evasive; it doesn't reveal the most dominant ingredients in the drink – sugar. It's rather delicious, and can be found in most cafes or food joints.
The second best way to imbibe sugar in Sri Lanka is to eat the local, often organic, sugar called jaggery. A concentrated product of sap from the Kitul tree, jaggery is a bit like brown sugar but healthier. It's sold in big bowl-like solid chunks, and a small piece in hand makes a good substitute for sugar when drinking plain tea.
Halapa is another sweet snack that must not be missed. This unusual treat is cooked in a kanda leaf – a tree native to Hambantota, Sri Lanka. It has the rare quality of being both healthy and tasteful – although it has an unusual flavour. Made up of kurakkan flour, coconut and kithul, it's a flat chewy slice draped in a folded leaf.
During Avurudu or New year Season that arrives mid-April expect an avalanche of sweet fare. Sweet meats are in full stock and nearly every household will have a spread of them including the famous oil cakes or konda kevum, mung kevum, kalu dodol, and aluwa - all very delicious, and very sweet and sumptuous.
Staying healthy is not all that hard here, sugary and spicy spoils aside. There are many fruits including mango and banana that can be found in many varieties. Greens are a prominent part of the Sri Lankan diet and a rice and curry meal often includes Mallun, a thinly sliced or minced green leaves mixed with coconut, onion and salt and lime to taste. There are many varieties that can be made into mallun, some of which can be prepared raw while others must be sautéed.
Another, very wholesome way to top on the daily intake of greens is drinking kola kenda. Kola kenda means 'porridge', or a thick green broth that can be drunk with a bit of jiggery. It's probably called porridge purely because it's consumed in the mornings. It's a health drink made out of a whole host of Sri Lankan blended greens. It can be an acquired taste, nevertheless a healthy choice.
More to explore