New Year sweetmeats to try
Discover the different types of sweetmeats to try out this New Year Season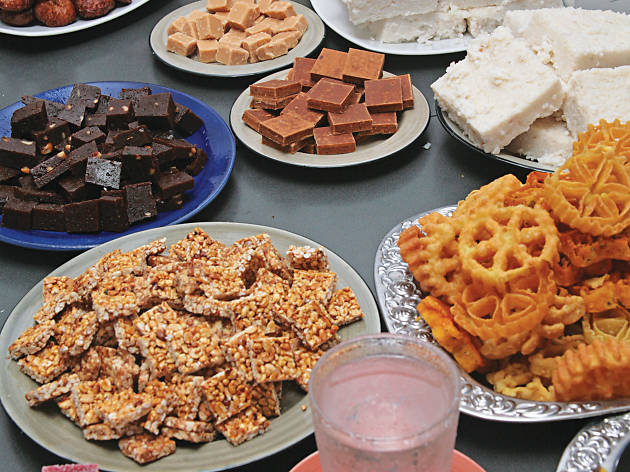 The sight of bright red Erabudu flowers and the sweet notes of the Koha (Koel bird) signals that Avurudu (Sinhala and Tamil New Year) is just around the corner. As the day draws near Sri Lankans begin their preparations to usher in the New Year. Loads of sweetmeats are prepared, and shared among family and friends on the New Year's day signifying new bonds. Among the many flavours, kavum, kokis, dodol, Maa laddu and aasmi are some common sweets that you will love if you are in the Island this season.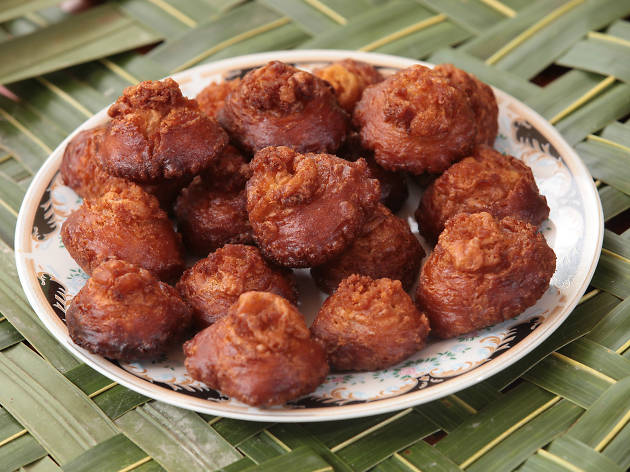 © BT Images
Konda Kavum (or oil cake as most known) is an all time favourite of many. It is prepared from rice flour and sweetened with sugar or preferably treacle. Making Konda kavum is an art, which requires skill and patience. Firstly, a scoopful of batter is poured into a sizzling 'thachchiya' or wok of hot oil. Getting the perfect shape of the kavum is always a tricky business. This is done by gently coaxing the scoopful of batter into a round shape with a 'pol iratuwa' (the eakle of a coconut leaf) and a frying spoon. Then the kavum is deep fried until it turns golden brown.
Note: kavum takes different forms and names regionally – naran kavum and mung kavum to name a few of the favourites that you are bound to find in households during Avurudu.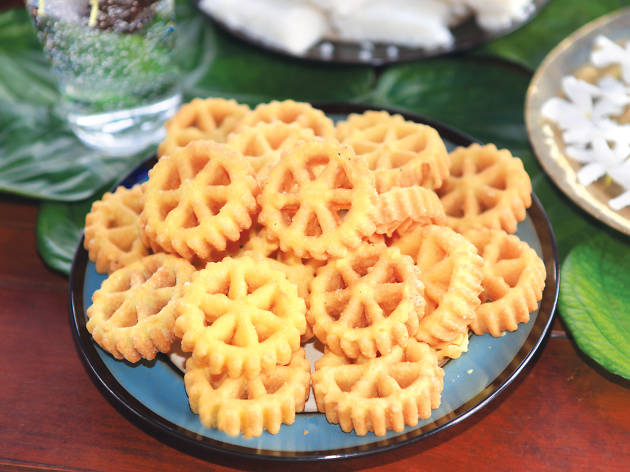 © BT Images
Fried into different shapes of butterflies or flowers, these crispy golden nibbles are adored by young and old alike.
The first step in the recipe is to make the batter from rice flour and a pinch of 'kaha' (turmeric powder) and salt. Mixing of turmeric is done to get that perfect yellow colour that makes kokis all the more appealing. The batter has to be thoroughly stirred until it gets an almost creamy texture. Then take a 'kokis achchuwa' or a mould (these are easily available in kitchen wear and home wear shops or seasonal wayside stores that sell Avurudu stuff) and dip it in the batter, before dipping it in the wok of hot oil to deep fry. Immediately after the kokis turns into a golden colour, use an eakle to remove it from the mould to a basket.
Some prefer to add chili flakes, pepper and curry leaves to give Kokis a spicy flavour, and this version of kokis is also good to have as an evening snack with tea. A crunchy biscuit type finger food, kokis is a staple member of the Avurudu Table.
A common sweet penchant of Sri Lankans and popular in the central regions, thalaguli is made with sesame, which are crushed and mixed with jaggery pieces, which are pound into small but not powdery. Or you can also grind both ingredients together using a grinder and fasten the process. The mixture is then coxed into lozenge or round shapes (bit size balls) using hands. To add a finishing touch these sesame balls can be wrapped in greaseproof paper.
Pani walalu (Undu walalu)
A sweet treat dipped in treacle, pani walalu also known as undu walalu can be made using both rice flour and undu flour. Make the batter with rice or undu flour and coconut milk to have a creamy texture. While the batter is made, boil some treacle in another pan. Then take a muslin cloth, make a piping bag and pour the batter into it. Now squeeze the batter into the frying pan in circular motions in order to get a curl-like shape. Once it turns golden brown, lift from the wok and then dip in hot treacle. The more you dip it, the more it absorbs treacle, thus giving pani walalu its distinctive sweet taste. A feast for those who are sweet-toothed, just one bite is enough to make you crave for more.
A sweet concoction of coconut milk, sugar and rice flour, dodol is believed to be a gift from Malay immigrants to Sri Lanka. To make the dish, jaggery or preferably sugar and coconut milk are boiled in a large pan and mixed until the mixture is reduced. The sticky brown colour batter after long hours of stirring turns to a thick yet smooth texture. Put the mixture into a flat dish at the end and smooth it out. For some extra flavour you can sprinkle some chopped up kaju (cashew) and set it aside for a couple of days till the oil settles as it is much tastier then.
A sweetmeat made of mung bean and rice flour, mung guli is a sweet blend of pulses and hot treacle. Small balls are shaped using hands and then mixed together with hot treacle. A batter is made combining rice flour, coconut milk, eggs, salt and saffron to coat these sweets, which are finally fried in hot oil. Perfect to sweeten your New Year meal.
A whitish noodle type sweet, aasmi tops the list of New Year sweetmeats. Making aasmi requires experience and is popular, particularly in the central regions of the country. Crushed juice of the leaves of Dawul Kurundu (Laurus cassia) tree is mixed with rice flour to concoct a thin batter. Molding this batter into Aasmi happens in a pan, where the batter is poured onto hot oil through a coconut shell punctured to small holes – prepared only for making aasmi. The batter is poured in a circular motion onto the oil and later folded over like an omelet and left aside for the oil to drain. After about a week's time they are taken out, re-fried in hot oil and coloured sugar syrup or warm treacle is drizzled over to sweeten.
A sweet-spicy concoction, aggala is put together with freshly pounded rice flour with a pinch of black pepper to add some zest. Then warm treacle is added and the mixture is shaped into small balls. Then it is left to cool and followed by the coating of balls with a thing layer of rice flour.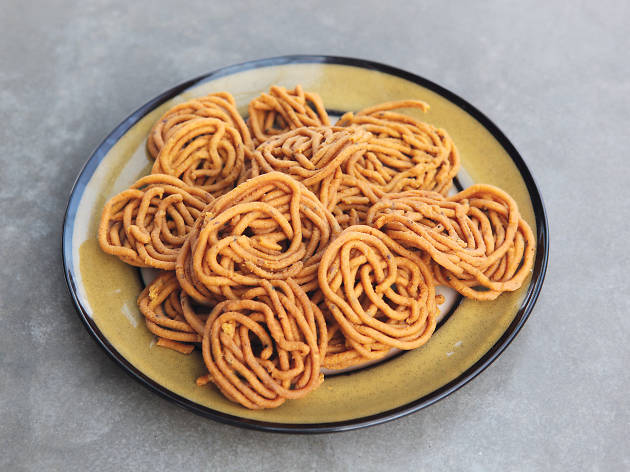 © BT Images
A must have, Murukku can be made either savoury or sweet and comes in many shapes. It can be made using a variety of flours including chickpea flour, rice flour or ulundu flour. Flour is made into a thick paste blending ghee or butter with other spices, and the paste is hand-shaped or passed through a mold to get circular shapes or wide strips, and finally deep-fried in oil. Depending on your mood you can make it spicy hot or cloyingly sweet.
A protein rich bundle of sweetness made from roasted gram, sugar, ghee, cardamom and cashew nuts, Maa laddu is one of the easy to make festive sweets. It takes only five to ten minutes for the preparation. These smooth sweet balls are a good snack to brighten up your New Year.