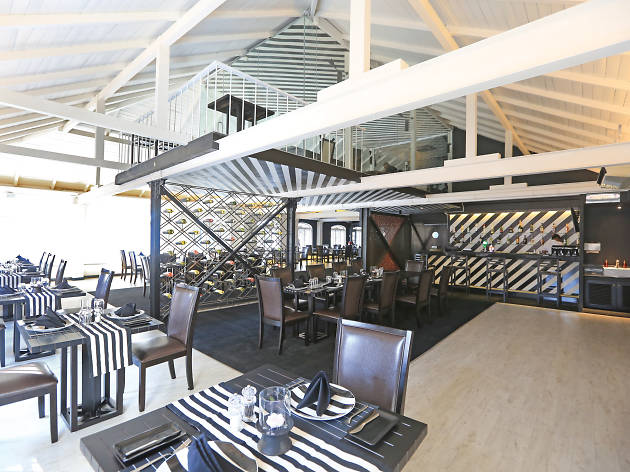 Amidst the bubbly and charming colonial ambience of the Dutch Hospital precinct, Black Pepper serves delicious Sri Lankan seafood cuisine. The pristine white interior of the restaurant adds a touch of elegance to the atmosphere. You could choose to get comfortable at the mezzanine floor or dine while overlooking the action at the kitchen.
The menu features a range of delish dishes defined by Sri Lankan and Asian gastronomy. It also comprises a complementing list of beverages, especially refreshing fresh fruit juices. The Appetizer section includes inspired meals such as the Avocado and Wasabi Prawn, a delightful serving that will tempt your appetite for more tongue tingling flavours. From the Jaffna Crab Curry to the Batticaloa Mutton Curry, each of the mains pays tribute to the title spice, 'Sri Lankan Black Pepper'. Our choice for a laid-back evening dinner, the dishes proved to be scrumptious and stayed true to the authentic tangs that Sri Lankan cuisine is known for. The curries ooze with hints of ginger, cardamom, cinnamon, rich coconut cream and are not too spicy, making them an ideal choice for visitors who wish to receive a taste of Island fare. For Sri Lankans, the Batticaloa Mutton Curry will conjure memories of the vibrant east coast.
They also have a range of prawn dishes such as the Hot Garlic Prawns Cantonese style. And once you are done with the savouries, appease your sweet tooth with a succulent bite into the restaurant's interpretation of the classic Sri Lankan Watalappan.
At Black Pepper, attention to detail is not limited to flavour. The servings, which are usually adequate for one, are plated with great care. The service at Black Pepper makes the dining experience an all the more pleasant one. Staff go the extra-mile to ensure the setting is comfortable. If you need a relaxing break after immersing yourself in the hustle and bustle of Colombo, head to Black Pepper for a delectable spread of authentic Sri Lankan seafood dishes. Just don your apron and feast on.
Venue name:
Black Pepper
Contact:
Address:
62/6, Dutch Hospital Square
Chatham Street
Colombo
00100