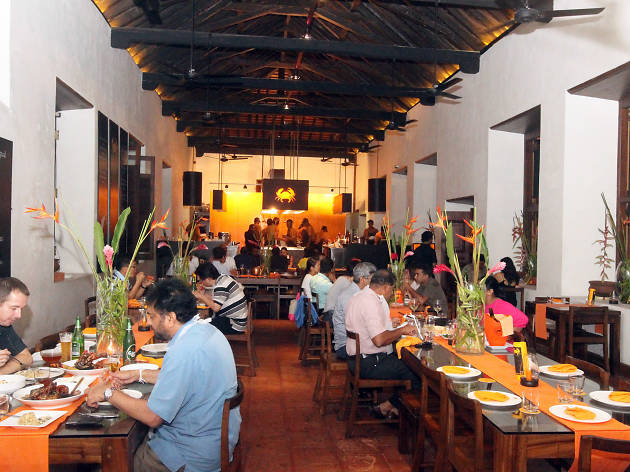 1/3
© BT Images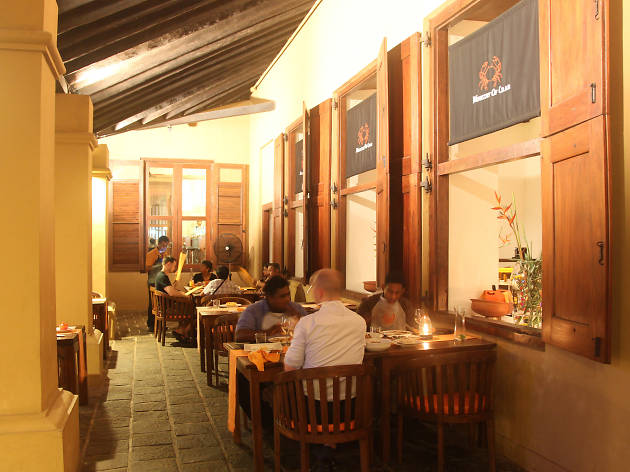 2/3
© BT Images
3/3
©BT Images
The dimly lit Ministry of Crab, was transformed into a convivial venue. It had a stylish and chic ambience ideal for enjoying some flavoursome crab dishes with friends.
Dharshan Munidasa's Ministry of Crab neatly blends into the old world charm of the Dutch Hospital. Families and friends in large gatherings occupied seats at the verandah, but we opted to sit inside, where the action of the open kitchen can be witnessed. On the black tables were oversized glass jars, from which cascade magnificent crab claws (the "parrot flower").
Indeed this place is a temple to crab. Despite the delightful choice of crustaceans available, a major part of the big slate-board of a menu is taken up by crab dishes.
They have many preparations and the crabs come in no less than ten sizes, from the half kilo crab to the monstrous Crabzilla which is two kilograms. We decided on Garlic Chili Crab, and were given a crustacean that had sweet, warm meat to be scooped out. We sponged cubes of kade bread on the oily gravy in which the crab was wading.
The butter soy prawns they serve are succulent and meaty while their chili prawns are impinged with a soupcon of sweetness and thick, curdy gravy.
The iced tea soda is like a fizzy drink, but with a core of tea that refreshes and fulfils you. The cold pressed orange juice they serve is orange, frothy and has the truest taste of orange. The Chocolate Biscuit Pudding, which comes with a dollop of cream, takes a trained tongue to be fully flavoured, being made of sophisticated, subtle Belgian chocolate.
The stewards are full of courtesy and respectful. They do not hover around, but you'll find that you don't have to wave hands to summon them. They keep a discreet eye on you and attend to every need with a bow and a smile.
Venue name:
Ministry of Crab
Contact:
Address:
Dutch Hospital Shopping Precinct
Hospital Street
Colombo
Colombo 01
00100