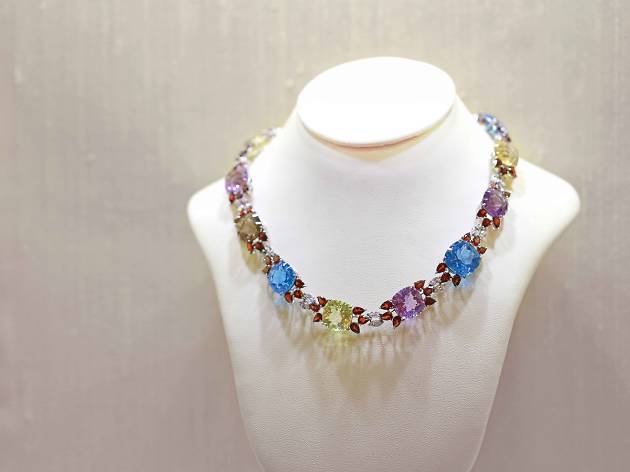 Good for exquisite precious jewellery for any occasion.
The latest Careems outlet is set amidst the splendour of Jie Jie Beach Hotel, a sprawling blue paradise which overlooks a beach strip made all the more magical by its secluded, serene splendour with tall waving palms. The showroom is almost monochrome, contemporary and plush. The fabulous jewellery scintillates in glass displays.
Careems uses nearly 130 years of finesse to craft pieces that, in a phrase, are bold and beautiful. Their "Journey Collection" travels through different fashion and design periods, using them as inspiration for jewellery with character. The "Art Dec" jewellery come with brilliant, bright patterns of red and green set in carved white gold and stone in shapes like 'skyscraper' and 'scallops'. The "Victorian" jewellery capture the sentimental, imperial beauty of that grand era. The "Millennium" jewellery selection in contrast have a geometrical allure.
Among the special collections, the "Sail Collection" is sure to catch your eye. Composed of triangles shaped like breezy sails, these pieces have a soft pearly glamour, being made of shiny rose quar ts, onyx, chalcedony as well as blue topaz. The pendants and earrings by Careems are delicately pretty, inspired creations. Earrings on display include a pair of classic blue sapphire earrings surrounded by white gold and a diamond flower, a pair of crimson ruby Christmas roses and two dangling earrings in green and gold almost like an antique treasure.
In addition to the bewitching array of ladies' jewellery, Careems also offers men's accessories set with precious stones. Their selection of precious and semi-precious gems such as sapphires, rubies and cat's eyes will enthrall the discerning customer.
Venue name:
Careems
Contact:
Address:
150 Beach Road
Panadura
Panadura