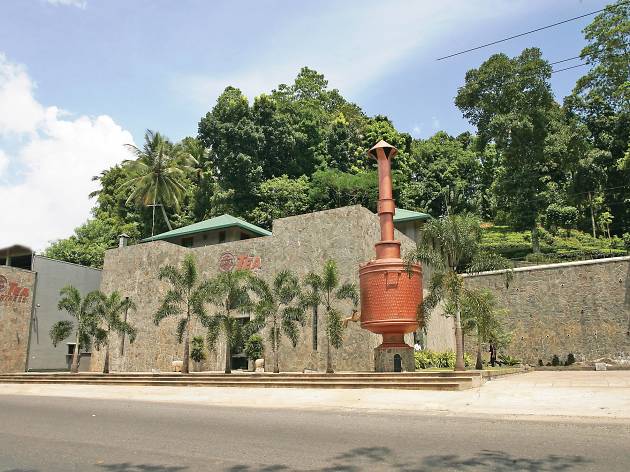 Time Out says
The Mlesna Tea Fortress is an imposing structure that captures your attention while travelling along the Kandy Road in Kiribathkumbura. Inspired by a fortified Bastian, sturdy wooden doors open to transport the visitor behind the stone façade. Within, one is warmly welcomed by the customary greeting "Ayubowan", the soothing water feature in the atrium as well as the aroma of tea. Drawing inspiration from traditional Sri Lankan artistry, the interior complements the regal aura of Kandy.
Since 1983, Mlesna has been a name that resonates with the offering of premium pure Ceylon Tea. A pioneer that introduced the Tea Centres in Sri Lanka. The Tea Centre at the Mlesna Tea Fortress is located on the ground floor. Customers can avail themselves to an array of single origin teas, regional teas, specialty Ceylon Tea blends as well as flavoured teas. From vintage wooden boxes, to classic caddies, rustic cloth bags and glossy foil packs, the teas feature in various packaging. The valuable classic tea sets, intricately designed tea pots and inspired ornaments make for distinctive gifts as well as souvenirs of the beautiful island. Friendly and well-informed staff are always on hand to provide a tour of the Mlesna collection and help you select a blend that suits you. The Fortress Fine Jewellery Creation features an exquisite collection of elegant jewellery. The skilfully handcrafted gold and silver designs are embellished with precious and semi-precious stones.
ravellers can relax at the Fortress Restaurant located on the first floor, overlooking the atrium. The Fortress Restaurant serves both breakfast and lunch, with a menu featuring deliciously prepared Sri Lankan dishes as well as international cuisine options. Those stopping by for a quick snack can enjoy a refreshing cuppa of Ceylon Tea with delightful cakes and snacks.
Travelling along the Colombo-Kandy road, the Mlesna Tea Fortress has today become a popular stop for shopping and refreshments due to its premium Ceylon Teas. Enjoy an assortment of delicious treats with a refreshing cup of tea.
Details
Users say