Big Match Fever Hits!
Come the 'Big Match' season in Sri Lanka, a thousand hearts will be beating for cricket and for their school.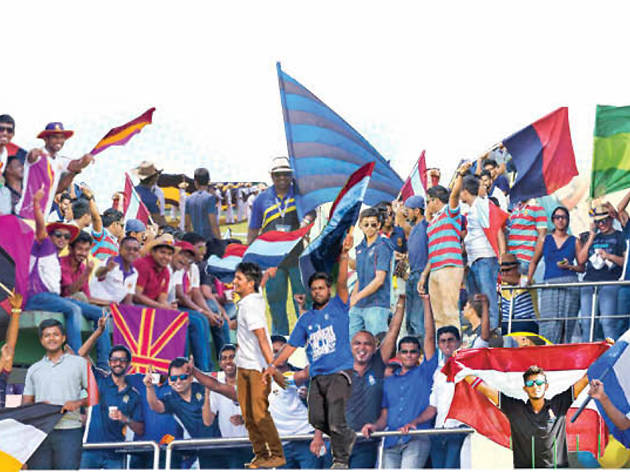 March is indeed a month of celebration as traditions come alive. Schools hold their annual cricket matches and as age-old 'rivals' meet on the field, the streets and pitches erupt with jubilation. Despite the hard fought competition for glory, the camaraderie is unmistakeable. The big match season is the time to recall all the good old cherished winning moments.
As the teams battle on in whites, in the stands the atmosphere is jovial with a lot of noise. The 'old boys', break into singsong, accompanied by joyful papare bands playing toe-tapping, hip shaking and arm waving baila music. School boys join in the revelry, under the watchful eyes of their parents and teachers.
The roads come alive with vehicle parades, where boys and men on crowded floats wave flags, sing to salute their school and hold out their hats for a generous collection. Cheering crowds usually invade the pitch to congratulate the winning team.
The oldest cricket match played between two schools in Sri Lanka is the 'Battle of the Blues' in Colombo between Royal College and St Thomas' College. This year the match marks its 138th encounter. The match between St Servatius College and St Thomas's College in Matara takes place for the 117th time. Also in the South, the 'Lovers Quarrel' between Richmond College and Mahinda College meets for the 112th time. The 'Battle of the North' takes place for the 111th time between St John's College and Jaffna Central College.
The oldest match in the hill capital, the 'Battle of the Maroons' takes place between Dharmaraja College and Kingswood College for the 111th time. The 'Battle of the Blues' in the hill capital between Trinity College and St Anthony's College is ready for its 100th match. Other popular school cricket matches include the 'Battle of the Maroons' between rivals Ananda College and Nalanda College in Colombo now in its 88th year. The city will also come alive for the 83rd 'Battle of the Saints' between St Joseph's College and St Peter's College.
More recent school big matches are the 'Battle of the Brothers' between Isipathana and Thurstan College as well as the two 'Battle of the Golds' in Colombo; Prince of Wales College vs St Sebastian's College and the other D S Senanayake College vs Mahanama College. The rivalry goes on, but the spirit of the game unites all.
Thurstan College Vs. Isipathana
February 24 – 25 at SCC
Limited Overs Encounter on March 5, P Sara Oval.
St Joseph's College Vs. St Peter's College
3rd and 4th March at P Sara Oval

25th March – Limited Overs Encounter at SSC
Ananda College Vs. Nalanda College
3rd and 4th March at P Sara Oval

25th March – Limited Overs Encounter at SSC
Royal College Vs. St Thomas's College
9th to 11th March at SSC

19th March – Day and Night Encounter at R Premadasa Stadium
St John's College Vs. Jaffna Central College
9th to 11th March at Jaffna Central College Grounds
18th March – Limited Overs Encounter at St John's College, Jaffna
Trinity College Vs. St Anthony's College
10th and 11th March at Pallekele International Cricket
Stadium

18th March – Limited Overs Encounter at Asgiriya Stadium
Dharmaraja College Vs. Kingswood College
17th and 18th March at Pallekele International Cricket Stadium

25th March – Limited Overs Encounter at Pallekele International Cricket Stadium
Richmond College Vs. Mahinda College
17th and 18th March at Galle International Cricket Stadium
St Servatius College Vs. St Thomas's College, Matara
24th to 26th March at Uyanwatta Stadium

1st April – Limited Overs Encounter at Uyanwatta Stadium
D S Senanayake College Vs. Mahanama College
24th and 25th March at P Sara Oval
More to explore