School cricket season
March is the month for a major calendar event, an intriguing facet of the Island's culture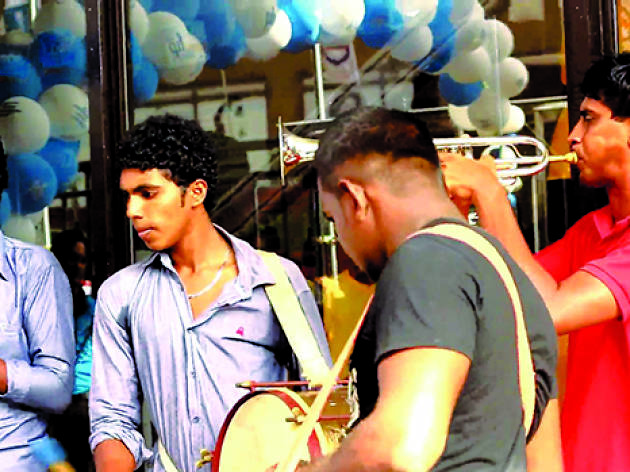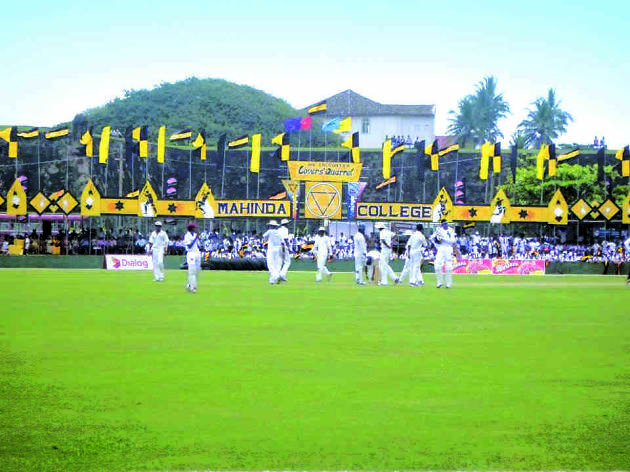 The school cricket season in Sri Lanka is a kaleidoscope of bizarre pre-match, match and post-match rituals, performed not only by students but also generations of alumni. The Gentleman's Game introduced by the British, is followed here with great reverance from national level to school level. The first annual encounter between schools, Royal College of Colombo and St Thomas' College of Mount Lavinia, began in 1880. It is the second-longest uninterrupted cricket match series in the world. The Royal-Thomian match, known as 'The Battle of the Blues' due to the colouration of both school flags, is Sri Lanka's foremost Big Match, played between two Colombo schools. Other annual fixtures between rival schools include St Dharmaraja College vs. Kingswood College, of Kandy ('The Battle of the Maroons'), 1893; St Servatius' College vs. St Thomas' College, Matara ("The Battle of the Nilwala [River]"), 1900; Jaffna Central College vs. St John's College, Jaffna, 1901; Richmond College and Mahinda College of Galle ('The Lovers'Quarrel'), 1905; and St Peter's College vs Joseph's College, Colombo (The Battle of the Saints), 1993.
The Royal-Thomian Big Match is played over three days. The most likely experience that visitors will have of the build-up to the match is on the streets of Colombo. 
It usually entails vans or cars full of cheering students who wave their school flag out of the windows. This also occurs on public transport, and there are bustling, noisy street parades too in which the flags are fiercely protected from 'flicking' by 'the enemy' a group from the opposing school.

A ritual where the opposing factions attempt to wrest the flags from their rivals'. The famous 'Cycle Parade', involves making the journey from the respective schools to the cricket ground, where the match is currently played. The Cycle Parade bred the 'Truck Tour' in which boisterous students riding in a fleet of vehicles
 cruise the streets of Colombo, inevitably gravitating towards girls' schools in Colombo and the vicinity, to get the attention of the ladies. Streets near grounds are usually congested on match days as
 a result.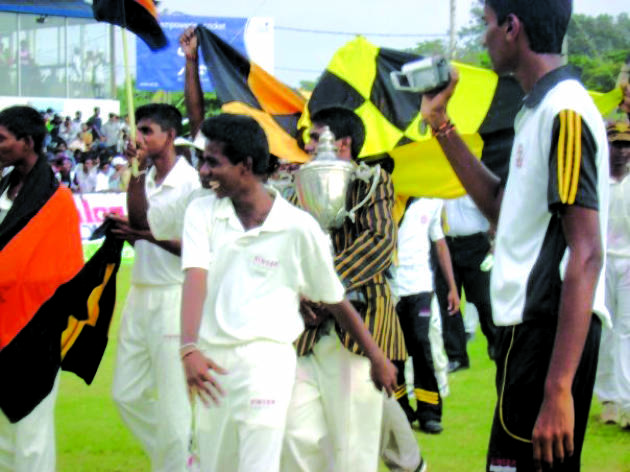 Students of both schools are separated during a match, which often leads to flag- flicking raids that have to be broken up by prefects. On the other hand the 'old boys' not withstanding their age are equally raucous and whoop it up in style. Every single run scored is cheered vociferously. Dismissed batsmen are escorted back to the pavilion under the school flag. Invasion of the pitch by spectators is another predictable performance.

Apart from the constant and loud cheering, singing and applause there is the infectious music created by the papare band, indigenous to Sri Lanka. 
In the evenings match revelry spreads to Colombo's hotels and restaurants, the ultimate being the third evening when a result, even if a draw, is celebrated. The Big Matches have become an integral part of metropolitan sport and culture.
Schedules for the match is as follows:
Royal College Vs St Thomas College
Date - 10, 11 & 12 March 2016
Venue: SSC Grounds, Colombo
Limited Overs One-Day Cricket Match (Mustangs Trophy)
Date - 21 March 2016
Venue: SSC Grounds, Colombo
St. Joseph's College Colombo Vs St Peter's College Colombo
Date - 4 & 5 March 2016
Venue: Oval Grounds
Limited Overs One-Day Cricket Match
Date - 12 March 2016
Venue: R Premadasa International Cricket Stadium, Colombo
Ananda College Colombo Vs Nalanda College Colombo
Date - 5 & 6 March 2016
Venue: SSC Grounds, Colombo
Limited Overs One-Day Cricket Match
Date - 13 March 2016
Venue: SSC Grounds, Colombo
Trinity College Kandy Vs St Anthony's College Katugastota
Date: 11 & 12 March 2016
Venue: Asgiriya Stadium
Limited Overs One-Day Cricket Match
Date: 19 March 2016
Venue: Katugastota
Kingswood College Kandy Vs Dharmaraja College Kandy
Date: 17, 18 & 19 March 2016
Venue: Pallekele International Cricket Stadium
Richmond College Galle Vs Mahinda College Galle
Date: 17, 18 & 19 March 2016
Venue: Galle International Cricket Stadium
St. Servatius College Matara Vs St Thomas College Matara
Date: 25, 26 & 27 March 2016
Venue: Uyanwatte Stadium
St. John's College Jaffna Vs Jaffna Central College
Date: 10, 11 & 12 March
Limited Overs One-Day Cricket Match
Date: 19 March 2016

Venue: Jaffna Central College
More to explore