Exciting adventure activities in Sri Lanka
Liven up your holiday with adventures including rafting, kite-surfing and trekking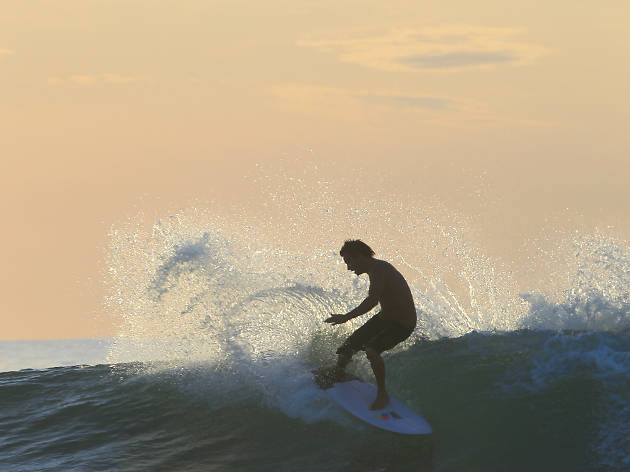 Those who are looking to experience an adventure filled holiday or time, look no further as Sri Lanka is a haven for adrenaline junkies who can immerse themselves in white water rafting, surfing, kite surfing, diving and the list goes on. But if thrill seeking is not in your agenda and you are looking for an adventure of a more quite nature then how about a train ride from Colombo to Badulla through scenic routes, trekking along the tea trails of Nuwara Eliya or whale watching, if the season is right? Check out our list of adventures in Sri Lanka to make your time here all the more exciting!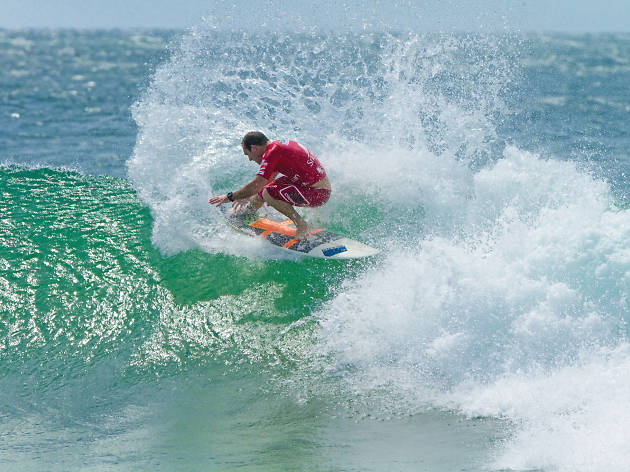 © BT Images
The surfing capital of the island, Arugam Bay fits the bill as a renowned surfing hot stop, recognised by enthusiasts from the world over. So popular in fact, that it is a usual place for the UK Pro Surfers Association's surfing championships event.
With three point breaks naturally positioned at three different locations; 'the point', 'crocodile rock point' and 'Pottuvil point', these varying surfs are an opportunity for those surfers who are just beginning to learn about the sport, body surfing, and of course the pros.
Arugam Bay is located in the southeast coast and May through November is recommended for surfing visits.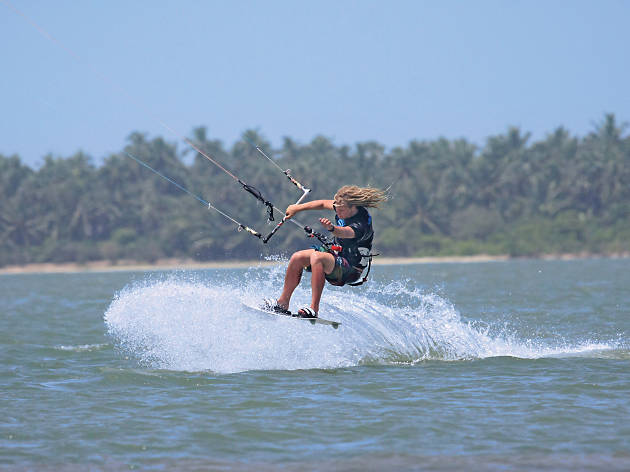 © BT Images
Kite surfing in Kalpitiya
With constant wind speeds between 18-20 knots during the months of May through October, kite surfing in Kalpitiya is your best bet.
For adrenaline junkie beginners the Kalpitiya lagoon is a great opportunity to test those kite surfing wings. However, on the other hand the Indian Ocean is one for experienced kite surfers to take on some real time swells as well.
Although kite surfing is regularly practiced in many beach towns around the island, Kalpitiya boasts leisurely beaches and less crowded surf to get the most out of this thrilling sport.

Read more.
For adrenaline junkies, white water rafting might be just the thing to get the blood pumping. Kitulgala in Sri Lanka is famed for its moderate to grade 5 rapids, running through Kelani, Sitawaka and Mahaweli river gorges.
Although a great opportunity to enjoy with a group of friends or the entire family, rafting for very young children and elderly persons is not advised, as this sport requires a fair extent of physical strength. Trekking or cycling through the exceptional scenery surrounding Kitulgala is an alternative, however.
Experienced members of local rafters are on the lookout for the guest's safety and wearing required rafting gear is a definite must.
Eighty kilometres from Colombo, Kitugala is recommended for best rapids during December through May.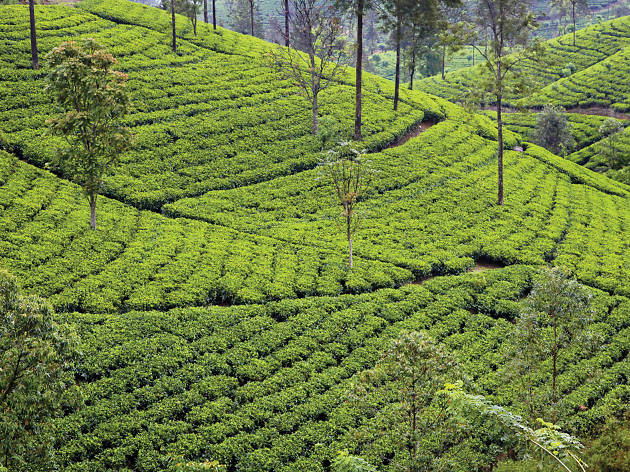 © BT Images
Trekking in Nuwara Eliya Tea Trails
Here's what's not to be missed on your trek; waterfalls showering off lush green mountains, the quiet serene countryside by dairy farms, colonial buildings left behind during the colonial times, mists encircling great peaks, incessant tea plantations and their tea-pluckers that wander throughout the hillside doing their jobs diligently, gardens of plant species found only in Sri Lanka, and oh those roses… breathtaking roses that beauty-flush the eyes, astonishing views from elevated plateaus upon the white washed edges of the coastal belt, and maybe even a round of golf before continuing on…
Nuwara Eliya can be accessed via Kandy and make it a point to start your trails with the Kandy-Nuwara Eliya train ride. Best recommended times to trail are April through June.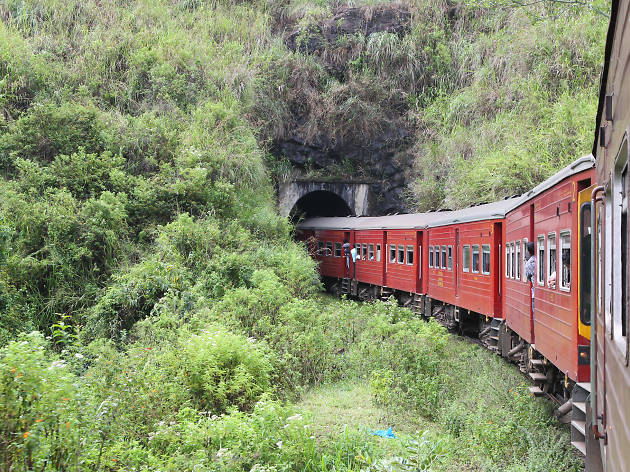 Train Journey from Colombo to Badulla via Kandy
Train journeying in Sri Lanka is usually one of the best and cheapest ways to get the most out of your trip. The combination of experiencing comfort and amazing scenery while travelling to your destination is definitely something that you must experience, particularly the train ride from Colombo to Badulla via Kandy.
Two express trains; the Podi Menike at 5:55am and the Udarata Menike at 9:45am reach Badulla by 4:20pm and 6:00pm respectively.
Be prepared to witness passing through 44 tunnels, lush greenery, waterfall country, tea plantations, rolling hills and overall breathtaking views that will leave you speechless on the way to Badulla.
Three main things to note: 1. Make sure you reserve tickets early and by the window 2. Be on time for the train 3. Don't miss this journey of a life time.
The Diving havens off the eastern and southern coastal belts
Trincomalee
With numerous dive sites peppering the ocean, alongside these are their prevalent diving centres, which help make the most of these exciting diving adventures.
The east coast is famed for its wrecks of Second World War, and is rated for some of the top dive sites in Asia. And this is not to mention the ocean opening its magnificent doors to an abundance of reefs and life under the sea.
Best recommend diving seasons are April through October.
Hikkaduwa
Diving sites are within convenient reach in Hikkaduwa, a beach town known for its friendly and liberal disposition. Kiragala, the Conch ship wreck, as well as Deep Rock are popular dive sites.
Reached in no time via the southern express way, best recommended diving seasons in Hikkaduwa are November through May.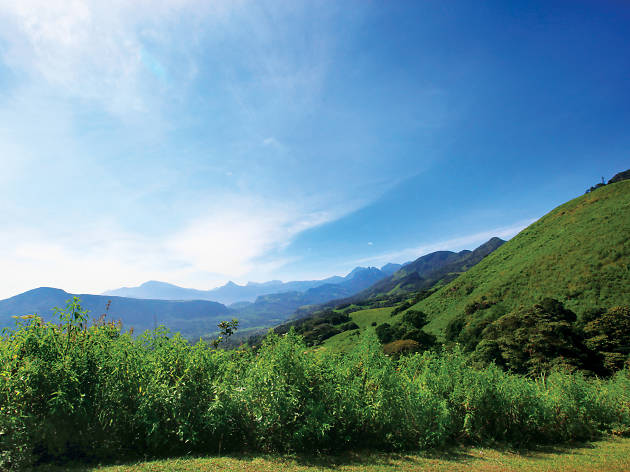 © BT Images
The Knuckles mountain range is a divine trekking destination. This could be for the very reason of getting a glimpse of heaven right here on earth. The foothills rise and fall alongside its magnificent surroundings.
The trek would usually take you through trails that are inexplicably breathtaking; meandering rivers, waterfalls; small and immense, tea plantations as far as the eye can see, you may even run into a few animals; deer, spotted cats, wild buffalo, macaque monkeys, endemic birds, and flora; common only to this part of the country. You can even choose to cycle through certain trails, which is as thrilling. Remember to contain yourself if you do spot the not so rousing little leeches, it's only inevitable when trekking in the climatic conditions of the hill country. Be sure you don't miss 'mini world's end'; a delightful plateau, off which are summoned jaw dropping views of the surrounding.
Chances of meeting local farmers and tea cultivators, as you may pass through small villages, are quite possible.
Best times for trekking are February to September.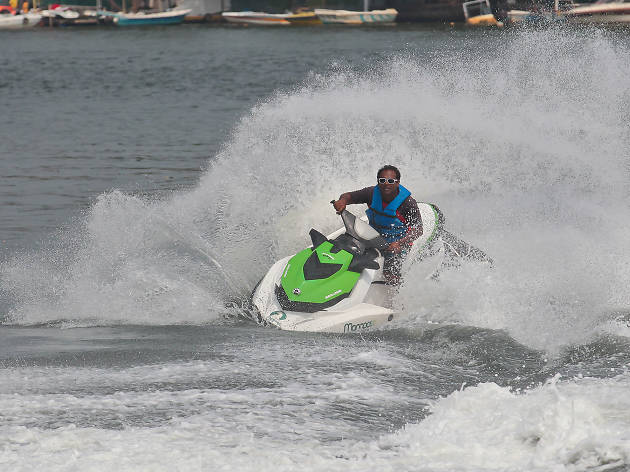 Water skiing and jet skiing in Bentota
Bentota is renowned for pleasurable yet safe water sports activities. With beaches blessed beneath sunny skies and the Indian Ocean just beyond, this beach town is worthy of a big thumps up for its immense appetite for water skiing thrills.
Your stay at local hotels or resorts would usually aid water sports activities of choice, or alternatively take advantage of the many rental centres which are quite well equipped in treating thrill seekers.
Bentota can be reached via the southern expressway as quick as a whip and to have a truly sporting experience visit November through April or May through October.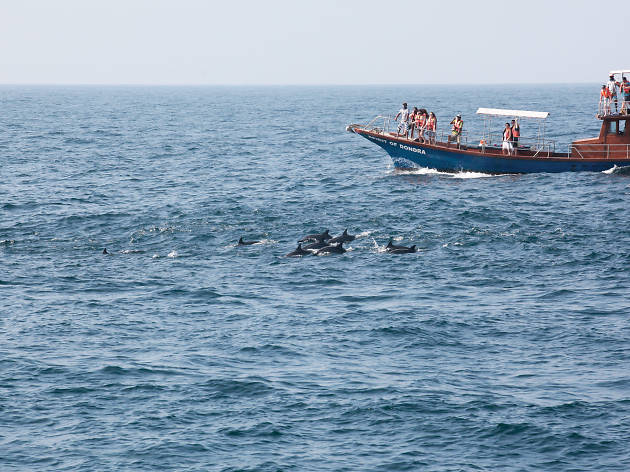 © BT Images
Whale watching in Mirissa and Kalpitiya
Mirissa
Known for its sightings of blue, bryde's, sperm, orca and pilot whales and dolphins, mainly Risso's, spinner, bottle nose and stripped, Mirissa, presents a good, if not a great opportunity to join in on whale watching expeditions. Tours start as early as 7am.
This sun kissed beach town can be reached via the Southern Expressway and is best visited November through April.
Kalpitiya
February to March is the best recorded times for sperm whale sightings, and acrobatic pods of spinner dolphins. The rare humpback dolphin is also been known to show up in the waters of Kalpitiya.
Kalpitiya can be reached on the Colombo-Katunayake highway via Puttlam.
© BT Images
An experience that should not be missed if you are ever in Sri Lanka is an escapade to the coastal paradise of the country, where you can avail yourself to the excitement of stilt fishing. Strange, it might sound as you have to sit on a narrow stilt and maintain your balance while fishing, this is guaranteed to be a one-of-a-kind experience.
Stilt fishing is mainly available in the southern part of the coastal belt, with Koggala being a hotspot for this activity. Keep in mind that it is during the early morning hours and late afternoon that this can be enjoyed at its best as fish are said to come near the shore in droves with the current, assuring a good catch. Also be ready to pay a reasonable tip for the fishermen for their assistance.
More to explore