Colombo venerates Lord Murugan
Aadi Vel is a celebration of Lord Murugan. The streets of Colombo liven up with chariot procession, dancers and musicians.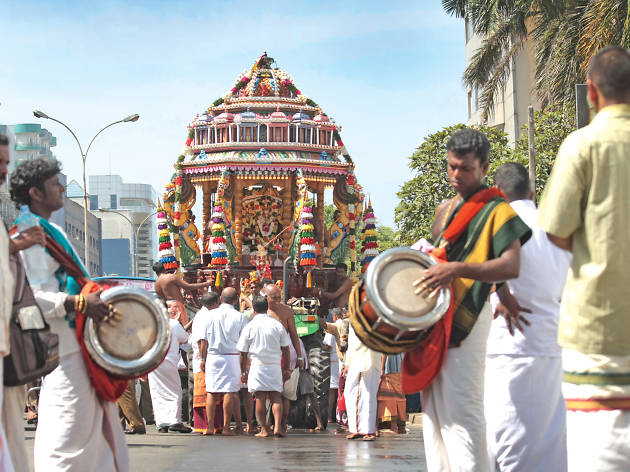 The streets of Colombo come alive with the burst of vivid colours and the hearty trumpeting so dear to the Dravidian soul in the month of July Aadi in Tamil). Aadi Vel is another celebration of Lord Murugan, or kanda, also called God Kataragama.
The original procession actually travelled from Colombo to Kataragama. However, in 1874 the British limited it to Colombo due to an outbreak of Cholera. Confined to city streets today the procession goes from the Kathiresan Temple in Sea Street, Pettah to the Kathiresan Temple in Bambalapitiya.
At the heart of the procession is the Vel Ratham, the intricately carved, wooden chariot carrying the golden statue of Murugan with idols of Sri Valli and Theivanai, his consorts. A golden replica of the 'vel', the heavy golden spear with which the deity is always portrayed, is also carried.
Winding its way through York Street, Echelon Square and the Galle Road, numbers swell as the procession reaches the Galle Face Green. It's a glittering and flamboyant, religious carnival of sorts, with multi coloured umbrellas, caparisoned elephants, dancers and musicians. Bells tinkle, drums throb and the Tanjore band liven the spirit.
At the Bambalapitiya Kathiresan Temple, decked in cheery yellow lights and swimming in the fragrance of banana leaves and thick flower garlands. Vendors selling food, sweetmeats, brass utensils, camphor, beads, bangles, toys, earthenware, and pictures line the roads.
For two days the statues reside at the temple before being taken to Marine Drive to be bathed. It coincides with the water-cutting ceremony in Kataragama. Bestowed with prayers of devotees the statues are taken back. Not just Hindus, but people from all religions; flock the streets to pray or watch the grand procession.