Kalpitiya's airbenders
Head to Kalpitiya to experience the thrill of kitesurfing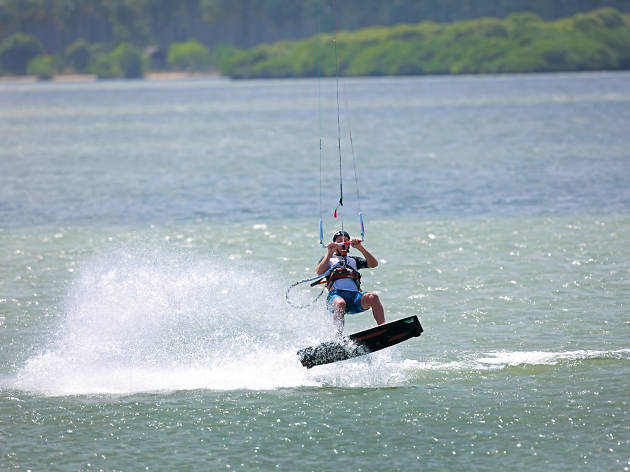 Kitesurfing is a sports fanatic's dream come true. Combining various aspects from other extreme sports like wake boarding, wind surfing and paragliding its no wonder that this activity has enjoyed such immense popularity with the 1.5 million people world wide who say they indulge in this activity on a regular basis.
The principles of kitesurfing remain fairly simple. It all rests in harnessing the winds energy in order to be propelled across the water. Kite surfers can often reach winds of 10-12 miles per hour with the fastest known short distance being around 58 miles per hour.
So where is one of the best places in the world to seek out this activity? As it just so happens that would be the Kalpitiya peninsula situated about two and a half hours from Colombo in the coastal region of Western Sri Lanka. Although famous for being a hot spot for whale and dolphin watching, as they move along their migratory path, Kalpitiya is increasingly becoming synonymous with all things water sport related; with Kitesurfing being at the top of the list.
Being a lagoon, its surface provides a good platform to move until the kite takes off with the wind. From May to mid-October the winds persist night and day, providing thrills to the surfers. After a short break the season starts again in mid-November and continues till March. During these seasons, hundreds of kite and wind surfers head to Kalpitiya to train and compete, drawn to the excellent physical conditions. With flat waters and consistently strong winds, it's a virtual paradise for adrenaline junkies.
Remarkably Kalpitiya is just as welcoming to amateurs as it is to hard-core enthusiasts who will often settle on the side of the peninsula that faces the Indian Ocean. This area is perfect for more advanced surfers who wish to wave ride. While Kalpitiya lagoon is just the place for beginners as well as freestylers looking to practice their moves. So regardless of your skill level, be it novice, amateur or professional, Kitesurfing in Kalpitiya is something you definitely don't want to miss.