Kataragama Esala Perahera and Pada Yatra
Perhaps the most popular deity in Sri Lanka, god Kataragama has his shrine in the deep South, colourful with peacocks and the cult that worships him with a flamboyant display of ardour and fierce devotion.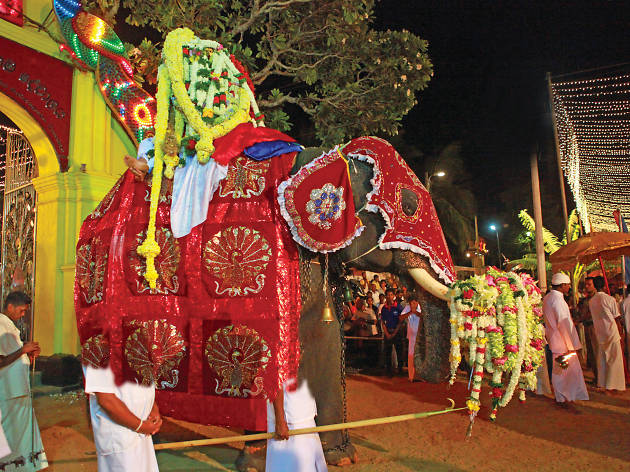 1/4
Gihan Panditaratne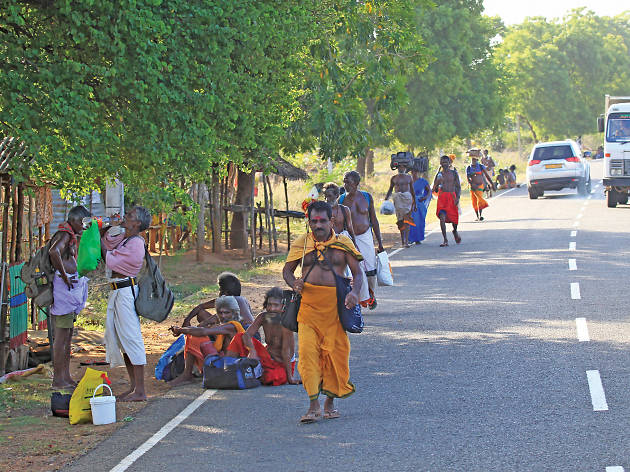 2/4
3/4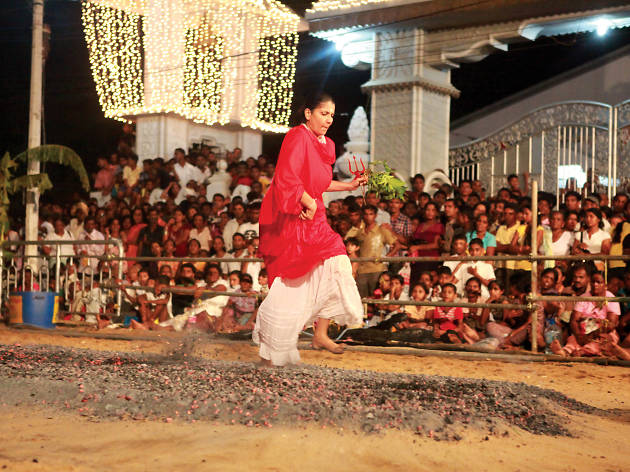 4/4
Gihan Panditaratne
As July approaches, the locale of Kataragama gets throbbing with life and colour. Drawn by the charismatic god, people come in throngs. There is an ancient ritual that all pilgrims, Buddhist, Hindu or Christian, fulfill with joy: they bathe in the Manik ('gem') river which should be crossed to set foot on the divine land. The festival proper begins with kap situweema, which involves the installation, in the temple grounds, of a sanctified log.
The perahera itself bursts on the streets at night with a carnival like atmosphere. The first-comers are the whip snappers. They are followed by a troupe of drummers, dancers, flag bearers, and – the clear cynosure – the regal elephants caparisoned with glittering gold embroidered cloth. There is a festive atmosphere where people participate with great zeal. The instruments go wild as the players' enthusiasm peaks and the rule is to completely abandon yourself. 'Kavadi dance' involves dancing with an arch decorated with peacock feathers, the god's insignia, and anyone can go footloose to the gamboling music.

Fire-walking is a spiritual act, a part of the festival when pilgrims walk on a bed of embers raised by burning logs. Their faith in the god, they claim, prevents any physical harm. The perahera ends with the water cutting ceremony when the chief priest cleaves the waters of the Manik river with a sword. Just as this is done, the mass of devotees plunge with joy into the waters and 'have a splash'.
There are some devotees, however, who are more committed in their ardour and continue the old tradition of walking from Jaffna to the shrine for the festival, taking a trail that covers more than half of the entire coastline of the island. This pilgrimage, known as Pada Yatra, takes months, from May to July, living on alms, sleeping in the open, bewaring the leopard, the bear, the crocodile and the buffalo. They are inspired and propelled forward by their own cry of 'haro hara', which they keep up from beginning to end, becoming more intense and joyful as they cross the final barrier of the Manik river.
This year the Kataragama Esala Perahera will parade from July 24 – August 7, 2017.