Maha Saman Devale Perahera
The Ratnapura Saman Devale, dedicated to the Sri Lankan Buddhist God Saman, is simple but imposing.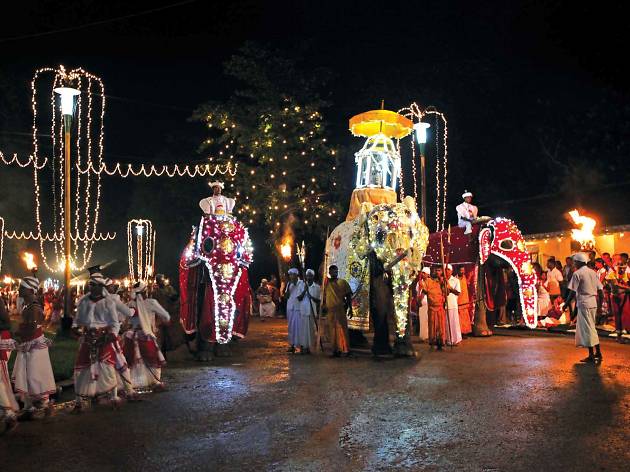 1/3
©BT Images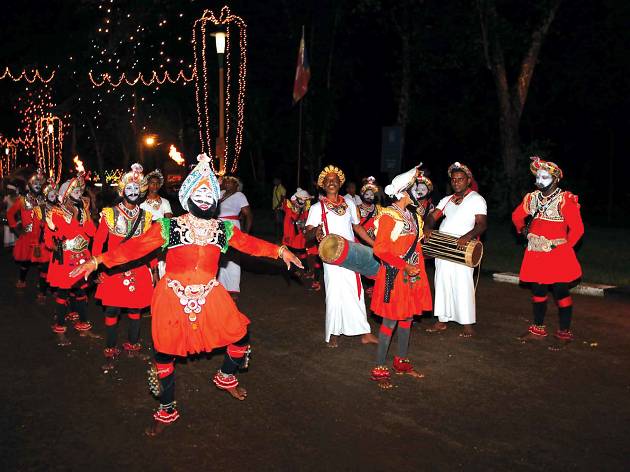 2/3
©BT Images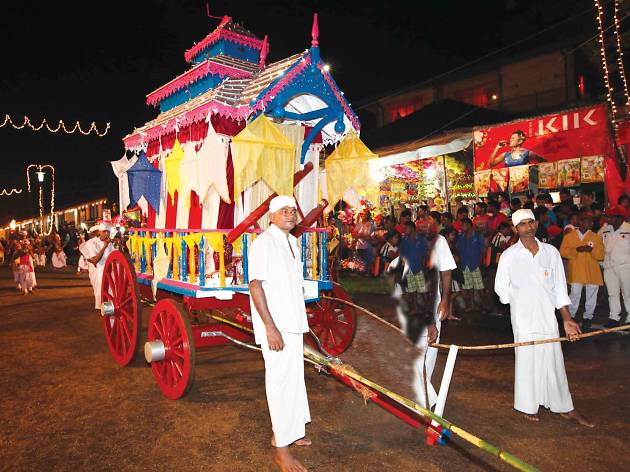 3/3
©BT Images
It is a whitewashed pile with wooden pillars and tiled roofs in the simplest Kandyan style. It is a hallowed place, but in September life bursts forth from its precincts, and all of Ratnapura glows with light and life with the Esala Perahera (procession).
The Maha Perahera is the main procession. But there is a build up of many rituals, lasting for many days, before the grand finale. The first rite, Pirith ceremony, is when benedictory verses are rhythmically chanted by monks, who are then provided with alms. The next step is Kap Situveema, when a branch lopped from a sanctified tree is planted with elaborate ceremony and pageantry. This ritual is done to secure the god's blessings.
The first procession, which takes to the roads from September 2 – 6, is called Kumbal Perahera. It is a simple procession where only one piece of jewellery belonging to the god is carried together with the sacred anklet of Pattini, the goddess of chastity.
The Dewele Perahera is slightly grander and goes on from September 7 – 11. Dancers and office bearers are accompanied by the lay priest of the temple on an elephant, carrying sacred jewellery. The palanquins of Gods Saman and Pattini are also carried.
From September 12 –16 the Maha Perahera, the final procession, takes place. It is highly elaborate, including various dances, ancient songs and a large number of elephants and all members of the official council of the Devalaya.
There are some rituals that are unique to the Saman Devale Perahera. One intriguing ritual is when elephants are fed with kavum or oil cakes specially made by temple's female lay servants. Another is the firing of a gun to signal the beginning of the perahera.
The most famous component of the Saman Devale Perahera is the Maha Bamba Kolama, a figure rising to a height of about eight feet, representing King Rajasinghe. It has two faces, one hostile and demoniac and the other benign and sweet.
The final perahera, the perahera of God Saman on September 17, is the most elaborate. Many dance items are accompanied by instruments such as horanewa, davula, kombuwa, thammattama.
The perahera concludes with the Diya Kepeema, a mysterious ritual done in a completely covered raft. Only the most highly placed, intimate lay servants of the temple are allowed to see this ritual.