Poson
The second most important full moon day in Sri Lanka
1/2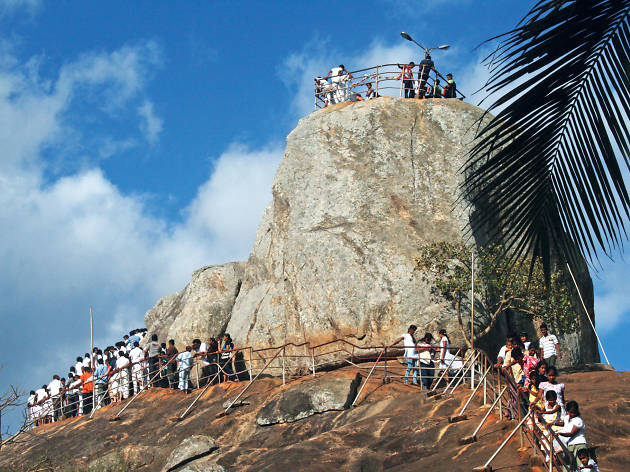 2/2
The second most important full moon day in Sri Lanka is Poson. The focal point of the main full moon, Vesak, is Colombo, all lit up for nearly a week. But on the Poson day, the attention shifts to the ancient kingdom of Anuradhapura. Buddhism was introduced there, on that day, more than two thousand years ago.
In commemoration of that event, people flock to these ancient plains in June. For once a year the old glory of the old kingdom is relived: pilgrims worship at the stupas and bathe in the reservoirs – although the old buildings of course are ruins. But the renovated buildings of Anuradhapura, however whitewashed or redone they maybe, are viewed as hallowed places not a bit devoid of their original sanctity, just like those that remain ruins.
Gratitude is a great virtue extolled by the Buddha, and the Poson celebrations display the gratitude of a whole nation. The main historical figure who receives this gratitude is the emissary who brought Buddhism here: the Great Mahinda Thera.
Mihintale was where he landed. Situated a few kilometers from Anuradhapura proper, this is a great mountain, the pinnacle of which, a rock called 'Aradhana- Gala', is the holy of holies on Poson day. From here the emissary made his first oration, starting with a brainteaser to ascertain that his first listener is intelligent enough to understand the doctrine about to be preached. The rest is history, and Sri Lanka to this day is the bulwark of traditional Buddhism.
One manifestation of the island's gratitude is the Mihindu Perahera, a procession to be witnessed in many towns and villages. Inevitably in the pride of place is an effigy of he great Mahinda, sheltered by a leafy branch of mango, signifying Mihintale which was a thickly populated by mango trees (and up to this day has groves of mango).