Ten foods every visitor to Sri Lanka should savour
When in Sri Lanka do as the Sri Lankans do! Indulge in the flavoursome local dishes and complete your voyage.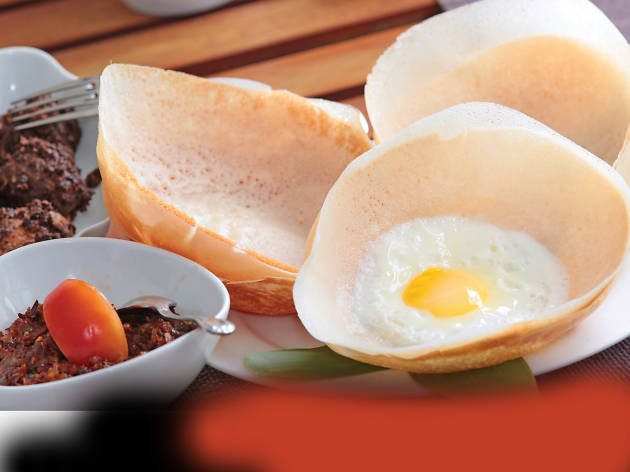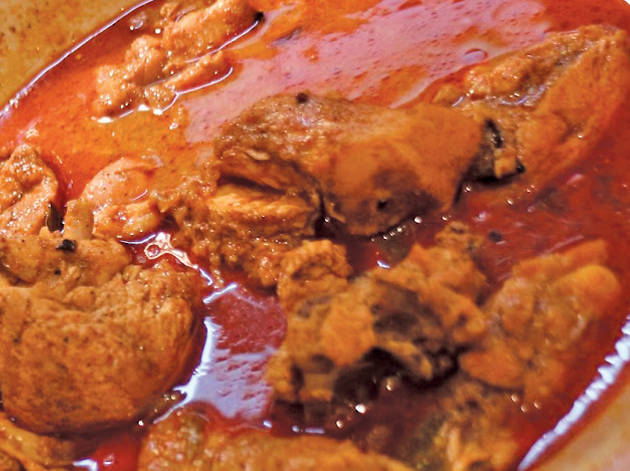 Easy to make, chicken curry is a household staple that varies in taste according to region. Fennel, cardamom, cloves, cinnamon sticks, chili powder, curry powder, turmeric, pandan, lemongrass and curry leaves are some base ingredients. Coconut milk forms the rich curry while tomato puree is often included. Most satisfying when served with hot rice or roti.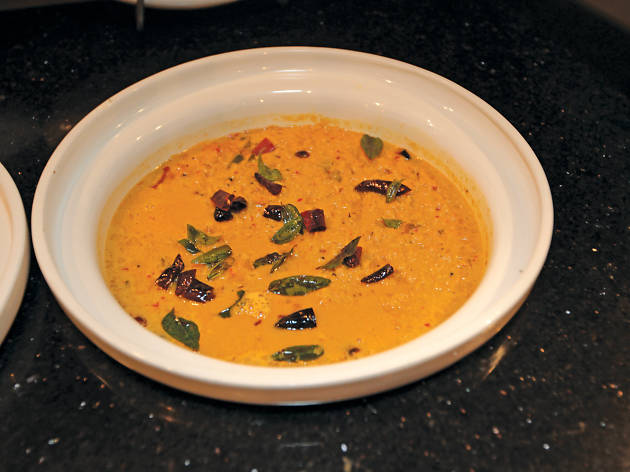 ©BT Images
Dhal curry is the most common curry in all of Sri Lankan cuisine. Masoor dhal (split red lentils) are rinsed and boiled until soft. In a separate pan, onions, tomatoes and fresh green chilies, are sautéed with cumin, turmeric, fenugreek, mustard and curry leaves. Once combined the dish is thickened with fresh coconut milk.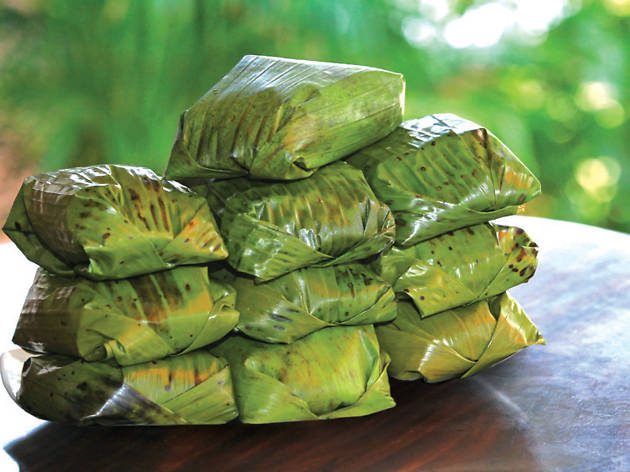 ©BT Images
The Dutch Burgher community gifted Sri Lanka 'Lamprais' – a combination of meat, rice, sambol and chili sauce, wrapped in a banana leaf packet and steamed. The rice is cooked with meat stock infused with cardamom, clove and cinnamon. Ash plantain or brinjals are also a delicious feature. Original recipes called for beef, pork and lamb, but chicken and eggs are common now.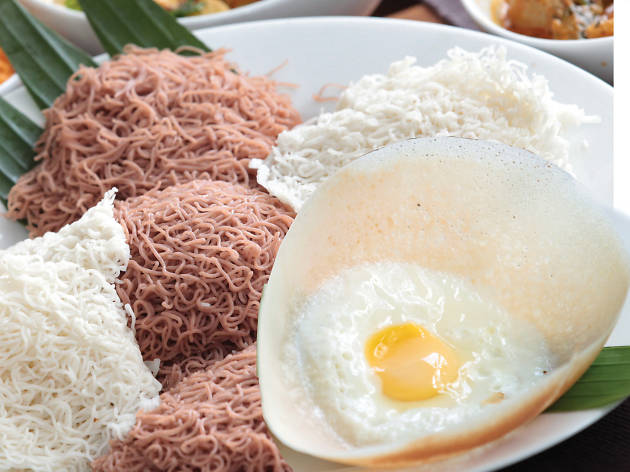 ©BT Images
Hoppers and string hoppers
Hoppers are Sri Lanka's answer to pancakes. The batter is a fermented concoction of rice flour, coconut milk, sometimes coconut water and sugar. Hoppers can be sweet, savoury or with an egg in the middle accompanied by lunu miris or seeni sambol. String hoppers are steamed thin strands of noodles, eaten with curries.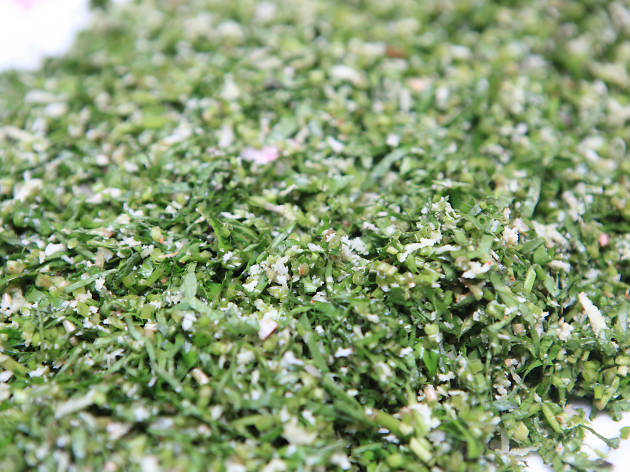 ©BT Images
Gotukola sambol (pennywort salad)
One of the most readily available green vegetable dishes in Sri Lanka, gotu kola, is a medicinal herb, shredded into bits, then combined with shallots, tomatoes, fresh grated coconut and chili and seasoned with a dressing of salt, pepper and lemon juice. Sambol is a term used in Sri Lanka for ingredients that are combined and eaten raw, like gotu kola sambol. Gotu kola is an extremely fresh and crisp dish. It is a common side dish served with curry and rice.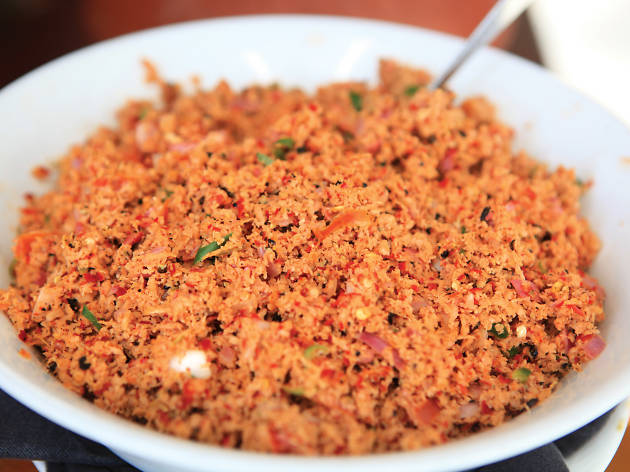 ©BT Images
Pol sambol (grated pol sambol)
In Sri Lanka coconut is of supreme importance. Pol sambol, which is akin to fresh coconut relish, is a simple blend of finely grated coconut, red onions, dried whole chilies or chili powder, lime juice, salt and Maldive fish (if desired). The ingredients are diced or ground, then combined in a bowl. Pol sambol is a delectable and spicy side dish that goes well with rice and curry, roti, string hoppers or even just slices of bread.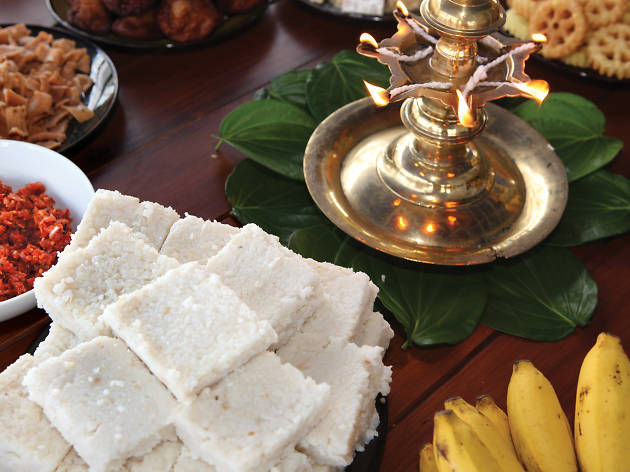 ©BT Images
Kiribath or milk rice with lunu miris
Kiribath is a special type of rice, cooked with thick coconut milk. It is served during special or auspicious occasions. Before the rice finishes cooking, coconut milk and a pinch of salt are added. The coconut milk makes the rice creamy. The cooked rice is cut into wedges and served like slices of cake with a number of dishes, often either sweetened with jaggery or consumed with curry. Lunu Miris is the most common garnish, a chili paste made from red chilies, onions, lemon juice and salt.
Any amount of noise on the road will not obliterate the clanking of metal on metal of the Kottu chef. Kottu is Sri Lanka's hamburger, a favourite fast food when craving something tasty and greasy. It is made with godamba roti. It is fried and chopped with a selection of ingredients and served with a spicy curry sauce. The most skilled kottu chefs rhythmically clank their spatula and knives against the metal frying surface, slicing the roti with each clank.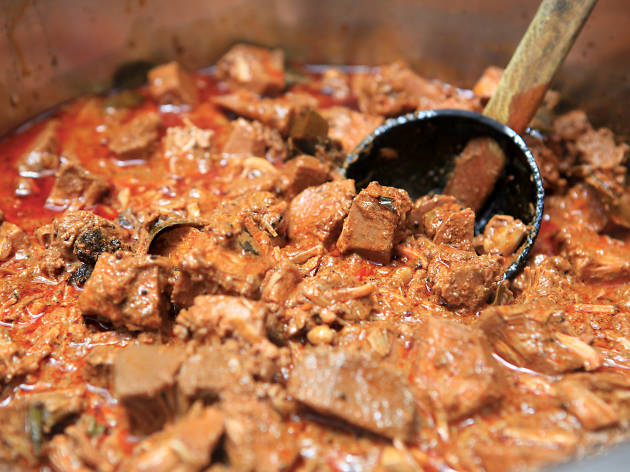 ©BT Images
Jackfruit is consumed in a number of different stages, from very ripe and sweet to green and starchy. Polos is a Sri Lankan curry prepared with young jackfruit. The fruit is sliced into bite-sized chunks and boiled until soft. It is then cooked with onions, garlic, ginger and spices like mustard seeds, turmeric, chili powder, roasted curry powder, pandan leaves and sprigs of curry leaf. Jackfruit has a starchy texture, somewhat similar to cassava or potato.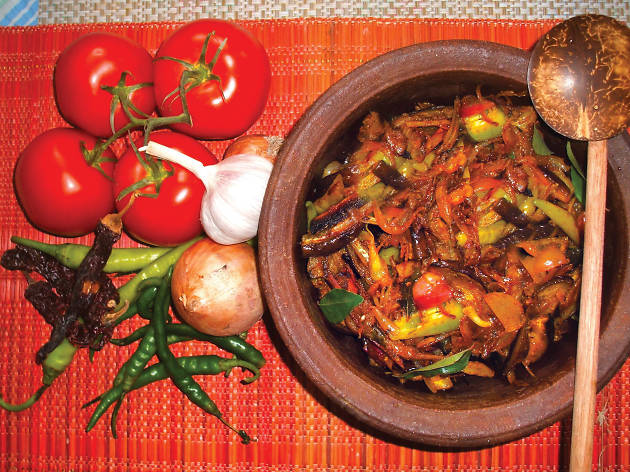 Wambutu moju (aubergine eggplant)
Served mostly with rice and curries, wambatu moju is a flavourful eggplant pickle. The eggplant, usually the purple-skinned is cut into bite-sized wedges and deep fried, giving the eggplant a crispy texture with a soft and silky interior. It is then caramelised with a spoon of sugar, vinegar, red onions, green chilies, mustard seeds, chili powder and a hint of turmeric powder until the colour turns almost black. The slightly sweet, sour and salty contrast is sensational.