The tale of Thanthirimale
Commemorating the arrival of Buddhism in Sri Lanka, the sacred precincts of Thanthirimale will be illuminated this full moon Poson Poya day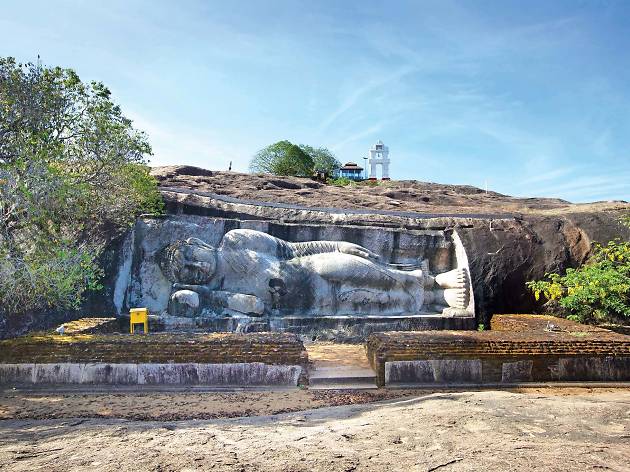 The ancient Thanthirimale Temple in Anuradhapura has a history that links it to the celebration of Poson Poya, the day Buddhism was preached to King Devanampiyatissa.
The event transformed an entire people into followers of Buddhism. It is believed that the Bodhi tree at Thanthirimale is a sprout of the sacred Bo sappling planted in Mahamevna in Anuradhapura. The story goes thus.
Emperor Ashoka, commissioned his daughter, Bhikkuni Sangamitta, to take a sprout of the Sacred Bo Tree in Bodhgaya under which Buddha attained enlightenment to Sri Lanka. Bhikkuni Sangamitta and her entourage had supposedly rested at Thanthirimale on their way to Anuradhapura. The following day, the group was welcomed by King Devanampiyatissa and his followers to the garden of Mahamevna. They discovered the Sacred Bo sappling had miraculously produced eight more saplings, of which one had been presented to the sage Thivakka. He carried the sapling majestically to Thanthirimale and had it protected by a circular wall made of rock. In commemoration of that great day in history and the temple's association with the event, the sacred precincts of Thanthirimale will be illuminated this Poson Poya (June 19, 2016). The temple is a repository of history and art, aptly displayed in the ruins and carvings found at various places in the temple premises.
Located 40 kilometres north-west of Anuradhapura, spread across closely situated rock surfaces surrounded by dense jungle, the genesis of this ancient temple is traced to Third Century BCE. Used in later years as a monastery, Thanthirimale is renowned for its many caves, inscriptions, carvings, ruins of monastic residences, meditation chambers, a library and of course the Sacred Bo tree. Also of significance is the eight-foot image of the Buddha carved on rock and encircled by a decorative arch known as Makara Thorana, borne by two lions. The beauty of the image of the reclining Buddha engraved out of natural rock demonstrates distinctive detail to the robe and its drape.
The library known as the Pothgula has a rectangular chimney-like enclosure at the summit of a rock. Inside ola leaf manuscripts had been stored, protected by a roof. The ruins of at least twelve buildings used as meditation rooms and residences by monks are at Thanthirimale. Built on rock, the legacy of Thanthirimale has endured the vagaries of time and borne the assaults of marauding men to tell a very long account of history.