The best things to do in Flon
Dubbed "the hip district" in Lausanne, Flon is a compact quarter of sometimes startling architecture repurposed from its warehouse days. Now it's home to restaurants, bars, nightspots, boutiques and even a few enticing chain stores.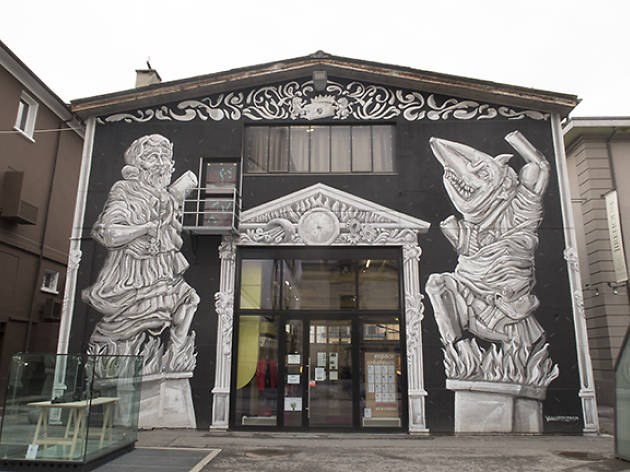 1/3
Just try to resist going through these doors.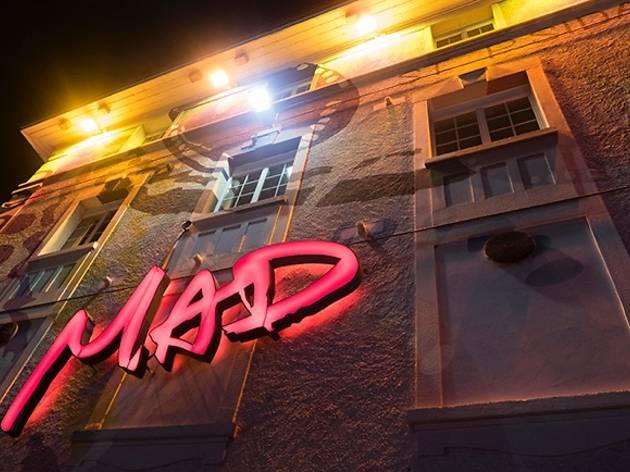 2/3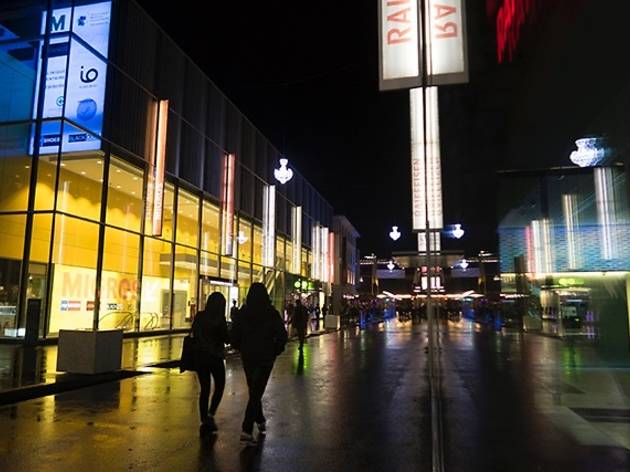 3/3
Flon is full of surprises. Within a few metres, a curious soul can buy a lamp made from a movie camera, eat sushi, smoke a hookah, go bowling and dance until dawn. There are really two Flons, one by day, one by night, like fascinating twins. A suggestion: come for lunch, stay until brunch! Here's our roundup of the best things to do, where to eat and what to buy in Flon.
LHotel may be a hotel (how'd you guess?), however its trendy lounge bar isn't just for the clientele, but has created a reputation as a popular night spot in its own right. Friends Café is the bar of choice for many of Lausanne's cool young things.
Read more
In contrast to the big name commercial vehicles drawing crowds to Les Docks, Le Romandie champions the little guy, giving a platform to alternative, independent rock groups.
Read more
On the second floor of Le Flon's mega club MAD, Le Bedroom is a multi-functional place that morphs from lounge-bar to steakhouse to club in its own right as the night progresses.
Read more
Sometimes you need a good spot to people-watch, and what better place than under the arches of the Grand Pont, the nineteenth-century bridge that cuts through the centre of town.
Read more
There's a gauntlet to run to reach the Culture Café, tucked away in a first-floor corner of multi-storey bookstore Fnac. Visitors looking for a quality sandwich, cappuccino or locally-brewed beer must first pick their way around the shop.
Read more
Switzerland has a handful of bowling alleys, one of which is the lively, noisy, family-friendly Bowl Bar. Its 10 lanes pulse with psychedelic lights and pop music.
Read more
A good choice if you want to be right in the centre of things, the imaginatively-named LHotel is located in Flon, a few metres from its converted warehouses filled with contemporary restaurants, bars and big brand shops.
Check prices
Read more
Open from mid-May to the end of September, this outdoor pop-up bar may be in the central shopping district of Flon but thanks to the real sand underfoot it's possible to close your eyes, wriggle your toes in the sand and imagine you're on the French Riviera.
Read more
Flon hosts a winter ice rink from Nov-Feb. It may not be the largest or fanciest ice rink around, but it's smack in the middle of Lausanne's coolest district and promises a packed programme of events.
Read more
Anyone in love with the decor in the American TV series Mad Men, will go crazy for the furniture at Galerie Port Franc. It's full of 1950s and '60s antiques in excellent condition at reasonable prices.
Read more
Appropriately housed in one of the former warehouses in trendy Le Flon, this is a temple to trainers. The spacious building provides ample room for rows upon rows of sneakers from top brands including Nike, Vans, Converse, Asics and New Balance.
Read more
Read more about Lausanne
See more of the great things to see, eat, drink and do in Lausanne
Read more