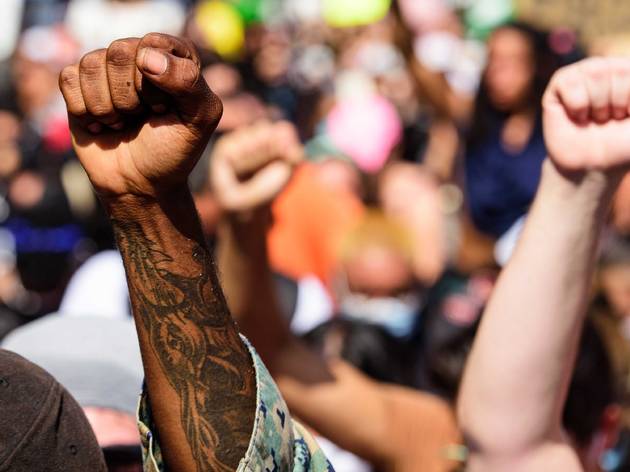 How to support Black Lives Matter, wherever you are
Here are all the ways you can show solidarity with the Black Lives Matter movement in the USA and around the world
While Derek Chauvin, the police officer charged with murdering George Floyd last summer, sat on trial less than 10 miles away, another unarmed Black man was fatally shot by another police officer near Minneapolis this week.
On the afternoon of Sunday, April 11, Kim Potter, a veteran police officer in Brooklyn Center, a suburb of Minneapolis, shot and killed 20-year-old Daunte Wright during a traffic stop.
Wright's death sparked protests in a city that was already on edge and across the United States. Almost a year after the the world was forced to watch the violent killing of George Floyd, hundreds of people spilled to the streets to protest yet another act of police brutality. And while the Black Lives Matter movement has been more prominent than ever this year, people all over the world are once again looking for ways to help another family torn apart and to recommit to the movement.
No matter where you are in the world, you can support the struggle for Black lives, whether by donating money, attending protests, amplifying Black voices online, or calling out racism when you see it. Below, you'll find just a few ways you can help right now. This isn't intended to be a comprehensive list, and we'll do our best to keep it updated.
Time Out believes that equality and justice should be keystones of life and progress in the cities we cover. We express solidarity with everyone fighting injustice across the world. Respect and peace to those taking a stand.
1. Support families directly
A number of fundraisers have been created to support Daunte Wright's family, including his girlfriend and one-year-old son.
Kelly Bryant, Wright's aunt, created a GoFundMe to cover funeral costs.
The Minneapolis-based business Holistic Heaux has been coordinating donations for Chyna, the mother of Daunte's son. They've listed multiple ways that you can donate directly to her on Instagram.
You can also follow mutual aide pages on Instagram and donate when and what you can directly to families who are suffering from institutional racism, housing insecurity and the Covid-19 pandemic.
2. Donate to causes that need funding
Throughout history, public protests have been crucial to the visibility and success of civil rights campaigns—from women winning the vote to LGBTQ+ rights.
In solidarity with the ongoing protests in Minneapolis, smaller demonstrations were held in Los Angeles, New York, Seattle, Portland, Kansas City, and Omaha this week with additional protests planned in Dallas and Atlanta.
If you are going to make your voice heard, especially in the U.S., here's what you need to know before you go out to protest. We've also asked an expert how to protest while staying physically distant from others. And don't forget your mask (even if you're vaccinated!).
Wherever you are, you can support political movements and parties that are campaigning against racism.
In the U.S., support the fight against a growing number of voter supression bills being passed by state legislators and advocate for mental health intervention instead of police response. You can also use this tool to find and contact your local congressional representative.
In the UK, you can find out your local MP's record on racial issues using the TheyWorkForYou website. It also offers an easy, free way to contact your MP so you can ask them to take action.
Volunteering to register voters is another great way to support the greater movement.
5. Show solidarity on social media
Social media can be an effective way for people all over the world to show support and raise their friends' and followers' awareness of the anti-racist movement, but don't fall into the practice of performative activism. Feel free to post links to resources or fundraisers, state your support and solidarity, and share anything that you've found helpful, but don't forget to prioritise Black voices and do the hard work of making your world more anti-racist in real life.
If you're not Black, one of the most important things you can do is to learn something about the situation. Check out the many links being posted on social media about police brutality, racial inequality and historical injustice in the USA, the UK and other countries. As well as speaking out, take some time to listen and absorb the stories and messages coming from the Black community.
(Just one thing: unless they offer, please don't ask your Black friends or people you follow on social media to spend their time helping you learn about this stuff. There are plenty of resources out there - Google is your friend.)
Think about your own prejudices too – what your emotional responses are to the current protests, and how the ways you've learned to behave over the years might affect how you treat the Black people in your life.
Not sure where to start? We asked NYC's top black-owned bookshops for their anti-racist reading recommendations. If you take up their suggestions then please purchase from them, rather than major retailers. In fact, here are nine more Black-owned bookstores in the USA we love (and they even state their favorite books by Black authors).
And if you're in the UK, you can order from these Black-owned bookshops in London, many of whom are making suggestions on social media.
If you've got kids, think how you could raise them to be anti-racist: here are four children's books celebrating racial diversity and inclusion, and here are some tips and resources to help you talk to your kids about race, justice and equality.
7. Send texts and sign petitions
Becoming more politically active can take as little as one minute a day. The ACLU website offers a handful of quick ways to participate on its site as well as some more involved options, like making phone calls or texts on behalf of the organization's causes.
You can also sign online petitions, like this one demanding justic for Daunte Wright.
8. Support Black creators and business owners
9. Keep listening and learning
There will always be new ways that you can help. Keep your ears open and let Black people guide your actions.
At Time Out, we'll also continue to listen to the Black community. You can contact us about this page and our wider coverage using the form below.