Heads up! We're working hard to be accurate – but these are unusual times, so please always check before heading out.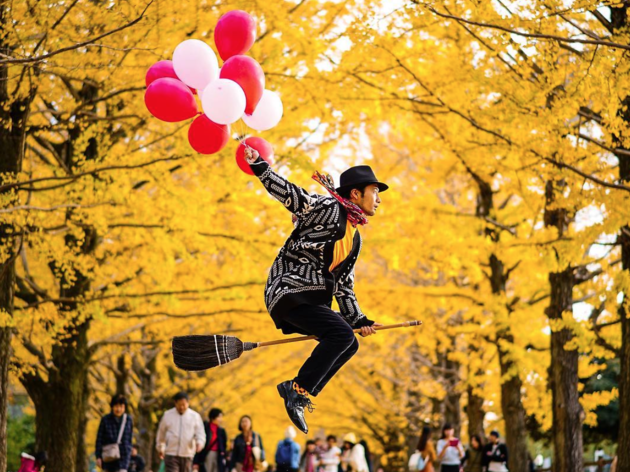 The best Japanese Instagram accounts you should follow
See Japan through the eyes of these local Instagrammers, from cool fashion to quirky #travelgram and beautiful bento boxes
We love our #latergrams and VSCO filters as much as the next phone photographer, but even we can admit that seeing the seventh coffee snap from the same café on Instagram can make anyone feel a bit jaded. Happily, there are plenty of original Instagrammers out there who you can count on never to share an overdone gym selfie. From the styling and fashion icons of Harajuku to vibrant bento boxes, here are our favourite Japanese Instagram accounts.
1. @halno
Halno Kujiraoka's whimsical broomstick photographs are like something out of a dream. We can't imagine how many jumps it must take to get just the right shot, but each and every photo is uniquely and delightfully spectacular.
Tokyo still has a long way to go when it comes to reducing plastic waste. This mum is documenting her everyday hacks to live the zero waste lifestyle in Japan and be rid of things like single-use plastic for good. Going green has never looked easier – or more aesthetically pleasing.
Anything goes when it comes to strutting down the fashionable streets of Shibuya. This account dedicated to the most daring outfits in Harajuku, Shibuya and beyond shows Tokyoites breaking every fashion rule out there and rocking it. Whoever said you can't wear more than three colours at once?
4. @marutato
Of course, what would Instagram be without its pampered pets? This mameshiba with his chubby cheeks and adorable tail is so popular he's even got his own shop of shiba inu merchandise!
Takehiro Kishimoto is a Kobe-based chef who has adopted the traditional Thai art of fruit carving. His works range from eggplant Pokémon balls to delicate roses carved from garlic cloves. Kishimoto says he eats most of the food he carves after photographing it, often deep-fried in tempura style, like this potato skull.
6. @bonpon511
This sweet couple in their 60s really defines #relationshipgoals. Bon and Pon dress in matching outfits every day, perfectly coordinating the colours and patterns of their clothes with each other.
Some dishes by Kokoronotane are so stunning you probably couldn't even find them in a restaurant. Hedgehog wagashi sweets, onigiri rice balls with whiskers and rows of mochi disguised as sweet looking mice are just a few of the lovely creations made by Yasuyo, the culinary genius who runs the account.
Konbini ice cream is one of our favourite things about living in Japan. Apart from having 24/7 access to these treats, Japanese convenience stores are constantly rotating new and exciting flavours making it hard to pick which ones you want to try first. One teen has made it her mission to sample as many konbini ice creams as possible (and occasionally other sweets), breaking down the anatomy of different cups and cones as well as noting whether or not they're worth trying.
9. @gomi_sutero
We all know what it's like to live with someone who's totally inept at putting things back in their proper place – if no one springs to mind, that person is probably you. One wife was so befuddled by the places her husband would leave rubbish and household items that she decided to dedicate an Instagram account to all the places he, and occasionally their toddler, would leave things. It can be hard to tell who left what where, but these pictures of a croc used as a makeshift doorstop and a sheet mask inexplicably plastered on a door humorously capture the everyday surprises you experience sharing a home with someone. Plus, they're endearingly relateable.
10. @hana.7jo
The fashionable outfits from this Instagram lookbook have one thing in common – they're all from Uniqlo! Hana is a blogger who proves that looking good doesn't have to burn a hole in your wallet as she puts together stylish outfits that can all be sourced from the everyday Japanese clothing brand.
11. yuko.makotsu
How early are you willing to get up to make your loved one a packed lunch? Yuko Makotsu goes the extra mile to make these unconventional bento boxes that look like everyday Japanese products. Why serve plain rice when you can make it look like a Meiji milk carton or a bag of pizza-flavoured potato chips?
More ways to discover Japan