Tokyo's top onsen
Where to enjoy a relaxing hot-spring bath – without leaving Tokyo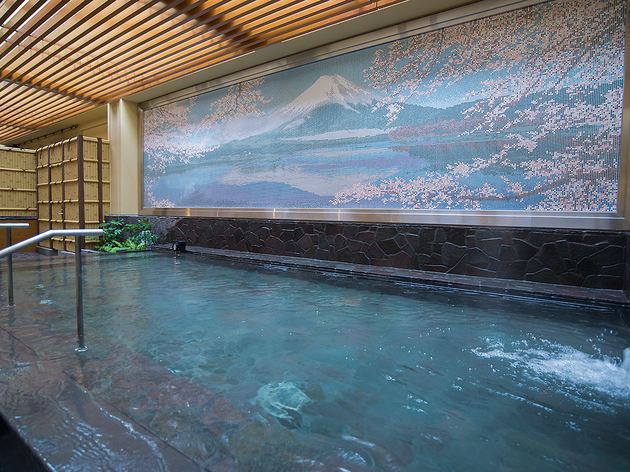 Living in one of the most volcanically active countries in the world can have its perks, not least the abundance of natural hot springs or onsen. Tokyo included, the Nippon Onsen Research Association counts over 3,000 onsen spread around Japan, in locations ranging from Hokkaido to the southernmost islands of Okinawa. Traditionally, the citizens of Edo had to trek to spa towns like Hakone and Atami if they wanted to get their fix, but today's Tokyoites have it easier: they just drill a few kilometres underground to tap their own source of geothermal goodness. You can now find a diverse range of onsen in Tokyo, from old-school public baths that are practically indistinguishable from your average (or not so average) sento, to massive, theme park-style complexes such as Oedo Onsen Monogatari. There's never been a better time to check out some of Tokyo's best hot-spring baths – and we've got something for every taste and budget right here...
Central Tokyo
In addition to housing natural hot spring baths, open-air baths, saunas and more, this Edo-era onsen theme park also does a line in festivals, fortune telling, places to drink and dine, shopping, and even overnight accommodation. It's particularly worth visiting at the moment, as the prices are currently lower than usual.
A 2011 renovation at this long-running Azabu-Juban bathhouse brought Take no Yu into the modern era, just shy of its centennial. The chief attraction here is the mineral-rich, black-brown onsen water, which is so prized that customers can even pay ¥20 per litre to bottle the stuff up and take it home.
This impressive-looking spa complex was inspired by the popular Thermae Romae series of manga and movies. Open 22 hours every day, Thermae-Yu features hot spring baths and rotenburo – supplied with onsen water from Izu daily – stone saunas, a full-on beauty salon, scrub treatments and a lounge complete with a café, bar and restaurant.
Antique pictures and celebrity autographs line the walls from entrance to locker rooms and the whole place is filled with objects and souvenirs collected by the owner, making the Daikoku-yu bathhouse feel almost like a museum. There's a comfortable massage bath, cold water bath, steam bath, electric bath and sauna, while the men's sauna features a spacious rest room with relaxation chairs.
This bathhouse first opened in Ginza in 1863, during the dying days of the Edo period, and it hasn't made much effort to update its retro stylings since. There's an old-fashioned reception desk on the way in, and an impressive mural of Kutani porcelain tiles depicting carp, spring and autumn flowers and birds that you can enjoy while soaking in the tub. There are two baths, one pleasantly warm and the other heated to a fairly toasty 42° C.
A designer sento overhauled by architect Kentaro Imai, Kohmeisen reopened in 2014 in the heart of Nakameguro's trendy shopping area. There are three baths – massage, carbonated and cold water – and a sauna. A rotenburo is available on only one side of the sento, so the men's and women's sides are swapped every Friday to allow everyone to experience rooftop bathing – a rare treat in central Tokyo.
Planning an onsen getaway?