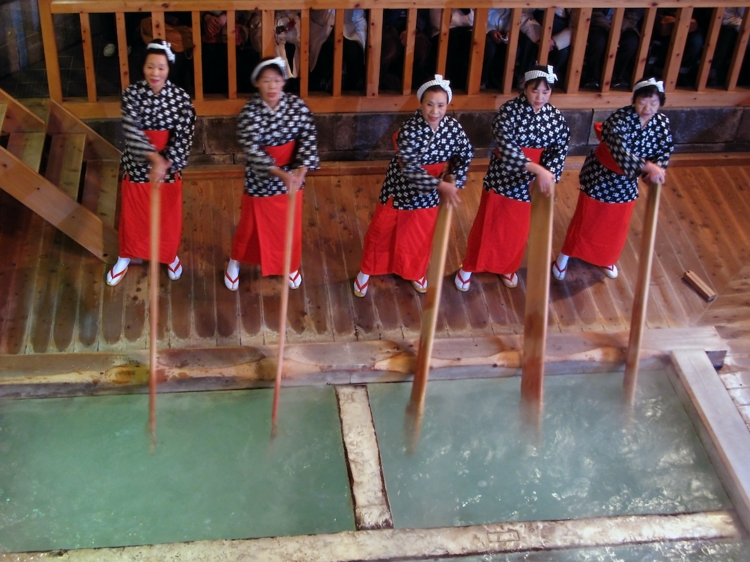 Photo: Mihai-Bogdan Lazar/Shutterstock
Kusatsu Onsen, Gunma
The water at Kusatsu Onsen is so hot that there's a special stirring procedure to cool it, rather than adding cold water, which would dilute the potency of the minerals (said to be able to cure any sickness except lovesickness). This stirring method is called yumomi and it's showcased as a performance at certain times.
The most popular public hot spring is Sai no Kawara Rotenburo, located in Sai no Kawara Park. It boasts pretty forest views and pure, steaming water, and the entrance fee is just ¥600. Tip: buy some Yu no Hana hot spring powder to experience the healing minerals of Japan's hot springs at home.
If you're looking for something else to do in the area, Mt Shirane offers pretty hiking trails in spring and summer, and in winter, skiers can take on the mountain slopes – Kusatsu Snow & Spa Resort is open from early December to mid-April.
How to get there It's about 2.5 hours from Ueno Station on the weekends-only Kusatsu limited-express train to Naganohara- Kusatsuguchi Station (otherwise take the shinkansen or Takasaki line to Takasaki Station, then change to the Agatsuma line), and then a 25-minute bus ride to Kusatsu Onsen bus terminal.