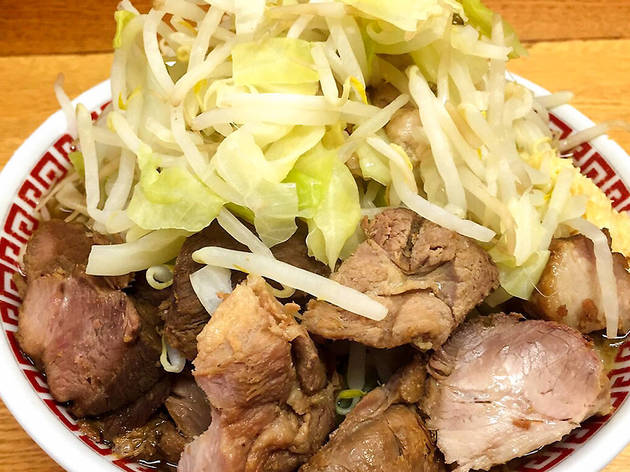 Famously bulky Ramen Jiro offers bring-your-own-pot DIY ramen for takeout
There's some assembly required, and you'll probably need to supply your own mountain of bean sprouts and cabbage
Posted: Friday April 24 2020, 4:30pm
So many businesses have been urged to shut down during the state of emergency to avoid further spread of the Covid-19 coronavirus. In response, a growing number of Tokyo restaurants have started offering takeout and delivery services, so you can still get great food without the risks of dining out. Some Japanese dishes are proving harder to pack for takeout, though.
With ramen, for example, you want to make sure the noodles aren't sitting in the broth for too long before eating them, which makes it tricky to prepare in advance. Several outlets of the popular Ramen Jiro chain have hit upon a surprising solution – bring-your-own-pot DIY takeout ramen. Instead of carting a steaming bowl of noodles through the streets, you buy each ingredient separately and assemble the full dish at home.
The Ramen Jiro outlets in Mita and Meguro are currently open for business as usual until 8pm, that's when they start offering takeout ramen for as long as that day's supplies last. You can purchase a bag of uncooked bread flour noodles for ¥1,000 (serves three) and a log of chashu pork for ¥2,000. The noodles come with Ramen Jiro's rich tonkotsu pork broth, but you'll need to bring your own pot to carry that delicious soup home.
As for the additional oil and toppings including garlic, cabbage and sprouts, those are only available if there are any leftovers. Otherwise, you'll have to purchase them at your local supermarket to recreate the mountainous dish.
On the other hand, why stick to the recipe when you can customise your ramen? Some people have put their own twist on the dish by adding different toppings, spices and condiments, while others have ditched the pots and the signature soup entirely, creating ramen carbonara or using curry as a dipping sauce.
Make sure you have cash on hand when you visit Ramen Jiro, as no credit cards or electronic payments are accepted. Takeout options and prices may differ depending on the location – some outlets are offering soupless noodles or even rice bowls – but we can confirm all of the ingredients listed above are available at Ramen Jiro's Mita and Meguro stores.
For a less DIY – but still BYO pot – ramen option, visit Niboshi Soba Ru in Kamijujo, which is offering fully prepared ramen for takeout from ¥900. Since the ramen is ready to eat, the shop recommends getting your food home within five minutes, so be sure you've done your stretches before ordering.
Support local businesses
Have your coffee beans delivered from these city roasters
Try some takeout from Tokyo restaurants
Share the story