Some might raise their eyebrows at the buzz surrounding the new Ikea at With Harajuku, but Tokyoites who've grown tired of journeying as far as Tachikawa for their furniture know just how warranted the excitement is. After its initial opening date of April 25 was postponed due to the Covid-19 coronavirus pandemic, Ikea finally started welcoming shoppers on Monday June 8, just a few days after its neighbouring Uniqlo.
Ikea Harajuku is a little different from the Scandinavian store's other locations in Japan. This city-centre Ikea, the first in the country, caters to people living in the city, so items on display are on the smaller side to suit compact Tokyo apartments. There are about 9,500 products on display, and 900 of them are things you could easily carry home with you.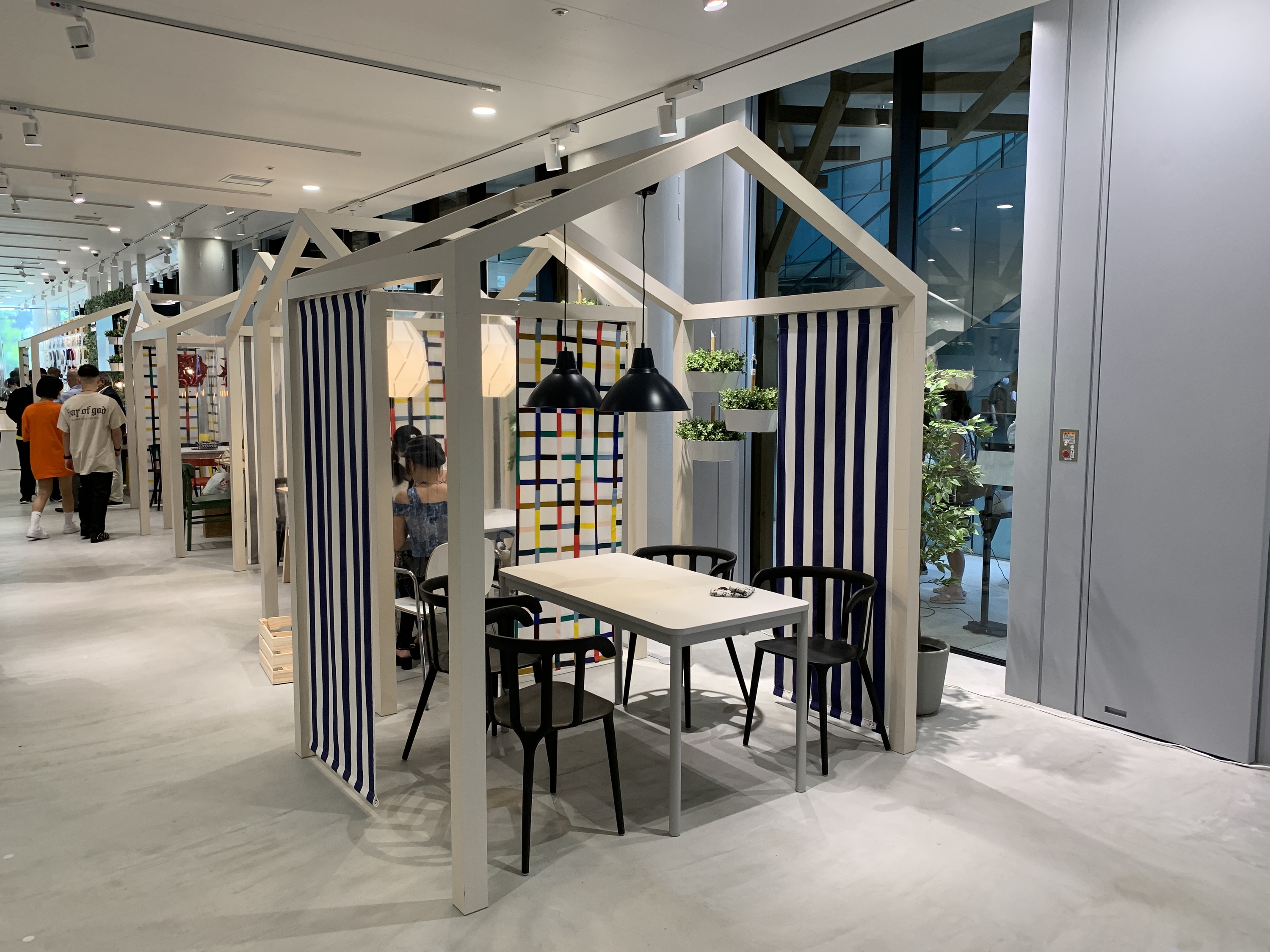 The cafe's extensive flatbread menu offers sweet, savoury and vegetarian options
In lieu of the chain's famous Swedish meatballs, this Ikea is the only store in the world to offer flatbread (bröd tunnbröd) exclusively. Perhaps inspired by its location – Harajuku is Tokyo's crepe central – Ikea Harajuku's flatbread menu is rather extensive, covering savoury, sweet and even vegetarian options.
Prices are really enticing, starting from as low as ¥150 for the caramel nuts flatbread and tops out at ¥500 for the smoked salmon flatbread with tartare sauce and mixed salad. There are five vegetarian flatbreads, three meat and fish, and a whopping eight dessert ones – check out the menu here.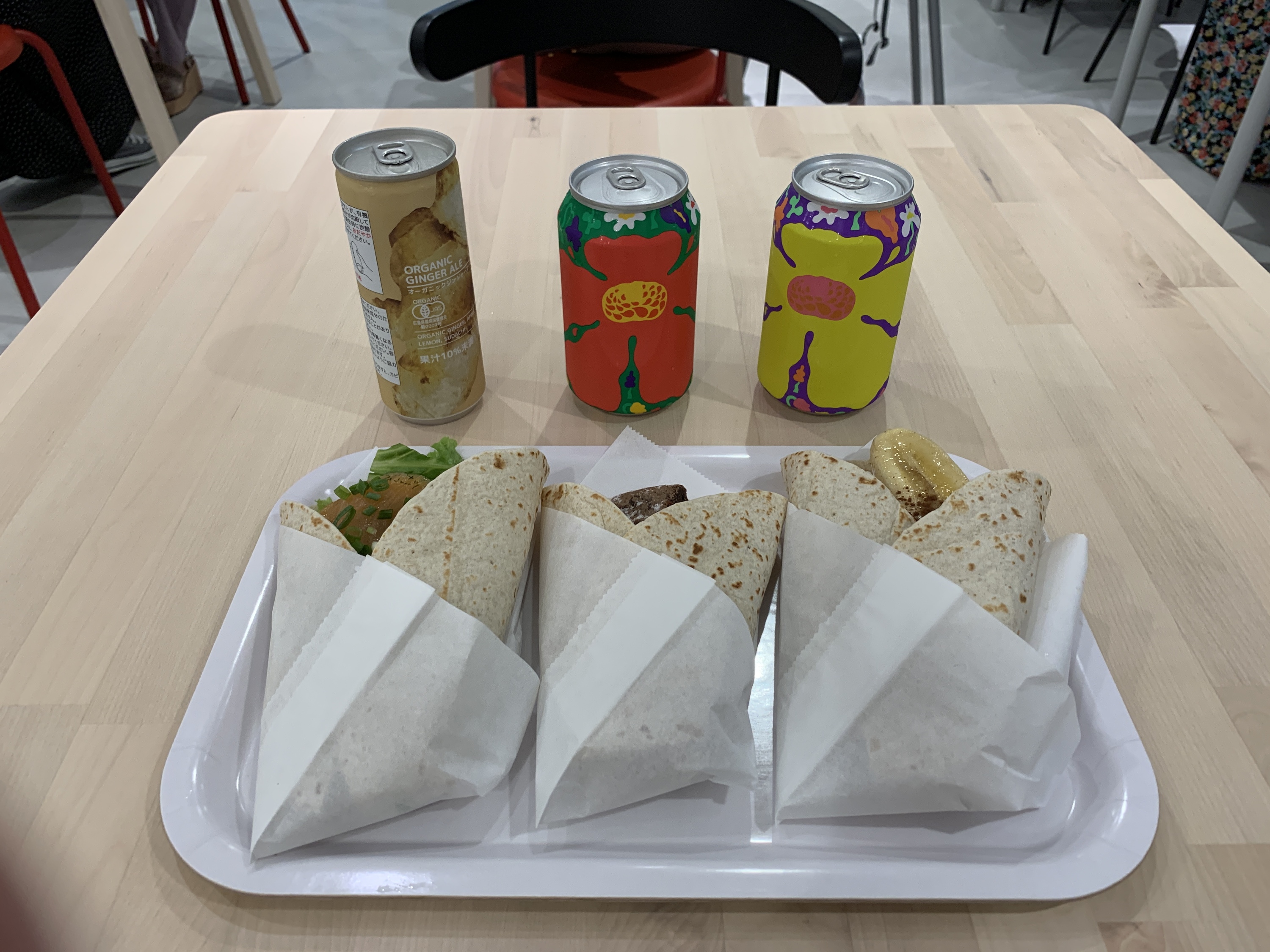 The dessert flatbreads especially are a unique spin on Harajuku's classic crepes, with generous amounts of whipped cream and fruity fillings. Combinations include chocolate and berry (¥490), which combines a brownie piece with whipped cream and mixed berries; there's also one with a split banana, whipped cream and brownie (¥290). Drink wise, choose from organic ginger ale (¥320), a selection of lemonades (¥200), and also Swedish draft beer (¥400).
Vegans will be well taken care of at the café. The soft serve ice cream here is completely plant-based and you can even choose from three kinds of non-dairy milk for your latte: soy (¥290), almond (¥320) or oat milk (¥320).
Get drinks and snacks to go from the Swedish Combini
Prefer something to go? Ikea Harajuku comes with its own konbini, which operates differently from the cafe upstairs. Goodies here include plant-based cup noodles (original and curry, from ¥190), Swedish chocolate and imported craft beer (from ¥290) – though the beer's low alcohol content of 0.3 percent makes it even less boozy than kombucha. There's also a selection of freshly baked goods at the ground entrance; the pain au chocolat and cinnamon buns (from ¥100) would make excellent provisions for a picnic at the nearby Yoyogi Park.
While the store is officially open for business, there are still a number of protocols shoppers are asked to follow to decrease the risk of spreading coronavirus. Everyone entering must have their temperature checked and disinfect their hands before going in. The store is also limiting the number of people inside, so you'll need to collect a ticket from the queue management machines on the second floor of the building. Aim to get there just before opening (11am) to avoid a long wait.
The latest on Japan's reopening plans
Sanrio Cafe featuring Hello Kitty and friends is now open in Ikebukuro
Get ready for more secret fireworks across Japan this summer
These museums in Tokyo are now open – and with new safety measures
A new Uniqlo Tokyo global flagship store is opening in Ginza on June 19
Japan will allow foreign residents to re-enter under 'exceptional circumstances'