All over the world, people are protesting and marching with the Black Lives Matter movement, a global organisation demanding justice and equality for the black community. This year, protests began in the United States after the death of George Floyd due to police brutality, and have since spread worldwide to rally against systemic anti-black racism. On Sunday June 15, Tokyo saw a march organised by the city's official local chapter of Black Lives Matter. Taking place in Shibuya, The Japan Times reports that over 3,500 people marched to raise awareness of the importance of black lives in Japan.
Even in the height of Japan's rainy season, a mix of individuals showed up – families, foreign residents, Japanese nationals and pets. Clad in face masks and raincoats, marchers started in Yoyogi Park, looped through Shibuya Crossing and moved up Meiji-dori Avenue in Harajuku at 3pm, where many Tokyoites were enjoying their first shopping excursions post reopening.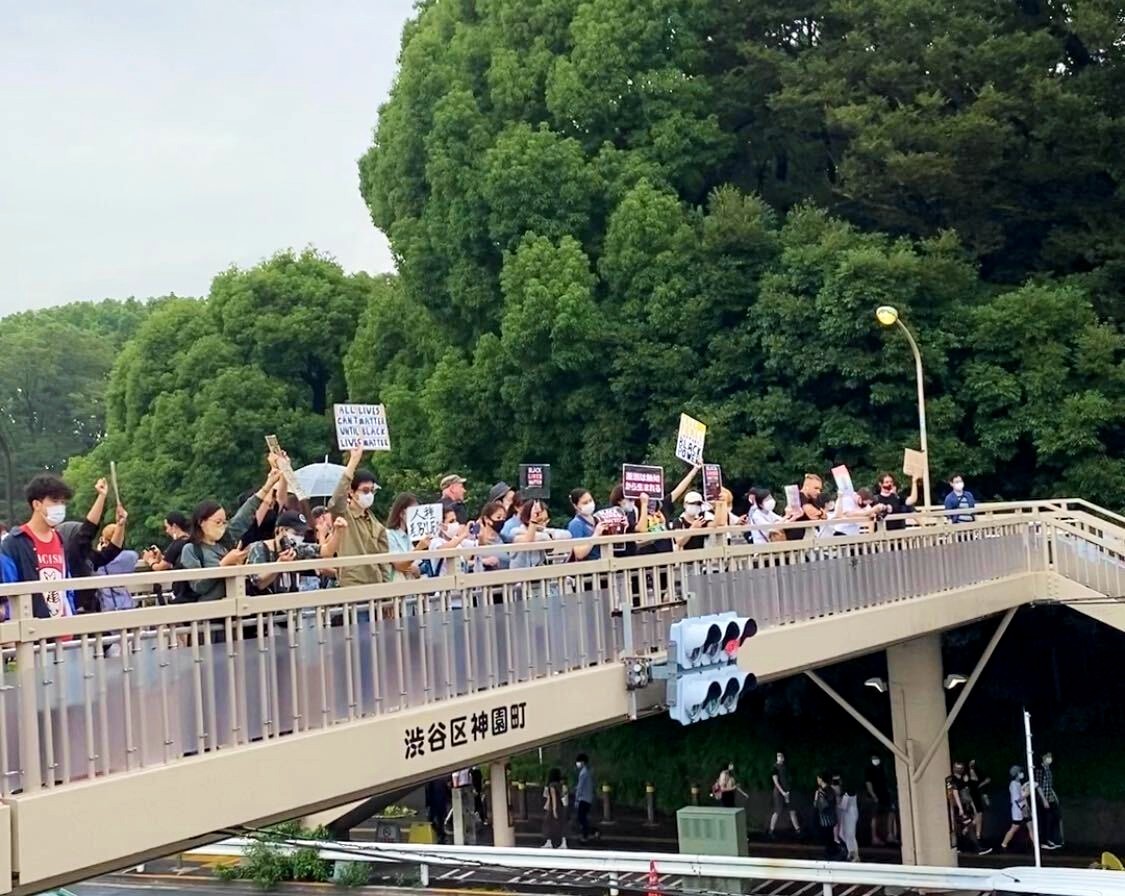 Marchers chanted 'Black Lives Matter', 'No Justice, No Peace' and 'I Can't Breathe', the latter a sombre echo of the last words of Floyd and Eric Garner, a victim of police brutality in New York in 2014. Marchers carried signs in both English and Japanese, along with pictures of Floyd and Breonna Taylor, another fatality due to police brutality in the US. Many also displayed rainbow signs in honour of LGBT Pride month as well as photos of Tony McDade and Nina Pop, a black transgender man and woman, respectively, also murdered in the US this year.
The march ended around 5pm, with marchers politely dispersing and Shibuya returning to its normal, busy self. The journey to awareness, justice and anti-racism is a marathon rather than a sprint, and hopefully the march inspired passersby in Shibuya and Harajuku to learn about the Black Lives Matter movement and fight against racist injustice.
Learn more about the Black Lives Matter movement in Tokyo here.
[Correction, June 24] The previous report stated that the June 15 march was Tokyo's first Black Lives Matter march. However, Tokyo has seen other official BLM marches, most notably the march in solidarity with protests in Ferguson, Missouri, organised by the African American Youth Travel Program in December 2014.
More news from Tokyo and Japan
Japan updates its re-entry rules for foreign residents
Uniqlo's reusable, triple-layered Airism face masks to go on sale June 19
Japan to simplify Tokyo 2020 Olympics to limit the spread of coronavirus
What we know so far about the world's first Ghibli Park, opening in 2022
Tokyo is the third most expensive city in the world to live in