While we wait for Japan to send an actual Gundam robot into orbit, another Japanese rebel has already gone and sent fresh flowers into space. In this delightful documentary produced by The New Yorker, you can follow artist and former punk rock musician Makoto Azuma's perplexing endeavour to send artistic bouquets into the stratosphere.
The story of how Azuma went from a carefree rock musician to a daredevil flower artist is an intriguing one. Though Azuma and his team members bemusedly reminisce on their younger days of discussing the best rock bands over hard liquor, it's clear that the men never let go of their limitless attitude and appetite for pushing boundaries in the creative realm.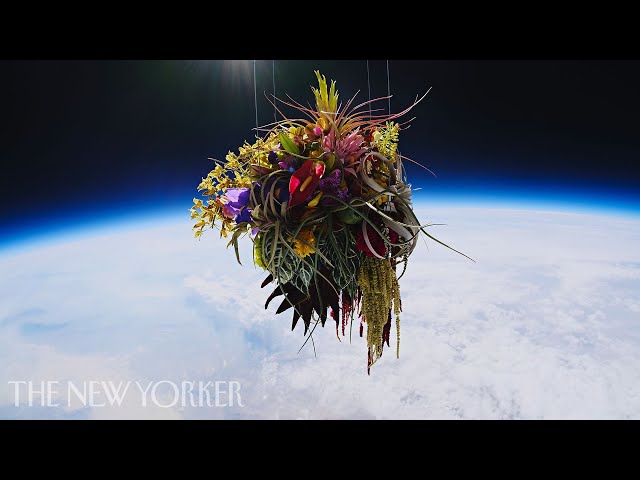 Looking like a mad scientist in one segment of the documentary, Azuma wears a lab coat as he hangs raw beef and fish over meat hooks before adding flowers around them. With the goal of creating never-before-seen flower art, the Flower Punks eventually set out to send bouquets into space.
Easier said than done, the endeavour took several teams of specialists including photographers and aerodynamic engineers, but the project resulted in mesmerising footage of a bouquet suspended in earth's outer atmosphere before it fell back to ground. One would think that the mission would generate enough excitement for at least a year, but as this fascinating documentary reveals, one great triumph only means raising the bar even higher for these artists to continuously outdo themselves.
More from Time Out
Boat and breakfast: this Yokohama Bay cruise comes with brunch at Bills
Here are the 11 biggest Japanese trends in Tokyo this year
Mt Kurumayama in Nagano now has a dreamy panoramic sky deck
The dazzling Kurokawa Onsen bamboo lantern illumination is happening this year
Japan Airlines offers complimentary Covid-19 insurance for international flights
Want to be the first to know what's cool in Tokyo? Sign up to our newsletter for the latest updates from Tokyo and Japan.