Six spots to enjoy in Shibuya after work
Where do you go in Shibuya after dark?
In association with Tokyu Corporation
Otsukaresama! So where are you going after work? Shibuya is one of the best Tokyo neighbourhoods for nightlife. Here are some of our favourite spots that'll make your post-work hours memorable.
Where do you go in Shibuya after dark?
Bars and pubs, Hotel bars
There are more luxurious hotel bars in town, but the breathtaking night view of the city through the window makes this a romantic spot. The wine-focused menu has a lengthy list of tipples from all over the world. Prices start at ¥1,338 a glass. Enjoy the view of charming Tokyo Tower and the scramble crossing from above while sipping on a cocktail.
2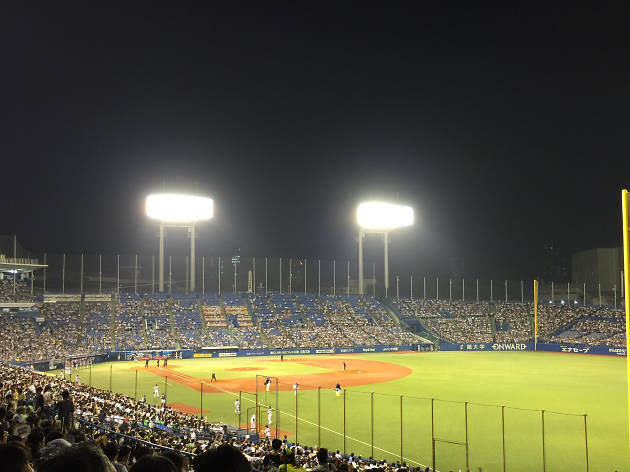 Jingu Baseball Stadium
Besides the iconic Yoyogi National Gymnasium, which hosts a range of sports events including volleyball and gymnastics, there are many places for sports in Shibuya. The Aoyama Gakuin University arena is the place to watch Japan's professional men's basketball league, the B.League, while Jingu Baseball Stadium is a popular destination for baseball fans throughout the season. There are also many sports bars and restaurants in Shibuya where you can cheer on your favourite team.
Movers and shakers from Global Hearts, the folks behind Shibuya clubs Vision and Contact, moved boldly in opening this shiny DJ bar on the top floor of an office building right in front of Shibuya Station. The spectacular views are combined with a lengthy list of residents, including Tokyo scene veterans Nori and Toshiyuki Goto. The sound system, courtesy of domestic maker Rey Audio, is also top-grade for a smallish space like this. Audio aficionados shouldn't have anything to complain about here, while laymen will at least appreciate the reasonably priced drinks. The new venues downstairs – hip hop-focused bar and lounge Wrep and barbecue eatery Low & Slow – are also worth a look.
Bars and pubs, Craft beer pubs
Beer behemoth Kirin's craft venture is part of Log Road Daikanyama and has one of the nicer terraces in the area. It offers a six-variety standard lineup, including the refreshing Daydream white ale, made with domestic ingredients such as yuzu and sansho pepper, the crisp, bitter 496 and the rich, fragrant Afterdark, plus several limited-edition brews and so-called experimental beers that can be anything from exciting to surprising. We recommend trying the Beer Flight option, which lets you sample the entire lineup in 100ml taster portions.
A merry-go-round sushi joint with a more upscale feel, Sushi Megumi specialises in exquisite tuna at reasonable prices. Go all out and try their more than ten different types of maguro-based nigiri and gunkan sushi, including the simple yet delicious shio-zuke maguro, or mix it up with a seasonal set. Definitely ask for the day's recommendations – the chefs and waiters are happy to assist you. An English menu and a numbered ordering system are available.
Theatre, Performing arts space
One of the principal attractions in the Shibuya Hikarie complex, the 1,972-seat Tokyu Theatre Orb opened in July 2012 with Broadway musical 'West Side Story'. The theatre is vying to become Tokyo's go-to place for world-renowned musicals. At the theatre foyer on the second floor of the venue, a stand bar called Theatre Bar lets theatre visitors enjoy drinks, light meals and views of the city.