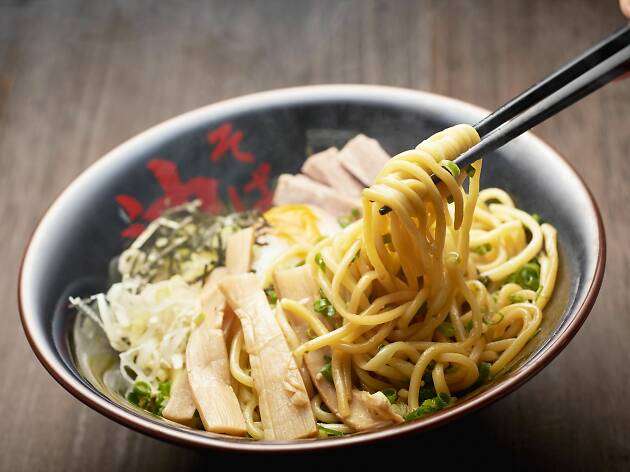 Best abura soba in Tokyo
Love ramen? Try its lesser known cousin abura soba, the soup-less 'oil noodles'
Literally meaning 'oil noodles' (don't worry – they're less greasy than you might expect), this dish was born around Musashino in western Tokyo. Both noodle joints Chinchintei and Sankou claim to be the originator of this mix of soupless noodles, toppings and vinegar – they both started selling it over half a century ago.
Since the dish contains little to no oil, it seems strange that the name has stuck. Some say it's to differentiate it from tsukemen, some say it's because there's some oil in the sauce, but we like the explanation that you're 'coating' the noodles with sauce as you eat. In that sense, abura soba is almost identical to 'Taiwanese' maze-soba (a type of dry noodles with condiments, which is actually from Nagoya) but tends to have simpler, and fewer, toppings.
The golden rule is to mix everything up before digging in, as there's a sauce hidden in the bottom of the bowl. Add vinegar and chili sauce/paste to taste, if provided; we like to chuck in a soft-boiled egg as well.
RECOMMENDED: The 10 things you must eat in Tokyo
Try abura soba at these noodle joints
This small but very popular abura soba joint in Ebisu switches things up with a poultry-based bowl. The sauce is made from chicken, while the toppings include a lot of vegetables – so it's a lot lighter than your average soupless noodles.
The main point of entry for many an abura soba addiction, Tokyo Aburagumi Sohoten (aka Tokyo Abura Soba) has branches across the city, which are open until the wee hours of the morning. Add a dash of yuzu kosho pepper paste into your noodles for a nice kick.
Located a brisk walk from Musashi-Sakai Station on the Chuo line, this ramen shop can be identified by its signboard adorned with yellow and red stripes, and is actually known as the ancestor of abura soba, which is essentially ramen served without soup. Chinchintei has provided the same style of menu since 1965 and is always bustling with customers.
More Tokyo noodles
From old-school noodles and tonkotsu classics to soupless tsukemen and spicy favourites – you'll be bowled over by these ramen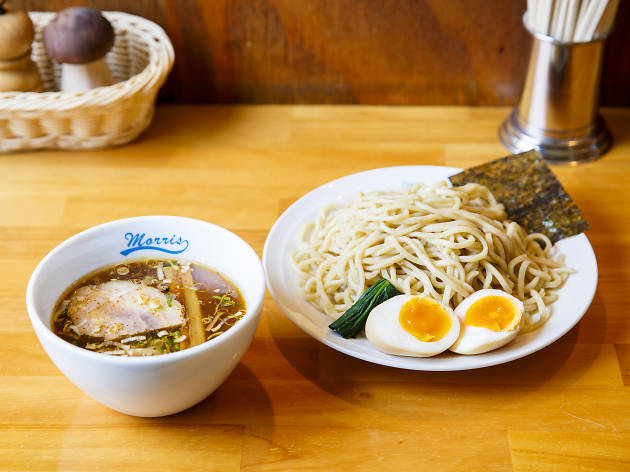 Not all ramen are served in soup. Tsukemen, or dipping noodles, are equally popular and these restaurants serve the best in town
Whether you prefer hot or cold soba, we've rounded up the best restaurants where you can slurp on these tasty buckwheat noodles
Best selling Time Out Offers