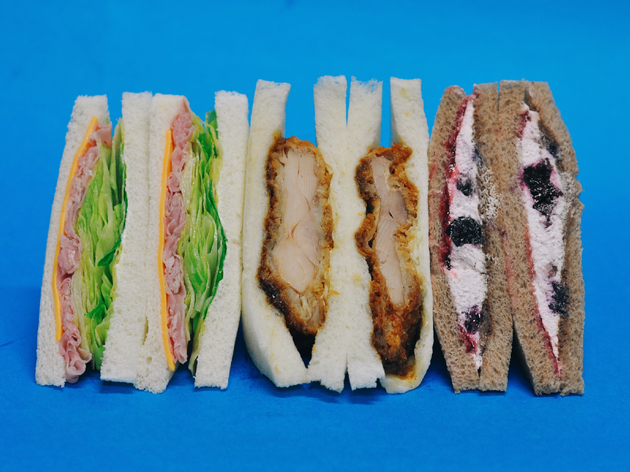 The konbini connoisseur's guide to sandwiches
Need a quick bite to eat? Pick up one of these tasty konbini sandwiches to keep your stomach satisfied
You can't go wrong with sandwiches (or sandos for short in Japan). After all, just about anything tastes good between two slices of bread. Whether on-the-go, for breakfast, lunch, dinner or even dessert, konbinis in Tokyo serve up some of the tastiest (and cheapest) sandwiches in town. Here's a quick rundown of some of our favourite finds for when hunger strikes…
Still hungry? Check out our konbini connoisseur's guide to oden and konbini connoisseur's guide to ice cream
Our favourite sandos
A classic sandwich that comes in a few different varieties, the katsu sandwich is typically a deep-fried cutlet sandwiched between two slices of bread – simple as that. You can usually find chicken, pork, ebi (shrimp) and menchi (minced meat) katsu sandwiches at most konbinis. Although the fried katsu usually loses its nice crispy crunch when slapped in a sandwich, Family Mart's chicken katsu with cabbage and katsu sauce (¥298) avoids that trap and is always a satisfying option.
There are endless possibilities when it comes to egg sandwiches at konbinis. Eggs are so versatile that you'll see everything from tamagoyaki (Japanese omelette) and hard-boiled eggs to a classic mayo-egg salad mix. For your next fix grab the tamago sando pack from Natural Lawson (¥298), which features a nice variety of options including egg salad, tamagoyaki, scrambled eggs with ketchup as well as hard-boiled goodness, all in one package.
Another hearty option is a good ol' lettuce sandwich – the signature one here from 7-Eleven is called the 'shaki shaki' (¥250). Usually accompanied by thin slices of ham and cheese, the highlight of this sando is the thick layer of crisp lettuce as the main filling. Other than adding to your daily serving of vegetables, it's a delicious option that pretty much hits all the essential food groups.
Fruit in a sandwich? Yes, as weird as that may sound, the Japanese have a way of making everything taste good – fruit sandwiches included. The specific fillings usually depend on the season but always include fruit layered with fresh cream and (sometimes) custard, all squeezed between two pieces of fluffy bread. You'll probably see strawberries in spring and other fruity mixes throughout the year. This blueberry, chocolate and cream number comes from 7-Eleven (¥230).
Fancy something a bit more gourmet? Dig into one of the premium baguette sandwiches from Family Mart that should do the trick. This one here is filled with meaty slices of pastrami beef, pickles and a nice mustard mayo sauce. The baguette is ¥368 a pop, but it's well worth the yen.
Keep an eye out for these special sandwiches as they come and go as the seasons change. Particularly at 7-Eleven, you can find tasty offerings like this tomato cream cheese speciality (¥330) featuring whole chunks of sweet tomatoes combined with basil-infused cream cheese.
Need more sandwich options?
Upgrade your lunch hour with one of these delicacies
Best selling Time Out Offers