Heads up! We're working hard to be accurate – but these are unusual times, so please always check before heading out.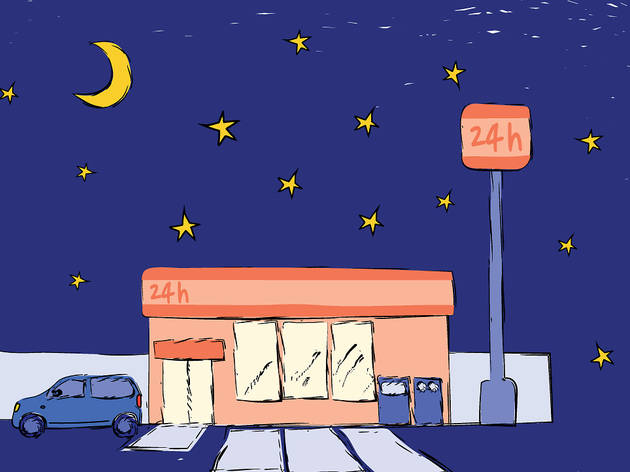 10 reasons why Japan's convenience stores are the best in the world
Ready-to-eat hot meals, buy event tickets, pick up luggage, do you paperwork... Japan's konbini offers all that and more
Japan's convenience stores, known affectionately as konbini, are the best in the world. You can find them anywhere throughout the country, tirelessly open 24/7. In fact, it's estimated that Japan has close to 60,000 konbini; in Tokyo alone, there are around 50 stores for every 100,000 people.
Konbini are the pulse of every neighbourhood, catering to your every need, want and whim, anytime of the day. Here are the things that make the konbini in Tokyo – and across Japan – our local superheroes, always there for us, come rain, shine, snow or typhoon.
RECOMMENDED: Read our guide on going out safely in Tokyo.
The konbini's main role is to feed us: whether it's some last minute kitchen staples like eggs, milk and rice, or a hot meal that's ready to eat. Each store is a bento buffet, with takeout options ranging from Japanese comfort food like rice bowls and ramen to western classics including salads and pasta. They are cheap – most meals cost less than ¥600 – and you can get them heated up pronto. Some konbini even offer a small eat-in corner, though the food tax increases from 8 to 10 percent should you decide to sit there.
The local konbini is where you go for emergencies of any kind. Stock up on flashlights, gas cartridges, batteries and first aid to prepare for a natural disaster. Stuck outside in a sudden downpour? Run in for an umbrella. There are even formal white shirts, socks and ties should you need to attend an unexpected business meeting. The hot drinks, kairo packs (disposable pocket heaters), gloves and mufflers are a lifesaver come winter. With the konbini, you'll never be caught out cold again.
Tourists are often caught off guard that most bank ATMs in Japan have strict operating hours – they close overnight – but the machines in konbini are forever. Not only do they allow bank transfers and dispense cash 24/7, many of them accept foreign credit and debit cards, and they are multilingual.
In Japan, where cash is king, the konbini is like an analog version of online banking. Here you can pay your utility, mobile phone and insurance bills, and even settle your online purchases in cash.
There's no need to stand in line at the post office when you can drop off and pick up parcels and even luggage at a konbini (one that offers Kuroneko Yamato delivery service). You can also mail letters – just keep an eye out for the red post boxes inside some konbini. Forgot the stamp? You can grab one while you're there, too.
Forget the internet: the touchscreen terminal at every konbini is the easiest, and sometimes only, way to book tickets for concerts, attractions, sports events, theme parks, tour buses and more.
No printer at home? Do all your photocopying, scanning and printing at the konbini. And when you inevitably need to send a fax in paper-mad Japan, the trusty machine at the konbini has your back.
Collect points and top up IC cards
Japanese shops love their loyalty cards, so grab one at your nearest konbini to collect points on each purchase, which you can then use to redeem your next late-night Strong Zero. You can also top up your Suica, Pasmo or whichever contactless train card in your area.
In winter, get creamy custard and whipped cream strawberry sandwiches, while spring offers a massive lineup of cherry blossom treats. Summer sees quirky ice cream creations and frozen drinks, and during autumn, we love the chestnut and sweet potato snacks.
A quick pit stop for all your travel needs
Whether you're on a long car ride or an overseas trip in Japan, the konbini has you covered with last-minute essentials like toiletries, phone chargers and more. Plus, most konbini have public toilets, rubbish bins and free wi-fi, so you won't be caught out while you're travelling.
Discover the best of Japan