Best souvenirs from ¥100 shops
With these cheap and cheerful 100 yen items, you can now buy more gifts and memories from Tokyo without busting your budget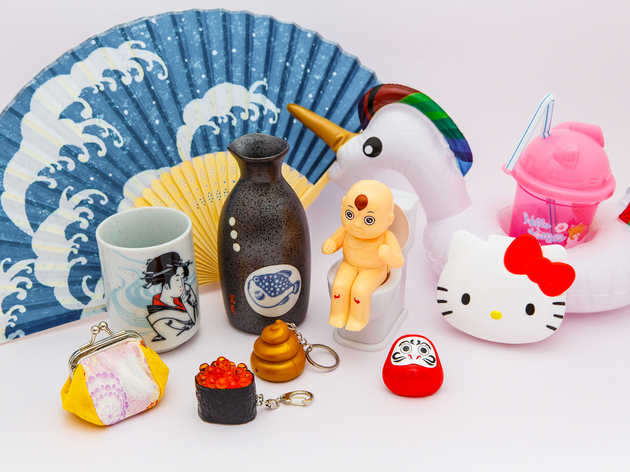 Buying gifts and souvenirs is a big part of your travel, and they can potentially take up a big chunk of your budget – but not at Tokyo's many ¥100 shops. Don't turn your nose up at these cheap and cheerful items just yet; a lot of these gift-ready products are not only well-made but also feature design details that are quintessentially Japanese. So if you're looking for a rewarding gift-shopping spree in Tokyo on a limited budget, we have put together a list of the best ¥100 souvenirs to get in Tokyo.
Note: All items featured are ¥100 each (¥108 after tax). We purchased these items from Daiso Harajuku and Seria Shinjuku Marui Annex. Availability of items may vary from outlet to outlet, and while stocks last.
Our favourite ¥100 souvenirs
These gifts are perfect for your foodie friend to recreate Japanese dining back home.
From left to right:
1. Geisha tea cup
2. Pufferfish sake carafe and cup set
3. Small dish
4. Crane chopstick rest
5. Chopsticks with sumo graphics (also available in other Japanese designs)
All from Daiso
Japan's famous fake food comes in many guises.
From left to right:
1. Sushi fridge magnet
2. Sushi keychain
3. Japanese sweets erasers (set of three)
All from Daiso
For something pretty and useful, these gifts are hard to beat.
From left to right:
1. Foldable fan (available in multiple designs)
2. Japanese-style hair brush with mirror (available in multiple colours)
3. Double-sided card case (available in multiple colours)
4. Metal frame mini coin purse (available in multiple colours)
Fan from Seria; hair brush, card case and coin purse from Daiso
For the prankster friend and family member, they will appreciate this.
From left to right:
1. Unicorn float drink holder (can drink not included; also comes in the shape of watermelon, doughnut etc)
2. Golden poo keychain (with light and sound)
3. Toy toilet-shaped squirt gun (erm, just spread the legs to shoot water. Really.)
All from Daiso
Did you know you can also get Hello Kitty merchandise for just ¥100?
From left to right:
1. Hello Kitty pouch
2. Hello Kitty earphone case
3. Hello Kitty straw cup
4. Hello Kitty figurine
Pouch and figurine from Daiso; earphone case and straw cup from Seria
This year, the well-loved lazy egg Gudetama is celebrating its fifth anniversary.
From left to right:
1. Gudetama bank book case and card holder
2. Gudetama mug cover
3. Gudetama magnetic mini whiteboard with marker set
Bank book case from Daiso; mug cover and whiteboard from Seria
Want to learn to make cute Japanese-style lunch boxes at home? Here's what you need.
From left to right:
1. Sandwich mould
2. Bear-shape rice ball maker
3. Egg timer
All from Daiso
Wearables for you and your favourite things.
From left to right:
1. Gudetama chair socks (set of four)
2. Knit bottle cover (bottle not included; also available in multiple animal designs)
3. Children's socks (Mt Fuji; also available in multiple designs)
Chair socks and bottle cover from Seria; children's socks from Daiso
Looking for more Japanese characters to bring home? Here you go.
From left to right:
1. Doraemon toothbrush for children (also available in a red Ultraman design)
2. Japanese-style mascot pen (sumo; also available in other designs)
3. Daruma fridge magnet
4. Lucky cat mini blocks
5. Japanese-style strap with bell (lucky cat)
All from Daiso
Shop for more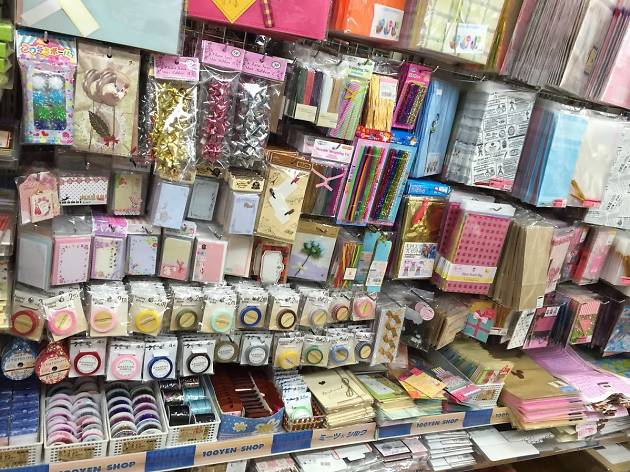 Here are the top variety stores for the cash-strapped Tokyoite (aren't we all)
Shopping, Gifts and souvenirs
Tokyo is a treasure trove for shoppers looking for unique Japanese gifts and souvenirs that can't be found anywhere else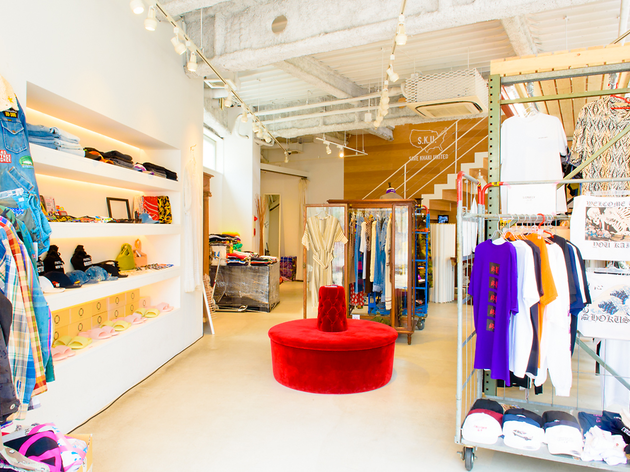 Shopping, Gifts and souvenirs
Our comprehensive guide to gift shopping around Tokyo, arranged according to interests