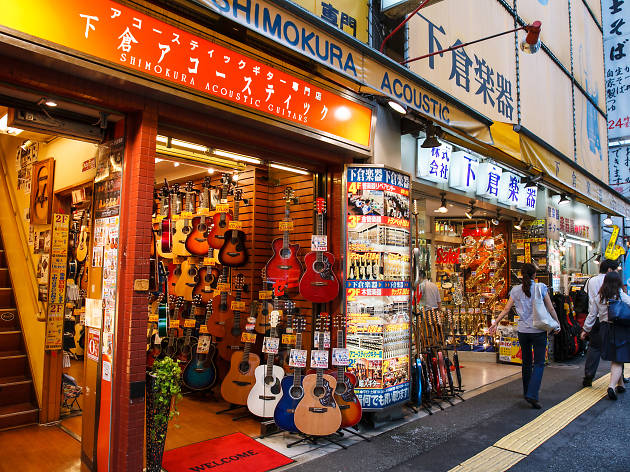 Explore Tokyo's speciality shopping districts
Looking for sports gear, musical instruments, Japanese textiles or something equally specific? Tokyo has neighbourhood shopping areas devoted to them all
Words by Kumi Nagano
Since the Edo and Meiji eras, Tokyo has seen a boom in shopping districts. Some developed as wholesale markets, others a result of postwar black markets, while others grew to meet the demands of their student populations. Stocked to the brim, there's nothing you can't find in these specialised districts – and when we say specialised, we mean it.
Each area caters to a different kind of shopper, whether you're looking for music instruments, ski equipment, books, kitchen utensils etc. Mostly, you'll be buying from experts in the relevant field, which means you can also get the best advice. Often you can find goods for bargain prices, too. While these shops were originally aimed at professionals, these days many open their doors to the general customer as well. Here are six of the best to get you started.
Also known as 'Kitchen Town', this neighbourhood got its start in the early Taisho period and holds a collection of 170 stores that stretch for about 800m north to south between Asakusa and Ueno. These wholesale stores carry every kind of pot, dish and kitchen utensil imaginable, along with interior décor and food-related products. While many are geared towards professional chefs, all foodies are bound to enjoy this shopping experience. As you walk down Asakusa-dori from Tawaramachi Station towards Kitchen Town, you will notice the giant chef's head on the roof of the Niimi building. From here, turn right into Kappabashi-dori. Looking for one of those plastic food samples you see outside restaurants all around Tokyo? Find them at stores such as Ganso Shokuhin Sample Store, Tokyo Biken, and Iwasaki Kappabashi Showroom, where you can even watch them being made. Note that most stores are open on Saturdays but closed on Sundays.
Closest station: Tawaramachi Station
Map and more details here.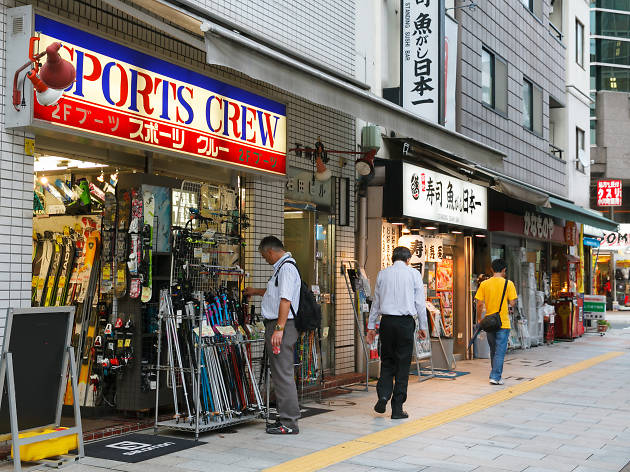 For sportsmen: Kanda Ogawamachi
Going skiing, snowboarding or mountain climbing? Head to Yasukuni-dori, between Jinbocho and Ogawa, for all the gear you need. This district got its start during the ice-skating boom in the late '50s, when Hakusan-dori was lined with skating rinks. These days it's more focused on ski and snowboard goods, however, since the 1972 Winter Olympics in Sapporo inspired a string of related stores to open up. The larger stores are found along Yasukuni-dori, but if you go one block back from the main street, there are many smaller shops worth exploring too. From September, you'll start seeing new merchandise on the shelves, and if you're around in early November, don't miss the annual Kanda Sports Festival.

Closest stations: Ogawamachi and Jinbocho stations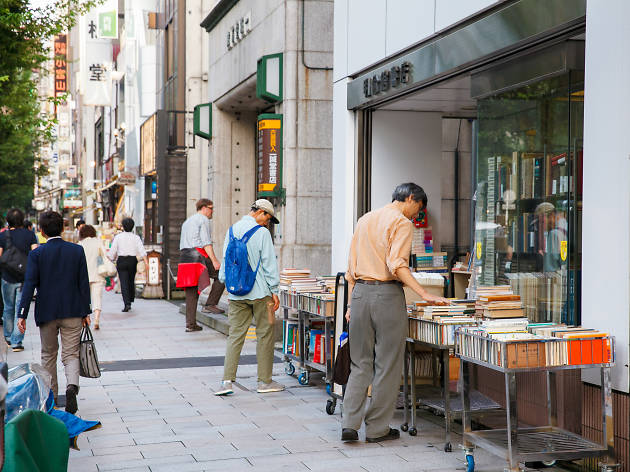 For bibliophiles: Jinbocho
One of the world's largest secondhand book markets sits at the Jinbocho intersection between Yasukuni-dori and Hakusan-dori. Besides 150-plus small shops selling used books, you'll also find major stores and publishers displaying brand-new publications. The shops cater to niche audiences, whether you're into novels, movie-related books, comics or academics. If you're interested in art and design, head to the following stores: Minamotokido Shoten, Nanyodo Shoten, Bohemian Guild, Sakanayama Shoten, Yamada Shoten Art Department and Keizo Books. If you're after cooking-related books, you best bets are Yukudo Shoten, Takayama Honten, and Toriumi Shoten. Having escaped damage from WWII, the neighbourhood boasts a 130-year history, and from the end of October to the beginning of November it buzzes with events like the Kanda Furuhon Matsuri and the Jinbocho Book Festival. Buy a stash of new reading material and then stop off at one of the many curry restaurants or old-school cafés for lunch while browsing the pages of your purchases.
Closest stations: Ochanomizu and Jinbocho stations
Map and event info here.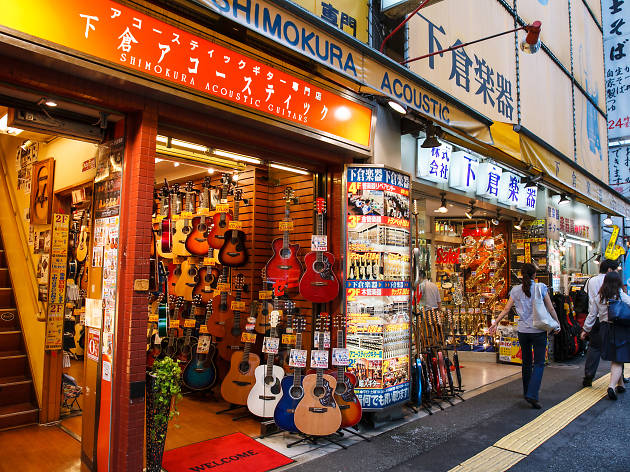 The Musical Instrument District extends south from Ochanomizu Station, with a number of instrument-packed stores lining Meiji University Street. It apparently got its start because of the university students who gather in the area. Here you can find new, secondhand and vintage guitars, brass instruments, drums, keyboards, effectors, amplifiers, recording equipment, microphones and more. All the major manufacturers are represented, including Ishibashi, Kurosawa, Shimamura and ESP. If you're a beginner player, shop for cheaper items near the entrances; if you're a seasoned muso, you'll find what you're looking for towards the back of the stores.

Closest station: Ochanomizu Station
No doubt you've already heard about Electric Town in Akihabara. Around Chuo-dori, there are over 500 crowded shops, making this Japan's largest appliance and electronics district. Its history dates back to the postwar black market and it's known for its abundance of cheap parts as well as otaku-attracting stores selling plastic models and figurines. These days, you can also find arcades, maid cafés and plenty of manga. Catering to the constant flow of tourists, many of the stores are duty-free, and if you head over there on a Sunday afternoon, you'll be able to traipse the main street without worrying about traffic since it gets closed off as a pedestrian zone (unless the weather is bad).
Closest station: Akihabara Station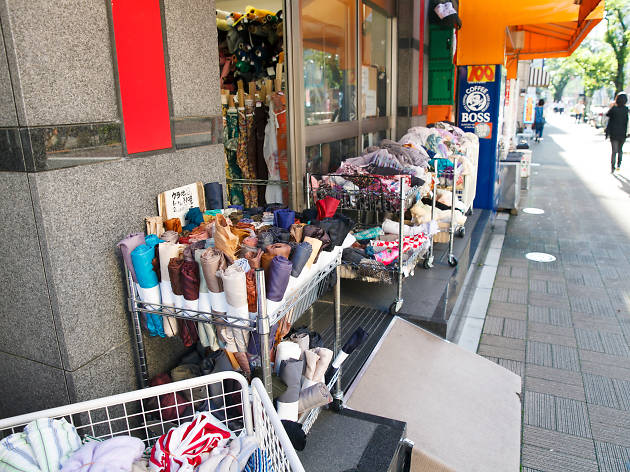 For fabric hunters: Nippori
You don't have to buy an expensive kimono to get your hands on the very original, beautiful fabric designs of Japan. At Nippori Textile District (or Fabric Town), which runs for one kilometre along Nippori Chuo-dori, there are more than 60 textile stores carrying both Japanese and Western fabrics at surprisingly low prices. You'll also find buttons and other accessories, and at most stores you can request to have your purchases delivered to your home. Instead of just wandering around aimlessly, pick up the 'Nippori Textile Town Map', available at most stores, to figure out which ones you want to target. We recommend Tomato Honkan, where you can get your hands on just about anything, and Yasuda Shoten 3-Chome, which is famed for its linen. Plenty of the stores here offer retail level service, even as wholesalers, but note that many are closed on Sundays and don't accept credit cards.
Closest station: Nippori Station