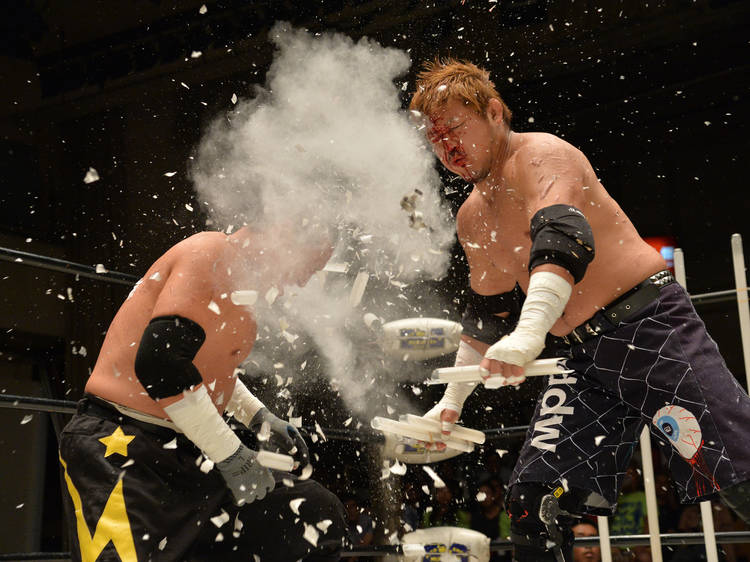 BJW's death matches include, shall we say, unusual weapons
'Strong style' vs the death match
Above: BJW's death matches include, shall we say, unusual weapons...

NJPW (New Japan Pro-Wrestling), founded by Antonio Inoki in 1972, is one of the biggest wrestling promotions in the world. While they maintain a Japanese approach, their association with overseas companies and the large number of foreign wrestlers on their registery make them accessible to fans across the globe. Two of their Japanese wrestlers, 'High Flying Star' Hiroshi Tanahashi and 'The Rainmaker' Kazuchika Okada, are household-name wrestlers of the moment. NJPW is also home to the flamboyant 'King of Strong Style' Shinsuke Nakamura – 'strong style' is a type of puroresu that incorporates full-force strikes and submission holds, usually employed by wrestlers coming from a martial arts background.
BJW (Big Japan Wrestling) is a well-respected independent promotion which distinguished itself from competition in the late '90s by specialising in extreme hardcore 'death matches'. As well as tables, ladders and steel chairs, a death match can include more unusual weapons such as lightbulb tubes, panes of glass, barbed-wire ropes, fire, explosions and, notoriously, once even a tank full of piranhas. Death match fighter Jaki 'Black Angel' Numazawa's face paint makes him surprisingly popular with children, and fan favourite Ryuji Ito recently celebrated his 15th year in the business with a match against 144kg Abdullah Kobayashi. BJW is also known for its classic strong-style fighters including Japan's 'Muscle Monster' Daisuke Sekimoto and recently retired Strong Heavyweight Champion Shinya Ishikawa who favoured an English-inspired 'catch wrestling' technique.
The wrestlers don't just work hard in the ring – after a match, you can get up close and personal with them at the merchandise table, where they'll sign autographs, pose for photos and sell you a T-shirt, even if they're still covered in blood, sweat and broken glass!