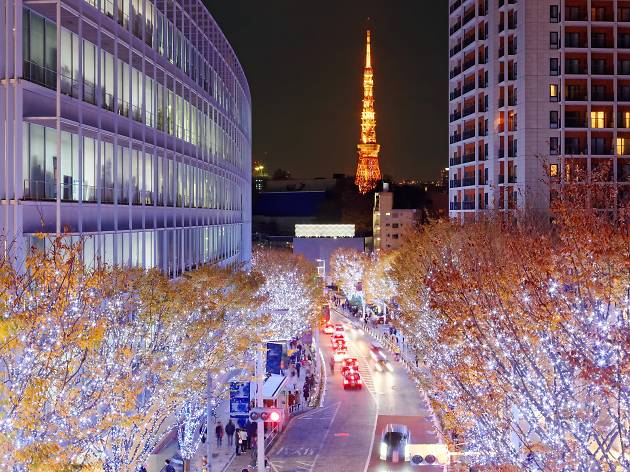 December 2020 events in Tokyo
Plan your December in Tokyo with our events calendar of the best things to do, including illuminations, Christmas markets, concerts and art exhibits
December is when Tokyo turns all sparkly – thanks to the illumination shows, of course – while Christmas markets, ice skating rinks and other seasonal favourites also open up across the city. And the holiday cheer only gets louder as we get closer to New Year's, with a mouth-watering menu of parties, markets and other events taking place over those well-earned vacation days.
Our December highlights
Odaiba shopping mall Venus Fort is once again hosting Japanese art collective teamLab's interactive Christmas tree The Tree of Resonating Colors of Life. The 8m-tall tree is made from special spheres that change colour and make sounds when touched, causing a chain reaction with neighbouring spheres that turns the whole tree into an interactive art display. You'll find the tree at the Olive Plaza on Venus Fort's second floor...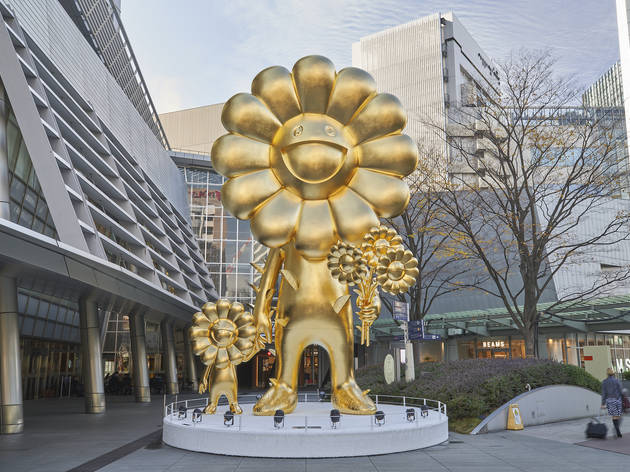 The Bloodstone Public Collection Courtesy Gagosian With the cooperation of Kaikai Kiki Co., Ltd. ©2020 Takashi Murakami/Kaikai Kiki Co., Ltd. All Rights Reserved.
You'll have a new reason to visit Roppongi this holiday season as artist Takashi Murakami has taken over the Roppongi Hills complex. Known as the Roppongi Hills Takashi Murakami Project, the event features an over-the-top art installation, a flower-themed café and numerous opportunities to catch Murakami's art, including at the Stars exhibition at Mori Art Museum and a colourful afternoon tea at Grand Hyatt Tokyo...
This year's Tokyo Midtown illuminations are champagne gold colour, creating a romantic atmosphere – especially in the Midtown Garden area, which features a 3-metre tall snow globe with falling snow and flickering aurora illuminations. Kids will love the step lights that change colour when hopping from one to another, as well as the on-site ice skating rink. Until December 25, you'll also find a number of Christmas trees installed at Tokyo Midtown, including a large tree in the Midtown Garden area that boasts 25 presents...
The risquély named Sagamiko Resort Pleasure Forest will once again be pulling out all the stops for its winter illumination show. Sagamiko Illumillion claims to be using the largest number of lights in the entire Kanto region (over six million LEDs). The event includes accompanying music, and light displays that take advantage of the fountains and lush greenery of the park. A new addition to the annual spectacle this year is an entire area dedicated to Pokémon...
Tobu Zoo shakes things up for winter this year with its annual illumination show that's synchronised to music and features about three million LEDs. In front of the park's Heartful Garden, you can watch aurora lights and an illumination show using computer graphics and music. The 8,000sqm Heartful Garden itself is decked out with flower-shaped lights and lit-up installations of zoo animals...
Known as the entrance to Odaiba, the Decks mall gets in on the seasonal light-up fun with this illumination show featuring a 20m-tall illuminated tree, plus plenty of Instagram-worthy photo spots to enjoy with Tokyo Tower and Odaiba's Rainbow Bridge in the background. Until December 25, you'll also find a massive Christmas tree on the third floor of the mall...
Yomiuri Land's annual winter illumination show will bedazzle even the most ardent illumination-fiend. As the name might suggest, jewels are the focus here: literally millions of colourful LEDs are set up throughout the vast theme park evoking sparkling gems. The park is split into 12 areas, while visitors can also expect to be treated to a 25m-tall dazzling mountain and lit-up roller coasters...
After a brief hiatus, the Yayoi Kusama Museum has reopened, and with it comes an exhibition of the artist's new and recent works which have never been displayed in Japan, or anywhere else in the world for that matter.
This showcase consists of works that were created by Kusama over the past decade, including her most recent one-metre square paintings, an immersive installation as well as a new Infinity Mirror Room...
This spooky spectacle is the second exhibition at the Grand Gallery inside the new Kadokawa Culture Museum in Tokorozawa, Saitama prefecture. The exhibition is supervised by Japanese author Hiroshi Aramata, who is also a member of the World Yokai Association. Here you can learn about different types of yokai – supernatural spirits, demons and other scary creatures in Japanese folklore – through sculptures, paintings and artefacts...
This new pop-up café to promote the latest Sailor Moon movie, due to hit Japanese cinemas in January 2021, serves up themed food and merchandise. Head to Tokyo Solamachi from December 24 and Tokyo Shinjuku Lumine Est from January 8 for some highly Instagrammable meals starting at ¥899...
It's that time of the year again: the illuminations have gone up and the first Christmas bucket orders are being placed at KFC. Wait, what? Yes, you read that correctly: Christmas and KFC are completely intertwined in Japan. Learn why here.
Looking for more things to do in December?