Heads up! We're working hard to be accurate – but these are unusual times, so please always check before heading out.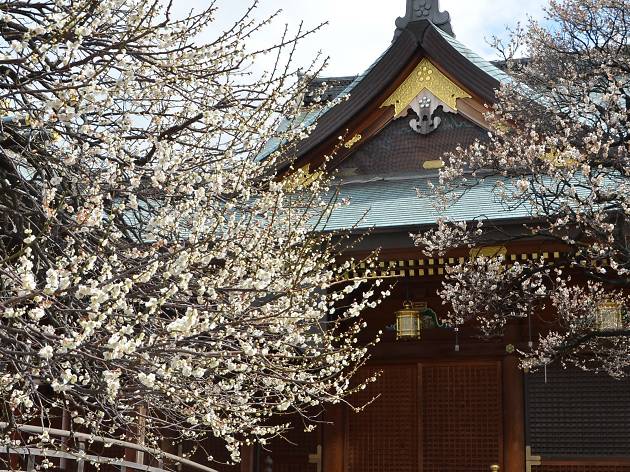 February 2021 events in Tokyo
Plan your February in Tokyo with our events calendar of the best things to do, including Valentine's Day fun, art exhibits and more
February in Tokyo is when the chilly grip of winter finally loosens and the first signs of spring – most notably, plum (ume) flowers bursting into bloom – can be seen all over the city. The month also features a number of big-time events, from Setsubun celebrations to Valentine's Day and all the chocolatey commotion surrounding it. Make the most of the month with our guide to the top events going on in Tokyo this February.
Our February highlights
After a brief hiatus, the Yayoi Kusama Museum has reopened, and with it comes an exhibition of the artist's new and recent works which have never been displayed in Japan, or anywhere else in the world for that matter.
This showcase consists of works that were created by Kusama over the past decade, including her most recent one-metre square paintings, an immersive installation as well as a new Infinity Mirror Room...
A celebration of art and culture set in the forest surrounding Meiji Shrine, this festival – co-presented by Japan Cultural Expo – zooms in on the relationship between nature and Japanese culture. The diverse art programme, which coincides with the host venue Meiji Shrine's 100th anniversary, is running until 2021...
World-renowned contemporary artist Takashi Murakami has lent his signature creations to a special seasonal afternoon tea at the Grand Hyatt Tokyo. Featuring all things strawberry, you'll find Instagrammable desserts and savoury bites adorned with Murakami's signature flower motif. Indulge in colourful bites including flower fromage blanc mousse, strawberry marshmallows, a strawberry shortcake accented with mini profiteroles, and fresh baked scones printed with a smiley flower on top...
The risquély named Sagamiko Resort Pleasure Forest will once again be pulling out all the stops for its winter illumination show. Sagamiko Illumillion claims to be using the largest number of lights in the entire Kanto region (over six million LEDs). The event includes accompanying music, and light displays that take advantage of the fountains and lush greenery of the park. Visitors can also hop on the amusement park rides (including the Ferris wheel) at night to enjoy the sparkling forest scenery from a different angle...
Hilton Tokyo is hosting an Alice in Wonderland themed buffet featuring 23 tonnes of strawberries this winter. Visit the Marble Lounge in the afternoon to dive into an all-you-can-eat lunch including 15 savoury dishes and 20-plus strawberry desserts. Each one is made to look as colourful and elaborate as the foods featured in the story, so expect to see a full spread of Instagrammable sweets...
Since 1967, the Japanese Agency for Cultural Affairs has been helping ship promising artists overseas to spend some quality time with masters of their respective disciplines. In the late '90s, the agency presumably realised that the public might be interested in the fruits of these activities, and so the annual Domani exhibition was born...
In celebration of the upcoming film release 'Evangelion: 3.0+1.0 Thrice Upon a Time' (January 23 2021), Tokyo Skytree is decking out its two observation decks and spiral walk for fans of the anime series. Step into the elevator designed to look like the cockpit of an Eva mecha and travel 350m up to Tokyo Skytree's first observation deck. Make sure to take an Instagram photo with the purple signature mecha before moving up the spiral walk, which hosts an Evangelion exhibition...
Now you can enjoy your favourite children's book, The Very Hungry Caterpillar, with your taste buds at this pop-up café in Kichijoji Parco. Designed to look like a fruit parlor, you'll get to eat the hungry caterpillar's favourite fruits in both sweet and savoury dishes at the café. Order The Very Hungry Caterpillar Fruit Curry, which isa delectable pork curry made with fruits and tomato, topped with an apple, and accompanied by banana shaped rice...
The days may be getting shorter and colder, but even so, Tokyo doesn't turn into a dark and desolate place at this less than cheery time of year. In fact, as the city transitions from autumn into winter, millions of colourful LED lights are displayed in trees as well as on and around buildings, turning Tokyo into a sparkling wonderland...
Lace up your skates and glide around the capital's frosty selection of indoor and outdoor ice rinks
Looking for more things to do in February?