July 2018 events in Tokyo
Plan your July in Tokyo with our events calendar of the best things to do, including fireworks, summer festivals, gigs and art exhibitions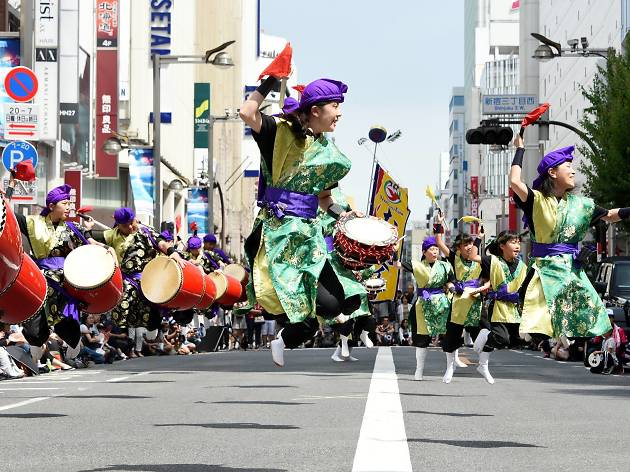 July is when summer really hits with full force in Tokyo, with fireworks shows, bon odori celebrations and a wide range of other seasonal festivals taking place. The list of unmissable events includes the Sumida River Fireworks, Ueno's Summer Festival and the many wind bell (fuurin) fairs going on around the city, but you'll also want to attend one of Japan's many great music festivals, head out to the beach for Marine Day, and get tipsy at a beer garden. Just make sure to hydrate – the heat and humidity can be suffocating, especially later in the month. Make sure you don't miss out on anything with our guide to all the best events going on in Tokyo this July.
Our July highlights
Held in a small indie theatre in Shinjuku, this movie festival's line-up is diverse. Teen crime thriller 'November Criminals', starring Chloe Grace Moretz and Ansel Elgort, is among the new releases while the cult classics include 'Attack of the Killer Tomatoes'.
A haunted house with a twist – you have to walk around it without shoes on – has opened at Tokyo Dome City for the summer. With visual effects by teamLab, this seasonal scarer for the shoeless is clearly aimed at tormented soles.
The much-loved waterpark at Yomiuriland amusement park is making a comeback this summer. Five pools plus three slides will be available for splashers of all sizes, including a huge 'thriller' slide, a shallow pool for children and a wave-pool resembling a beach. If all that splashing and sliding weren't enough, Yomiuriland staff will also be performing water shows and synchronized swimming.
More July events
For beer fans, this is the perfect drinking plan in this super hot summer. The city's premier waterfront brewery-bar TY Harbor is offering a terrace-only all-you-can-drink plan until end August. At lunch and for ¥2,000, you can enjoy a 90-minute free-flow of six types of craft beer as well as red and white sangria. There will also be a special food menu to go with your drinks, featuring dishes inspired the New York diners.