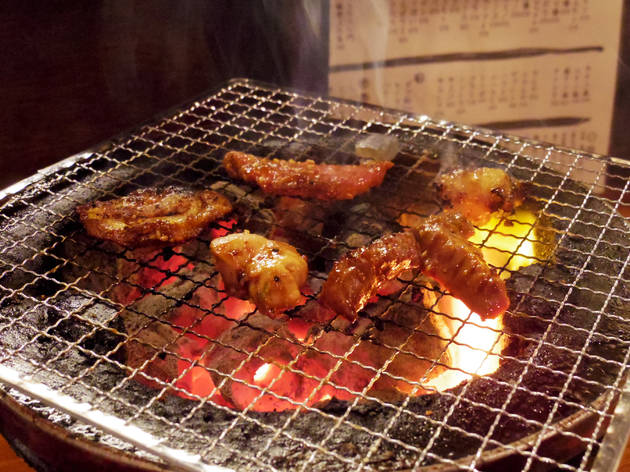 Kameido area guide
Flowers, turtles and fine meat on the newly trendy east side
Considered some of the least attractive parts of Tokyo only a few decades ago, the eastern suburbs sandwiched between the Sumida and Edo rivers are undergoing a quiet revival, the roots of which go far beyond the opening of the Skytree in 2012. Traditionally on the very edge of the Edo shitamachi (downtown), Kameido is a representative example of these newly vibrant neighbourhoods, with plenty of prosperous singles and families with young children moving to the northern outskirts of Koto Ward. Well-connected to the city centre but calm and relatively rich in parks, Kameido also exudes a retro charm – just take the miniature-sized Tobu Kameido line north toward Mukojima for proof.
Said to have been a turtle-shaped island (Kamejima) before landfill work connected it to the mainland, the area was best known among Edoites for its Ten shrine and the plum wood that grew on the grounds of merchant Hikoemon Iseya's country estate. People flocked to see the white and pink flowers in early spring, but rarely wandered further east from there, as everything beyond the shrine used to be farmland. Perhaps because it was at a safe distance from the intrigue of the city, Kameido also hosted the government mint during the reign of the fourth shogun, Tokugawa Ietsuna.
Unfortunately enough, a destructive 1910 flood washed away the Iseya garden and ruined the plum trees, ushering in a less exciting era for the now-developing neighbourhood. Rising from the ashes of the war, Kameido was rebuilt as a mostly industrial area, but that influence is no longer very visible. Instead, its wide streets are now lined with everything from huge shopping complexes to hole-in-the-wall eateries, attracting adventurous gourmands of all ages to stop by.